August 12, 2022
A World Seeking Purpose and Meaning
Is this the end of ambition?
By DAVE JENNINGS

Read Time:
6 minutes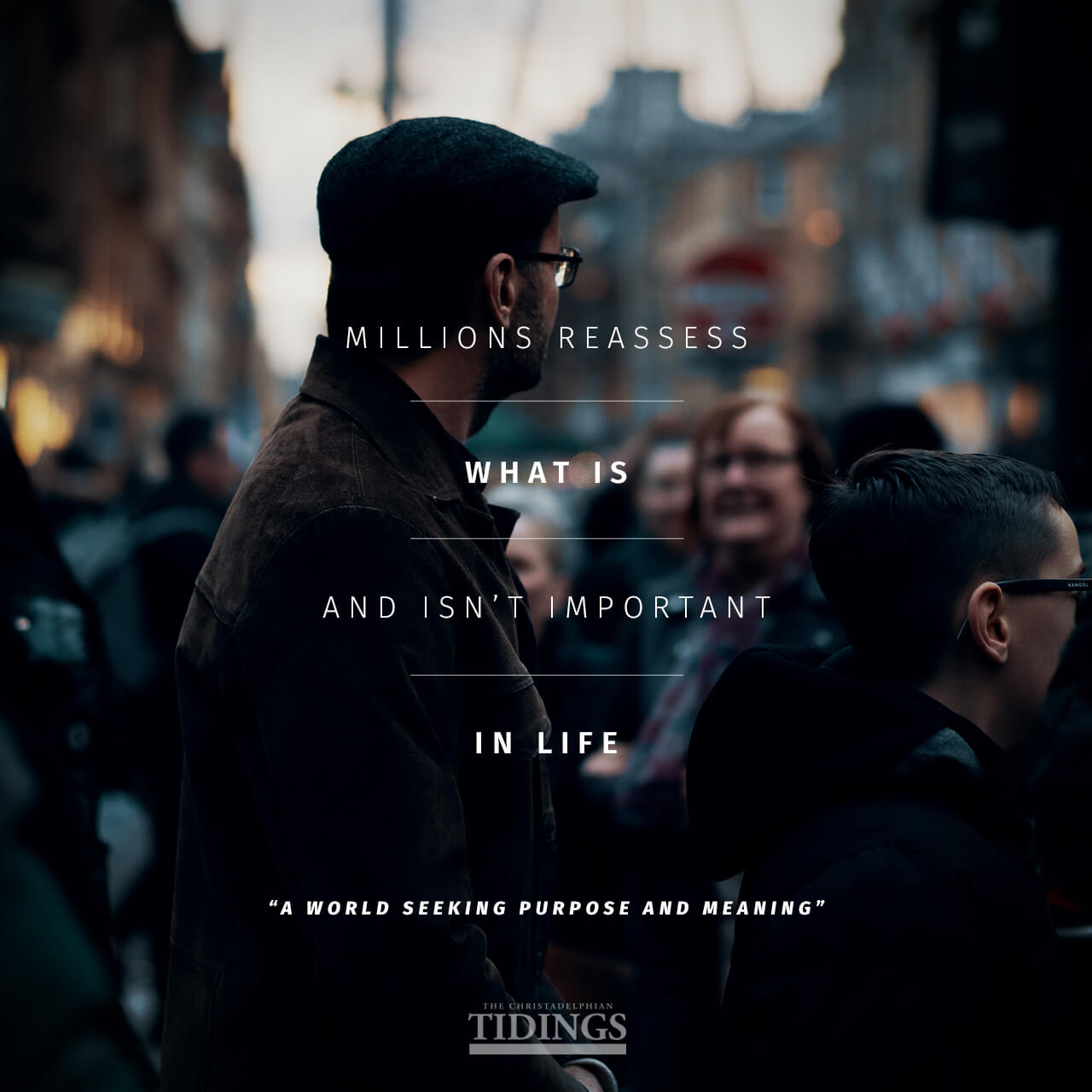 I recently read with great interest an article that appeared in the British newspaper, the Guardian on July 19, 2022. 1 The article noted significant changes were happening in the UK and North America regarding "ambition." Ultimately, the article asked, "Is this the end of ambition?"
The COVID-19 pandemic has forced millions to reassess what is and isn't important in life, as we've gone through this crisis. As the article explores, the frequently pursued path for many to achieve acclaim and wealth has been derailed. The pandemic forced some to spend additional time with their families, and to seek joy outside of the boardroom and in the playgrounds with their children. New pop heroes are emerging who are expressing their new passion for life balance and time to "watch sunsets." 
millions reassess what is and isn't important in life
The Guardian article cited that "Hundreds of thousands have quit their jobs, most to take early retirement or live off savings, shrinking the UK labour force by an estimated 1 million workers. In the US, 2.8% of employed people resigned in May alone (although that is balanced against 'hires' of 4.3%)–only just down from the peak of 3% last year. Those who can't afford to opt out of work altogether, meanwhile, are less invested in it. In one survey, 37% of respondents said their job had become less important to them through the pandemic, with many citing burnout or a change in values."
On July 15, 2022, the US Chamber of Commerce issued a report examining the US labor shortage and where the most significant impact was being felt. They reported that "the pandemic had caused a major disruption in America's labor force – something many called The Great Resignation. In 2021, more than 47 million workers quit their jobs, many of whom were in search of an improved work-life balance and flexibility, increased compensation, and a strong company culture." 2
There seems to be a general disengagement of many from the social and economic superhighway. Employers are finding it extremely difficult to secure skeleton crews. Restaurants and other retailers lament they have inadequate numbers of workers. Employees are demanding a work schedule that either is entirely virtual or partially work-from-home. Even the airlines have been struck, with more than a thousand canceled flights each day recently in the US due to insufficient flight and ground crews. Clearly, we are in the middle of a social and workforce transformation. But how long will this last?
You might ask yourself how you felt during the pandemic. Did you find that your life goals were shaken? Did you decide that the foundations of your plans were disrupted? Did you find your life priorities were shattered? I am guessing not too much. As believers, we too were deeply concerned by the pandemic threat. We were unable to meet together regularly—some lost family members to the dreaded virus. But The Truth provided a constancy.  The virus would not deter our purpose in life or dull our vision of the coming Kingdom.
This may very well be a critical window of opportunity for preaching. Significantly many people are questioning their priorities and commitments. Some appear to be searching for a better life with increased happiness. They want it now, not one deferred to an uncertain retirement period later in life. They want more meaningful time with their loved ones. Some are willing to give up their material luxuries to pursue these things.
This window may only remain open for a truly short time. "The Great Resignation" has already been followed by what the US Chamber of Commerce entitled "The Great Reshuffle." This is the phenomenon of men and women returning to work, but in new jobs, with different expectations. Will this social transformation be sustained, or is it a mere blip on the economic trending charts?
we are in the middle of a social and workforce transformation
When one discards goals, they must be replaced with others. The same physics of life seeks to prevent vacuums. The Lord spoke of this when he talked about the unclean spirit that had left a man.
When the unclean spirit is gone out of a man, he walketh through dry places, seeking rest; and finding none, he saith, I will return unto my house whence I came out.  And when he cometh, he findeth it swept and garnished. Then goeth he, and taketh to him seven other spirits more wicked than himself; and they enter in, and dwell there: and the last state of that man is worse than the first. (Luke 11:24-26).
There is a brief time when purpose and meaning are under review. Removing the old can be good, but only if it is replaced with truly meaningful goals and purpose. Figuring out that the pursuit of wealth and human notoriety is empty is only half the battle. What has been swept out must be replaced by something else. Will it be replaced with a new "unclean spirit," or with the wholesome life of being a follower of the Living God? If it isn't, Jesus tells us, "The last state of that man is worse than the first."
It seems essential for us to read the times and understand the message needed for the day at hand. For instance, there are times when fear dominates the minds of men. It may be because of war, or natural disasters, or even political upheaval. During such times, our message must be to ensure men and women that God is fully in control. To speak of God's plan for the Kingdom and how our Lord will usher everlasting peace to this world upon his return. 
Quite possibly, the message ears are longing to hear today is how God offers each of us true meaning and purpose today! This is not restricted to our Sunday church attendance, but addresses all aspects of our lives today. God offers real answers for us in the workplace, in our marriage and family, and even in financial priorities.
If you have friends that may be looking for answers to these kinds of challenges, may we suggest that you consider sharing with them the "Walking With Jesus Christ: The Bible As Your Guide" videos. These videos address Interpersonal Relationships, The Use of Money, Marriage and Family, Overcoming Stress and Anxiety, Citizenship, and Having a Future Focus. These videos are available online by clicking here.
Isaiah wrote that the joy God has prepared for us in the Kingdom is beyond anything we have ever experienced or imagined.
For since the beginning of the world men have not heard, nor perceived by the ear, neither hath the eye seen, O God, beside thee, what he hath prepared for him that waiteth for him (Isa 64:4). 3 
We are told to share the good news. It indeed is about the return of the Lord Jesus Christ. But for thirsty people, it is a cup of living water we can offer today.
Dave Jennings
1 Hunt, Elle, the Guardian, "A bigger paycheck? I'd rather watch the sunset!': is this the end of ambition? July 19, 2022.
2 Ferguson, Stephanie, "Understanding America's Labor Shortage: The Most Impacted Industries." U.S. Chamber of Commerce, July 15, 2022.
3 The Isaiah 64:4 passage states, "what he hath prepared for him that waiteth for him." However, when the Apostle Paul refers to this Isaiah passage, he makes a subtle but important change. Paul instead says in 1 Cor 2:9, "the things which God hath prepared for them that love him." The wait is over. Christ has come. Now the question is, do we love him?