Ecclesial News
One of the primary goals of The Tidings is to connect the Community through Ecclesial News. You may email your Ecclesial News items here, or use this form to submit information.
"Therefore, my brothers and sisters, you whom I love and long for, my joy and crown, stand firm in the Lord in this way, dear friends!" Philippians 4:1 (NIV)
Last updated June 22 2020
SARASOTA, FLORIDA ECCLESIA
The Sarasota ecclesia heartily commends Brother Peter and Sister Kathie Lanphear to the Meriden, Connecticut ecclesia by way of transfer. We greatly enjoyed our time with them while they were here in Florida. May the Lord watch over them in the time remaining until we meet again in that wonderful Kingdom which is so near at hand.
James L. Wilkinson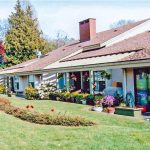 VICTORIA, BRITISH COLUMBIA
Victoria Christadelphian Seniors' Housing – One unit is available at present and a waiting list is kept for future vacancies. Click here for more information.
Bob Stodel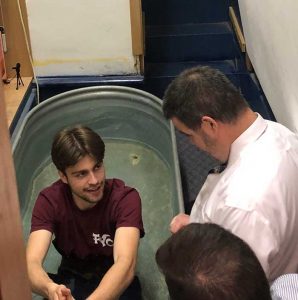 TORONTO WEST, ON
It is with great joy that we announce the baptisms of a number of our young people including:
SARAH WILTON, daughter of Stephen and Tanya, on March 04, 2018;
JACOB CARR, son of Mark and Liz, on February 09, 2020;
CALEB WILTON, son of Stephen and Tanya, on April 03, 2020;
NICK BROWN, son of Roger and Kim, on April 03, 2020.
We pray that our walk to the kingdom together will be mutually beneficial.
We welcome by transfer from the Toronto Church Street, ON Ecclesia, Bro. Bruce and Sis. Dale Scott.
We commend Bro. Alex and Sis. Lynne Browning to the Kitchener Waterloo, ON Ecclesia, and Bro. Lee and Sis. Jody Elliott to the Cambridge, ON Ecclesia.
We were happy to welcome many brothers and sisters over the past year, prior to closing due to social distancing regulations, including: Mark Leane, Christopher Wauchope (Adelaide, Aust.); Jared and Esther, Josiah, Emily Keyes (Ann Arbor, MI); Phil and Rachel, Melanie Wilson (Blue Mountain, Sydney, Aust.); Tim and Sherrie, Hannah, Sarah, Rebecca Young (Hamilton Book Road, ON); Nesbit Amos, Jordan Milne, Kevin Pereira (Brampton, ON); Dan and Ashley Robinson (Brant County, ON); Cathy Badger, Jackie Cooper, Lee and Jody, Hannah Elliott, and Caleb and Julia Lawrence (Cambridge, ON); Dan Dayes, Winnie Reynolds, and Peter and Teresa Wisniowski (Toronto Church Street, ON); Martha Levin (Denver, CO); Sarah Shajari (France); Alex and Lynne Browning, Michael and Ruth Carr, and Martin and Lois Webster (Kitchener-Waterloo, ON); Jill Cooper, Daniel and Linda Wilton (Manitoulin Island, ON); Jinny Babb, Luke Groothuis, Joan Maycock, Joel and Amy Thorp (Mississauga West, ON); Sarah Davies (New Zealand); Derek and Emily Elder (Paris Avenue, OH); Dan Gaitanis (Richmond/Petersburg, VA); Paul and Bethany Jackson (Detroit Royal Oak, MI); Olivia Baines, Hannah Goodwin, Megan Goodwin (Sussex, NB); and Clive and Sylvie Leane, and Brad and Stephanie Stephens (Toronto East, ON).
We thank our heavenly Father for His protective care while Bre. Mark Carr and Brian Carrick recently travelled to Guyana for a two-week pastoral visit. Unfortunately, due to the current pandemic, we had to cancel our semi-annual ecclesial Retreat at Hidden Acres this spring. In addition, for the first time in a century or more, the annual Toronto Fraternal Gathering was also cancelled. We thank the Mississauga West Ecclesia for streaming the Prophecy Day in its hall with talks led by Bre. John and Peter Owen.
We are saddened to announce the falling asleep of Sis. Millie Dayes last year, and Sis. Gaitre Prashad, the eldest member of our ecclesia, last month. We sorrow with their families yet rejoice in the hope of the resurrection. We pray our sisters' sleep will be short.
We continue to stream our Memorial services, lectures and Bible classes to our members as well as those in isolation, especially the ecclesias in Larissa, Greece, Montreal, Quebec, and many others in North America. Please contact the undersigned for the link. All our past services were recorded and can be viewed on our website at: www.24langside.com.
Please note the undersigned is now the Recording Brother.
Brian Carrick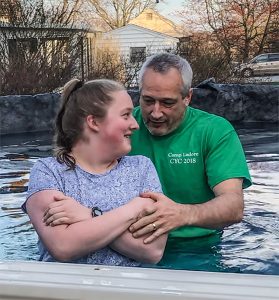 BALTIMORE, MD
On Sunday, September 29, 2019, in the presence of many brothers, sisters and children from both the Washington and Baltimore Ecclesias, we witnessed the baptisms of JEFFREY and JENNIFER KREIDER. Convinced by the power of the Scripture, after a long and careful search, they left a conservative Mennonite community in Lancaster County, Pennsylvania to embrace hope in the coming kingdom of God. It is awesome to witness how God is calling out of the nations a people for His name. The Kreiders bring to the ecclesia so much warmth and enthusiasm!
We're really happy to be able to include the news that Jeff and Jenn's daughter, TINA KREIDER, was baptized on Friday, March 27, 2020 to the backdrop of a global pandemic and the Pennsylvania Governor issuing emergency stay at home measures that would within hours prohibit the occasion. Tina's determination to recognize God's power to save was a testimony to all who witnessed her baptism by live streaming.
On April 8, 2019, NATHANAEL THOMAS was baptized in the waters of the Jordan River, Israel. This was one of the happiest days for his mother, Sis. Shawn. She fell asleep on Friday, July 19, 2019. We joined with many brothers and sisters and friends from near and far to remember Shawn, her unquenchable zeal for Christ and her tireless service here in Baltimore. She was buried at Meadowridge Cemetery. Her family made the journey from New Hampshire. They witnessed our love for Shawn, and how much we care for Rachel, Nathanael and Seth.
At very short notice we planned an exceedingly happy event. After 15 years of marriage, and six children later, Bro. Ebengo and Sis. Safarani had a beautiful wedding ceremony on August 10, 2019. The Catonsville Ecclesia allowed us to use their lovely chapel for the service. Bro. Bill Link performed the ceremony and the children all took part with their parents. Many brothers and sisters attended from both the Baltimore and Washington meetings. The reception was held afterward at the Link's home. It was the balance we, as an ecclesia, needed after losing Sis. Shawn.
On Tuesday August 20, 2019, our most senior member, Sis. Lois Hulbert, fell asleep at age ninety-six. We came together as an ecclesia to remember the faithful life of Aunt Lois. Her daughter, Sis. Jane Hewitson, along with Bro. Mark, were sterling examples to us in their care of Sis. Lois at their home.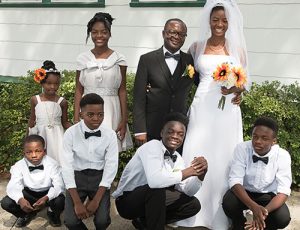 In March 2019, Bro. John and Sis. Rachel Perks from Ottawa, ON traveled to Baltimore for our Spring Study Weekend. Bro. John gave moving and insightful classes on, "The Five Widows of Luke's Gospel".
On August 7, 2019, Bro. Sam and Sis. Audrey Van Reuter welcomed their first child, Elias Matthew. A few months later, on December 4, 2019, Bro. Joshua and Sis. Anna welcomed their first child, Theodore William Jack Hewitson. These two little boys have already brought us so much joy! We ask God's richest blessing on their lives.
In October, 2019, Bro. Mark and Sis. Anita Vincent joined us from the Stirling, UK Ecclesia. Bro. Mark presented powerful classes on the topic, "Full Assurance of Faith". Bro. Chris Wubbels (Rockford, IL) gave a talk on the role the Williamsburg Christadelphian Foundation has taken to help build up faith in North America. The classes were well supported by local ecclesias as well as long time interested friends including a Bible seminar student we first met in the late 1990's. Sunday, October 20, 2019, was the Baltimore-Washington Gathering, and Bro. Mark Vincent continued his classes on having a "Full Assurance of Faith".
Carol Link
MOORESTOWN, NJ
We're happy to inform you that the Moorestown Ecclesia has a new Recording Brother. May God bless our Brother Dave Cheetham in his work in the Master's vineyard. Bro. Dave can be contacted by phone at: 856-273-3654 or by email at: dnacheetham@gmail.com.
Steve Cheetham