February, 2023
Ladore Christdelphian Youth Camp
Camp Ladore
Below is the official flyer for the 2023 CYC Camp, Camp Ladore! We are excited to hold the camp in person again in Waymart PA, February 3-5, 2023. Registration is now open at cyccamp.com! The cost for the weekend is $75 for those who register before December 31st and $90 for those who register after.
Speaker: Bro. Jason Hensley- Manasseh Amazing Grace
Contact: christadelphianyouthcirclecamp@gmail.com (Shoshanna & Gideon Hewitson)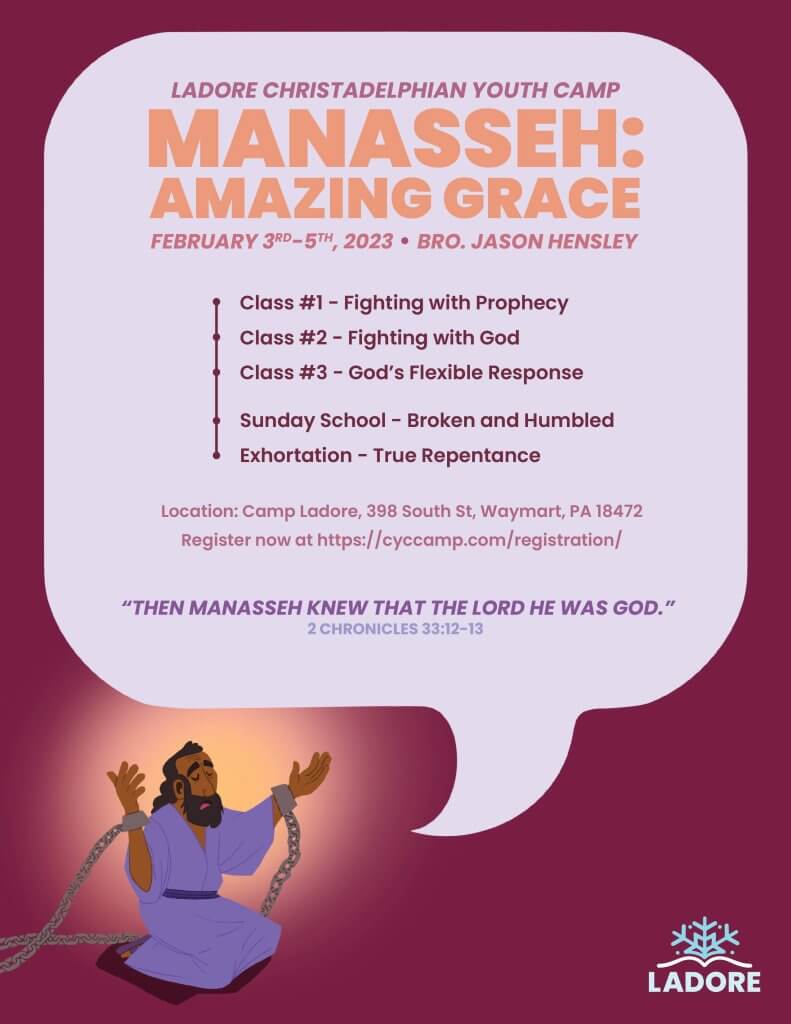 Brantford Little Disciples and JR CYC Gathering, Camp Trillium
We are very thankful to announce that, Lord willing, the Brantford Little Disciples and JR CYC Gathering (which is also historically known as Camp Trillium), will be taking place February 18th, 2023 (9:30a.m.) at the Ancaster Fairgrounds!
We are very blessed to have the opportunity to meet together with our children and learn from God's word.  We are all looking forward to it and hope to see you there!  Please our website for registration to attend!  brantfordjuniorcyc.com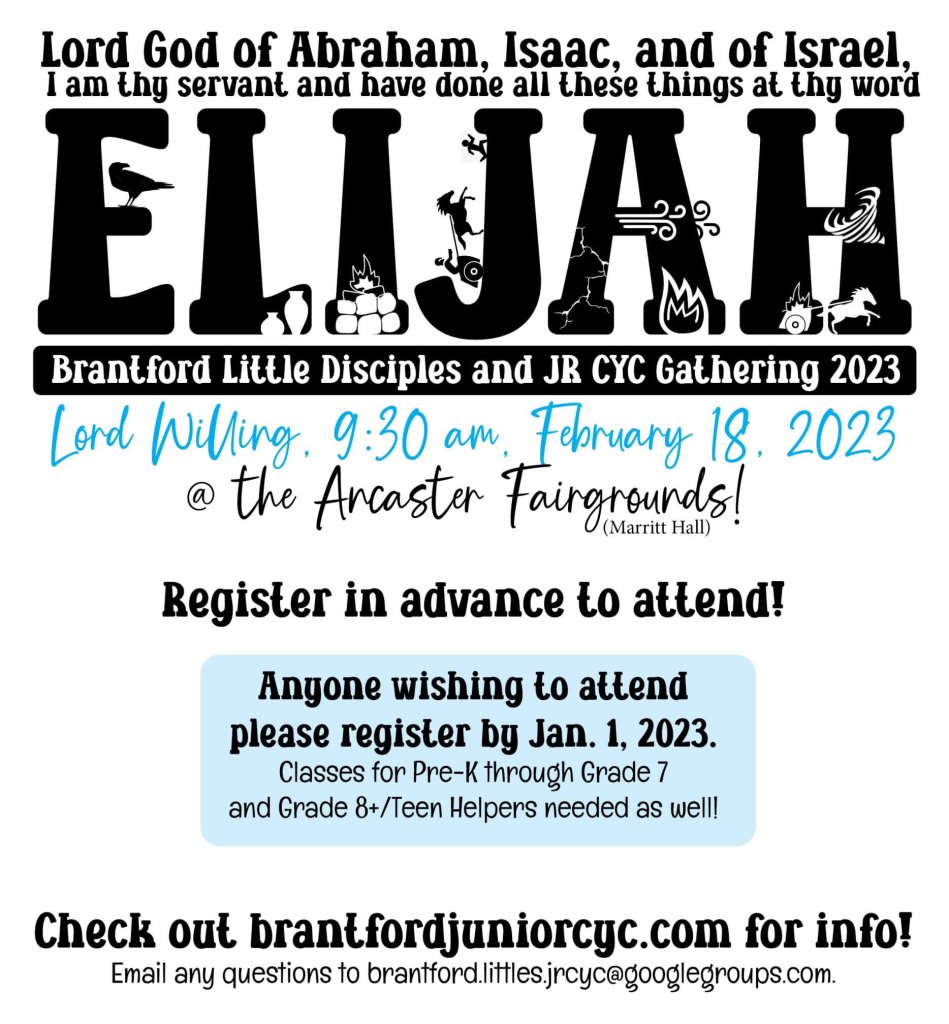 March, 2023
Manitoulin March Weekend
Manitoulin will be holding our March weekend God Willing on March 10th – 12th.
Bro. Gary Cousins will be leading classes on prayer. Contact Jeff/Tracy Cooper for details.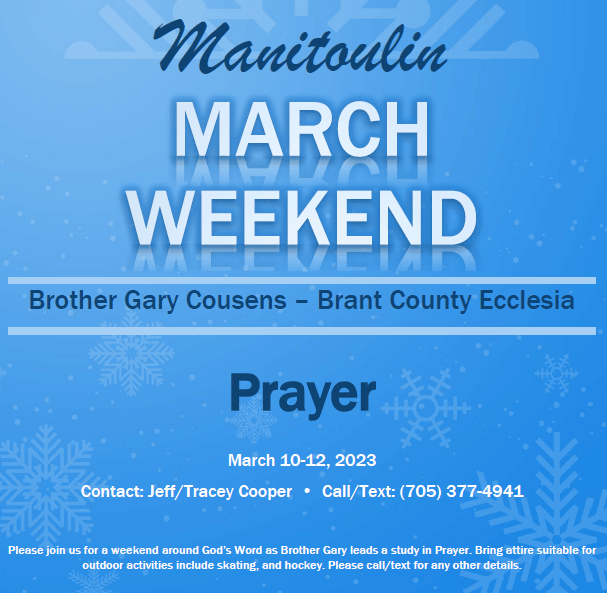 ---
April, 2023
Toronto Fraternal Gathering
Speaker: Brother David Jennings (Pomona, CA)
Topic: "Christ in you, the hope of glory"
Location: TBD
Dates: April 7-9, 2023
Save the date! More details to be released early 2023.
June, 2023
Detroit Area Junior CYC
Join us on June 3, God willing, for the Detroit area junior CYC (Pre-K thru 8th grade) gathering. If you plan to attend, please register using the link below. Once you have registered, you will receive a link to access the workbooks for your children. Click here to register: https://bit.ly/3WtrGO7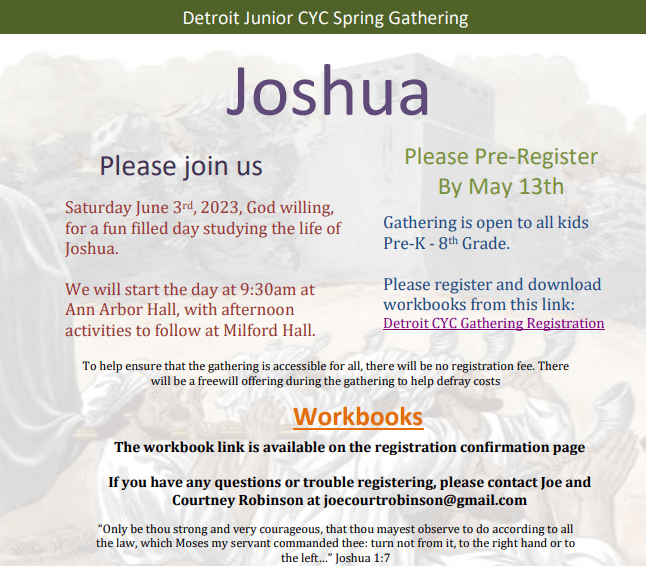 ---
July, 2023
April 7 - April 9
Toronto Fraternal Gathering
February 3 - February 5
Ladore Christdelphian Youth Camp
February 18
Brantford Little Disciples and JR CYC Gathering, Camp Trillium
July 24 - July 30
48th Annual Abrahamic Faith Gathering
July 23 - July 29
Western Christadelphian Bible School
July 1 - July 8
Mid-Atlantic Christadelphian Bible School
July 9 - July 15
South West Christadelphian Bible School
July 2 - July 8
California Youth Conference
June 3
Detroit Area Junior CYC
March 10 - March 12
Manitoulin March Weekend