December, 2022
13th Annual Ontario Winter Bible School
We are now accepting registrations for the 13th Annual Ontario Winter Bible School from December 24th to the 30th, 2022. We look forward to returning to our usual location in Midland, Ontario this year for an uplifting week together around God's word to strengthen one another on our walk to the Kingdom.
Speakers:
Kitson Reid (Acocks Green, UK)
David Bailey (Christchurch, New Zealand)
(third speaker to be confirmed)
Information for online registration, guidelines and other details as well as any updates are available on our web site: www.ontariowinterbibleschool.com
February, 2023
Ladore Christdelphian Youth Camp
Camp Ladore
Below is the official flyer for the 2023 CYC Camp, Camp Ladore! We are excited to hold the camp in person again in Waymart PA, February 3-5, 2023. Registration is now open at cyccamp.com! The cost for the weekend is $75 for those who register before December 31st and $90 for those who register after.
Speaker: Bro. Jason Hensley- Manasseh Amazing Grace
Contact: christadelphianyouthcirclecamp@gmail.com (Shoshanna & Gideon Hewitson)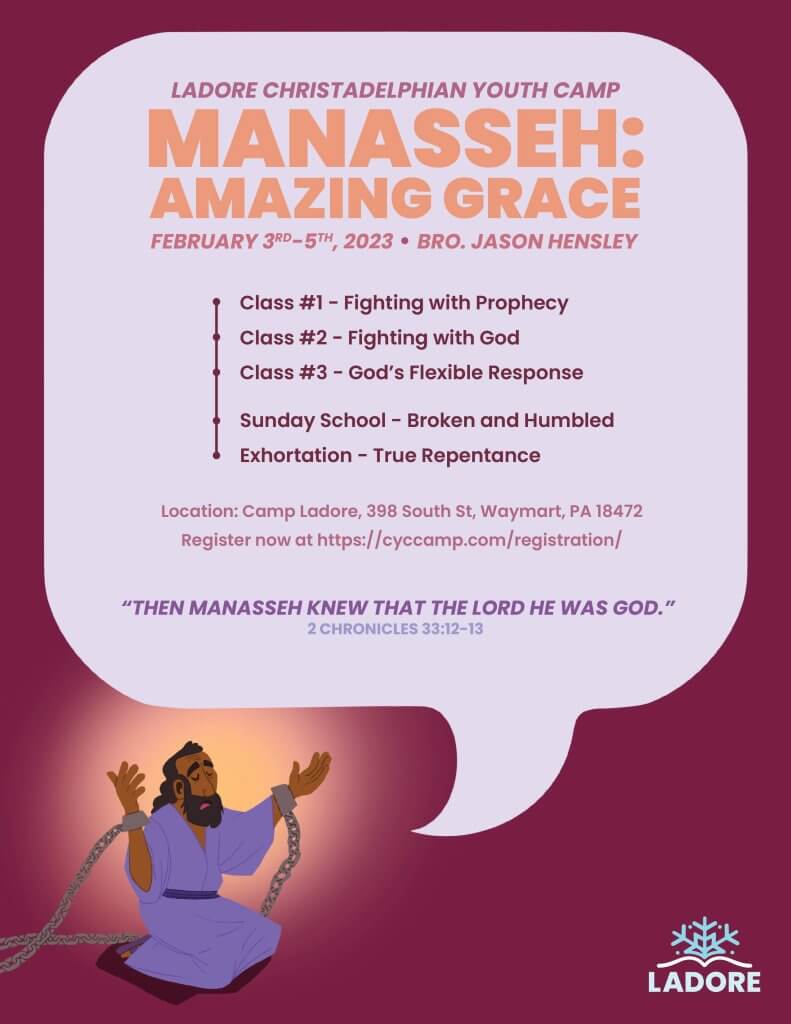 Brantford Little Disciples and JR CYC Gathering, Camp Trillium
Brantford Little Disciples and JR CYC Gathering (Camp Trillium!)
We are very thankful to announce that, Lord willing, the Brantford Little Disciples and JR CYC Gathering (which is also historically known as Camp Trillium), will be taking place February 18th, 2023 (9:30a.m.) at the Ancaster Fairgrounds!
We are very blessed to have the opportunity to meet together with our children and learn from God's word.  We are all looking forward to it and hope to see you there!  Please our website for registration to attend!  brantfordjuniorcyc.com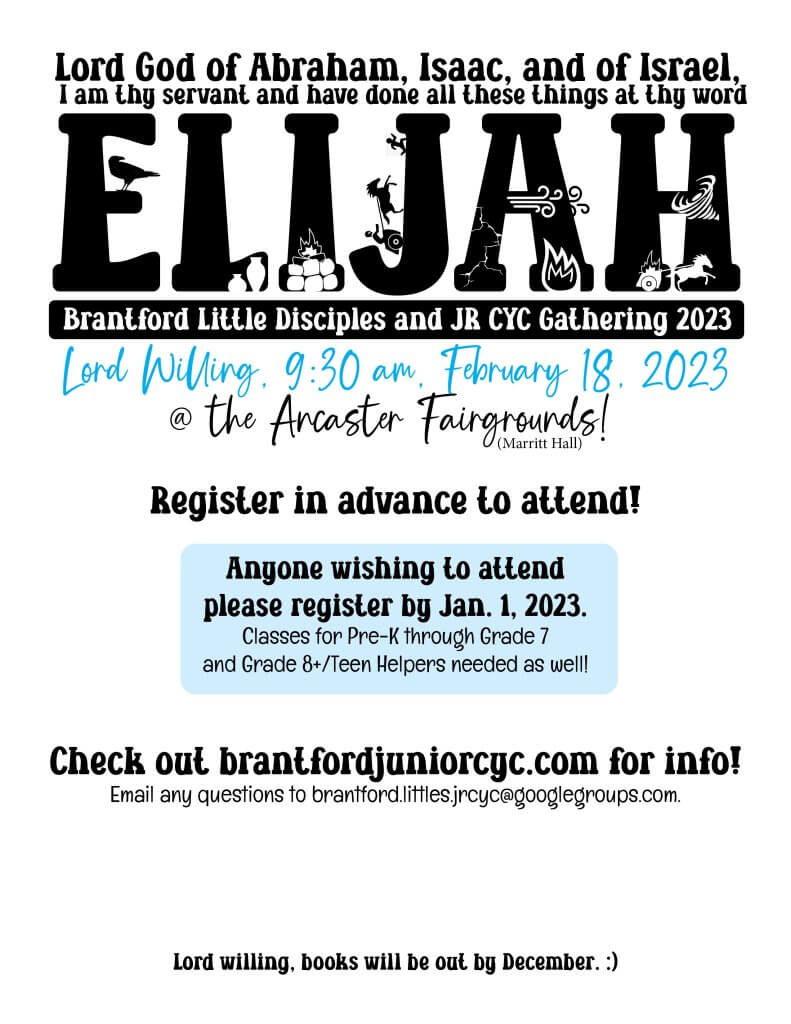 April, 2023
Toronto Fraternal Gathering
Speaker: Brother David Jennings (Pomona, CA)
Topic: "Christ in you, the hope of glory"
Location: TBD
Dates: April 7-9, 2023
Save the date! More details to be released early 2023.
April 7 - April 9
Toronto Fraternal Gathering
December 24 - December 30
13th Annual Ontario Winter Bible School
February 3 - February 5
Ladore Christdelphian Youth Camp
February 18
Brantford Little Disciples and JR CYC Gathering, Camp Trillium