October, 2023
November, 2023
Pittsburgh Fall CYC Gathering
You are invited to attend Pittsburgh's Fall CYC gathering, November 3 – 5.  Bro. Joseph Palmer (SanDiego County, CA Ecclesia) will be speaking on the topic, "What has the Lord Jesus Christ got to do with me?"  This will cover the principles and practice of the atonement – developed in response to the underlying challenge between un/amended ecclesias.  It will highlight our long held and cherished understanding of a representative sacrifice and the practical outworking of that.  Contact pghecclesia@gmail.com for more information.
---
Pittsburgh EcclesiaFall CYC Study Weekend
The Pittsburgh Ecclesia is hosting a Fall CYC Study Weekend on November 3rd–5th. Brother Joseph Palmer of the San Diego Ecclesia will present classes on What Has The Lord Jesus Christ Got To Do With Me?
Below is the flyer with all the necessary details, all times are Eastern Time (and Standard Time begins again at 2:00 a.m. on Sunday the 5th). Those who plan to attend should scan the QR code (below) and fill out the form, or via email us with your information (name, age, gender, ecclesia, baptismal status, contact info, housing and/or dietary needs) at pghecclesia@gmail.com.
If you have any questions, email me at kflats1@gmail.com, or call/text me at 614.325.4617
Kevin Flatley
for the Pittsburgh Ecclesia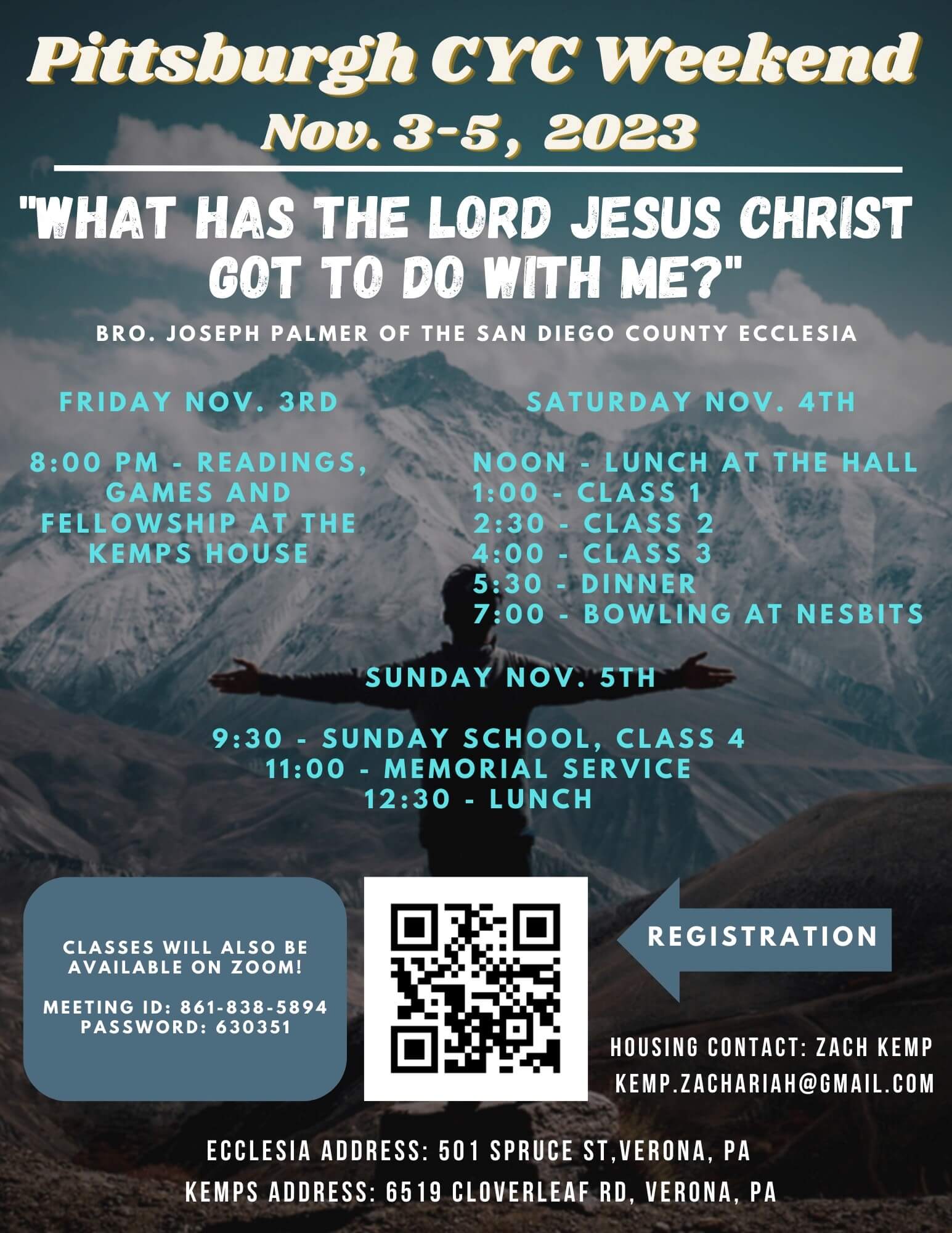 ---
Camp Hashawha Family Bible Study Weekend
The Washington, D.C. ecclesia extends a loving invitation for all to attend our Family Bible Study weekend at Camp Hashawha, Westminster, MD.
The weekend is planned, God willing, for November 10-12, 2021. Bro. David Fertig, of the Northern Virginia, VA ecclesia will speak on the topic of "Love Not the World" based on 1 John 2:15-17.
Contact: Eric Kling, 240-393-1520 or e-mail Eric at Hashawha@gmail.com for additional information. Further details will be forthcoming and will be posted on our website: https://hopeofthekingdom.com/. We look forward to an uplifting weekend of fellowship and study around the word of God.
Your brother in Christ,
Bob Kling, Hashawha Committee, Washington, DC ecclesia
---
December, 2023
Texas Youth Conference 2023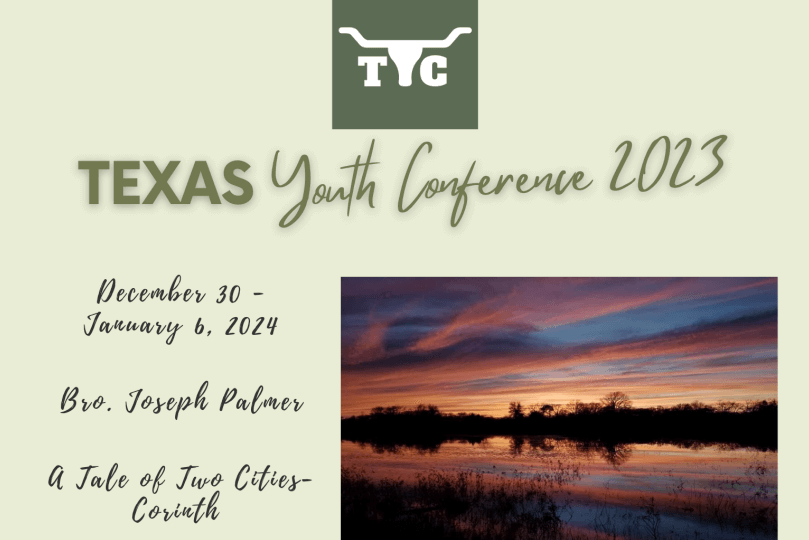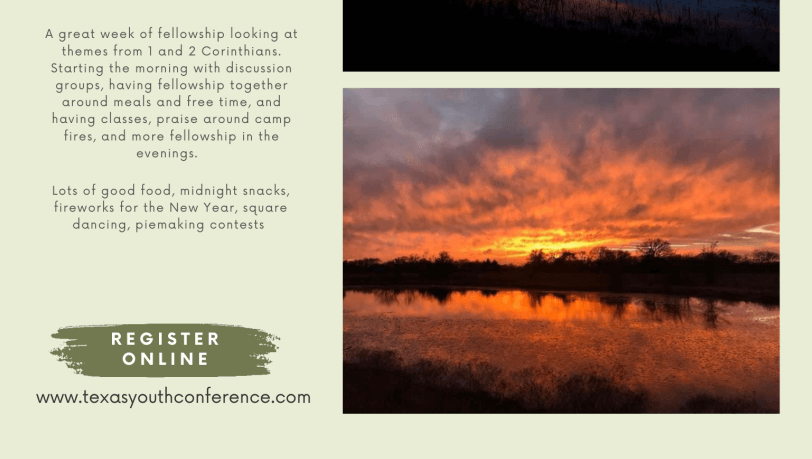 ---
---
October 7 - October 8
Vancouver Fraternal Gathering
October 27 - October 29
Faith Launch Conference
December 30 - January 6
Texas Youth Conference 2023
October 29 - October 30
Washington Senior CYC Fall Study Weekend
November 10 - November 12
Camp Hashawha Family Bible Study Weekend
November 3 - November 5
Pittsburgh Fall CYC Gathering
October 14
Fawley and Swindon Fraternal Gathering
November 3 - November 5
Pittsburgh EcclesiaFall CYC Study Weekend