July 25, 2021
Coffee Connecting Community: RVA Light
Our Heavenly Father created us to need healthy, supportive relationships and communities to thrive. Unfortunately, in our modern day North American society, we often see brokenness.
By RACHEL JOHNSON

Read Time:
5 minutes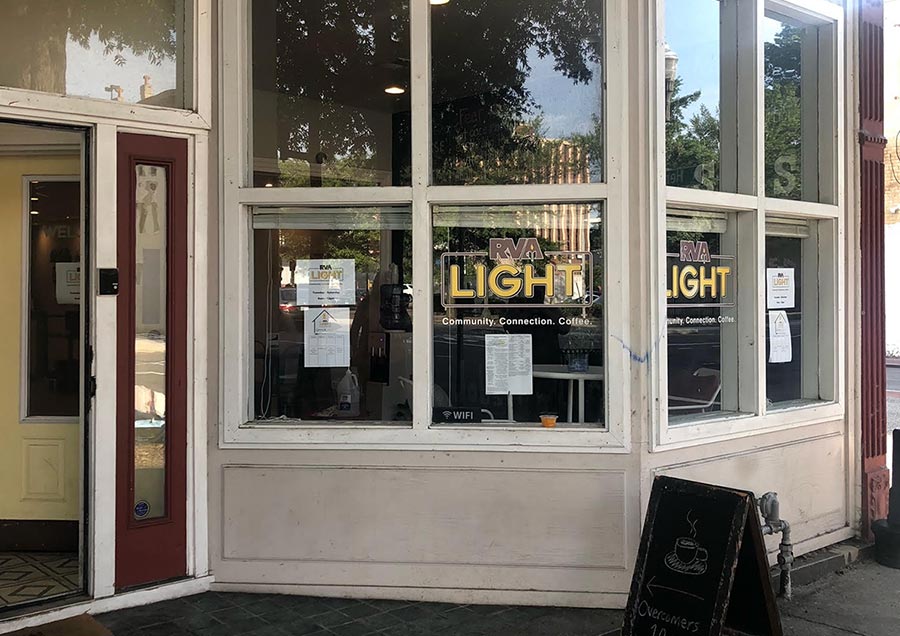 We live in a society in which many are lonely and lack healthy, supportive relationships. Many have suffered trauma from negative and broken relationships, often leading to unhealthy lifestyles and dysfunctional coping.
Many lack the support they need to deal with mental illness.
Worst of all, many are lacking a life-saving relationship with God and our Lord Jesus.
The Spirit of the Sovereign LORD is on me, because the LORD has anointed me to proclaim good news to the poor. He has sent me to bind up the broken hearted, to proclaim freedom for the captives and release from darkness for the prisoners. (Isa 61:1 NIV).
Our Lord Jesus proclaimed that this was the work he was doing in the world 2,000 years ago. He hasn't stopped doing this work. He is working through his disciples today. "I am with you always, even unto the end of the world." (Matt 28:20 ASV).
He also taught of the Good Samaritan, who did not turn away or walk by on the other side of the road when he saw a suffering neighbor. Jesus said, "Go and do likewise." (Luke 10:37).
RVA Light is a coffee house located in the heart of downtown Richmond, Virginia, and those who walk in the door are often suffering from homelessness, addiction, mental illness and poverty.
A few years ago, a small group of believers saw an opportunity to set up a space to serve our neighbors in a new way. With God's help and through the generosity of many brothers and sisters in North America, as well as help from The Christadelphian Meal-A-Day Fund of the Americas, RVA Light was established in August 2018.
This coffee shop is a welcoming place focused on cultivating a healthy and supportive community with Christ Jesus at its center.
The mission of RVA Light is to connect with our neighbors in supportive friendships and to link those who lack resources to local organizations and services that help with practical needs. And most importantly, to connect our neighbors with God and Jesus Christ.
WHY A COFFEE SHOP?
Coffee shops are a less intimidating environment for those not used to walking into an ecclesial building or meeting hall. Everyone can feel welcome in this neutral environment, and a cup of coffee can bring a sense of normalcy to an otherwise chaotic life.
Everyone can feel welcome in this neutral environment
RVA Light, however, is so much more than just a coffee shop. It is a community center where staff and volunteers have an opportunity to show love to our neighbors who are dealing with issues that stem from abuse, neglect and systemic loneliness.
While we know we cannot fix all our neighbors' problems (nor do we try to do this), we can attempt to fill in a gap that many people experiencing homelessness, poverty and addiction have: a lack of healthy, supportive relationships.
With the genuine care and support our neighbors find at RVA Light, our goal is to empower those we serve to make positive changes, get the help they need from local resources, feel belonging and much-needed dignity restored in their lives, and ultimately find hope in a stronger connection with God and Christ Jesus.
HOW DOES IT WORK?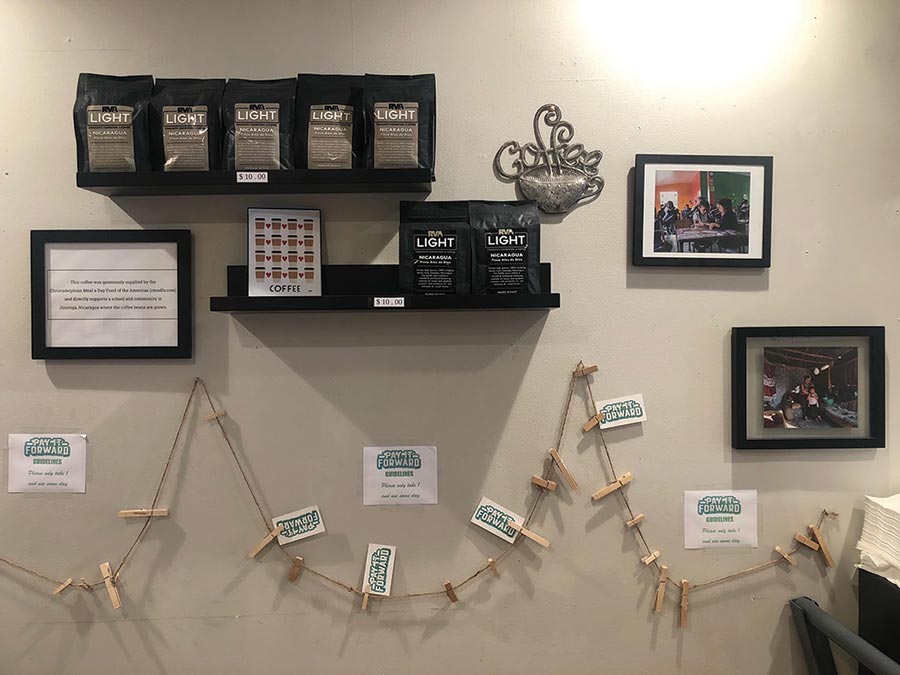 RVA is a ministry of presence, of listening to and meeting people where they are, while also encouraging and providing opportunities for personal and spiritual growth. Many non-profit and government organizations in our city offer focused, practical aid to those seeking help.
When possible, we work to connect people with these organizations. As a result, we uniquely supply a level of friendship that our neighbors often do not receive from most social service resources.
Staff, volunteers and neighbors build each other up in prayer, conversation and fellowship around God's Word. We spend time worshiping and praising God together, and we focus on Christ-centered recovery programs for those dealing with addiction.
We have held Bible-based budgeting/finance and work-readiness classes. We have visited our neighbors while they were hospitalized and in prison. We know their names and, in many cases, are a part of their daily lives.
We have been supported in this work over the last two years by many brothers and sisters from local ecclesias, including individuals from the Richmond Chapel, the Hall and the Petersburg ecclesias.
Cultivating relationships with our neighbors requires us to remove expectations for change. Often, these kinds of relationships suffer from a power imbalance between the "helper" and the person being "helped." Of course, we desire change, but all we can do is meet each other on common ground.
Recognizing our own need for change, we love each other as our Lord commanded. We have learned a lot about human nature and the nature of addiction over the last few years, and we've experienced many challenges when it comes to influencing positive change.
Over the last year, we've learned of the deaths of a few of our neighbors due to alcohol and substance abuse. Our most recent loss was a hard one for many in RVA Light's community.
"I've been coming every day because I love it. I love the community of it."
Richard (Red) was a fiercely loyal friend and caretaker of many. He took pride in being a protector and a member of RVA Light's community, and he directed many people experiencing homelessness through our doors for the first time.
Many mornings he read our "Daily Bread" devotion in a deep, resounding voice. At the end of last year, he helped us record a video for social media in which he explained that RVA Light offers "friendship and family, [it offers] fellowship. A place to feel that you're wanted. A place that you belong."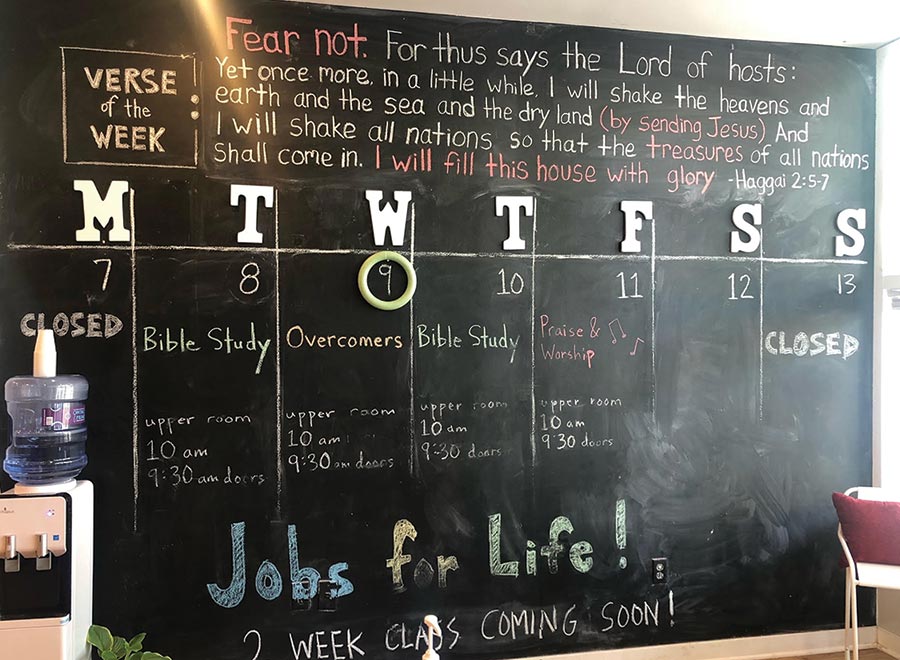 He went on, "I've been coming every day because I love it. I love the community of it."
We loved Red too, and we hope we enriched his life and drew him closer to our Lord Jesus in his last few years.
Thankfully, we've also celebrated victories and positive progress with our neighbors as well. For example, last year, one of our neighbors sent us this email with the subject line: Finding Jesus.
Hey thanks for your help in getting me closer to a good place to be. Not having the words of Jesus is the worst way to go about one's life. As I have made many mistakes and I blame not being close to Jesus as the reason. The bread & tea is super and the Bible as well, thanks RVA Light! Gee Wizz, where would I be if I had not walked through your door. Some dark corner of God's creation no doubt.
Though he continues to have many ups and downs, in the two years we have known this neighbor, he has gone from being unsheltered and heavily drinking each day to living in an apartment and working on his recovery from alcoholism.
We are so thankful to get to be a part of his support community and walk with him in his ongoing journey toward and with our Lord Jesus.
HOW CAN THE COMMUNITY HELP?
The potential for growth and healing that God is allowing us to be a part of is exciting. We are all in need of His love and care in our lives, and RVA Light has been a channel of this love for all who have been a part of this project. For anyone who would like to be involved, please pray for us, for the people we serve and for God's hands to bless this mission.
To support RVA Light financially, please go to rvalight.com and join the effort by becoming a monthly donor. Small gifts go a long way.
Even $10 per month will help us keep our door open and spend quality time serving our neighbors in this edifying environment.
We also have an opportunity presented to us by The Williamsburg Christadelphian Foundation (WCF): They have offered to match up to $15,000 of donations to us from brothers, sisters and ecclesias.
If you think your ecclesia would be interested in supporting RVA Light financially, please share this article with your Arranging Board.
Feel free to contact us with any questions at contact@rvalight.com, and if you are visiting the Richmond area, drop by for some coffee and fellowship!
And whatsoever ye do in word or deed, do all in the name of the Lord Jesus, giving thanks to God and the Father by him. (Col 3:17).
Rachel Johnson,
Richmond Chapel, VA