May 25, 2021
Cultivating Faith Together
Pondering the things that count is always a productive exercise, even more so when it's eternal things. Scripture is full of such things.
By MARK DRABENSTOTT

Read Time:
9 minutes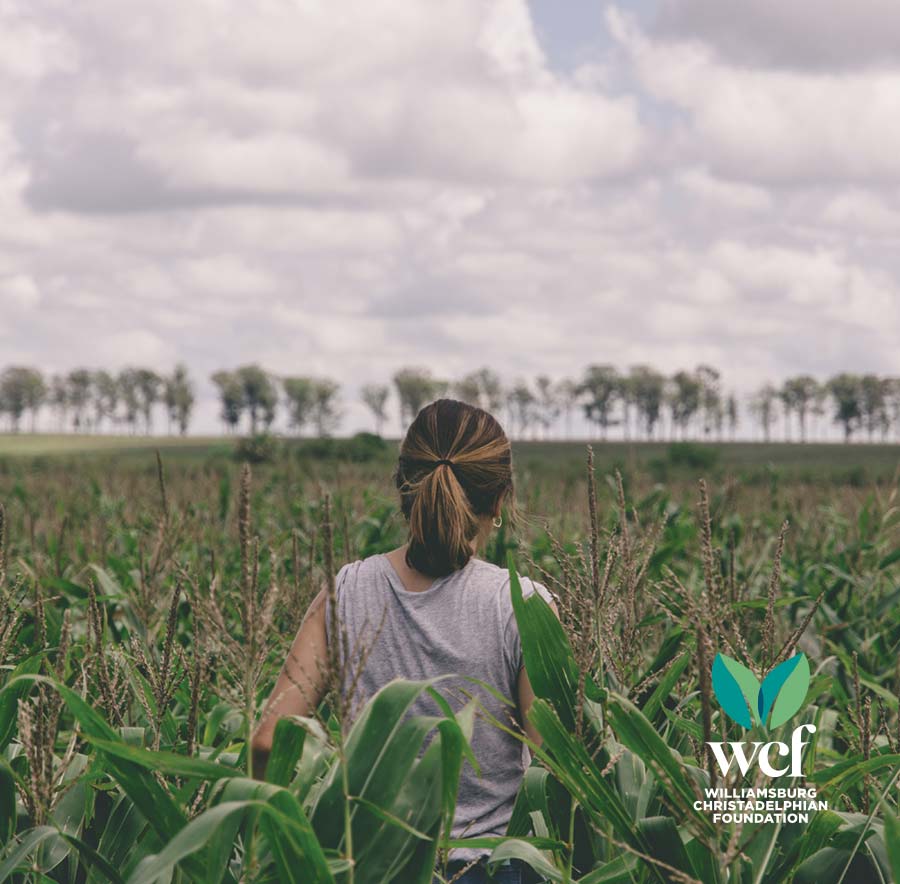 The late syndicated columnist Charles Krauthammer (1950- 2018) entitled his last book: Things that Matter. It was a look back at life after more than 30 years as one of the nation's most influential news commentators. Charles was widely hailed for his pithy insights that invariably swept away the chaff to uncover nuggets worth pondering. His own struggles honed that perspective, not least his becoming quadriplegic after a diving accident as a young man.
Pondering the things that count is always a productive exercise, even more so when it's eternal things. Scripture is full of such things. Three stand out for me:
"This is eternal life, that they know thee the only true God, and Jesus Christ whom thou hast sent." (John 17:3 RSV). To know God and His Son are transcendent things. If we want to gain eternal life, we must know who each being is, not just one or the other. God's characteristics matter (such as revealed to Moses in Exodus 34), just as Jesus' do (such as foreshadowed in Isaiah 53).
Yet, it is not enough just to compile knowledge. We must know God and His Son. The Good Shepherd puts it this way: "I know my sheep and my sheep know me." (John 10:14 NIV). This calls for walking with our Lord throughout life's journey. Above all, it calls for believing in him (a word John stresses throughout his writings).
"The only thing that counts is faith expressing itself through love." (Gal 5:6 NIV). This is a powerful reminder of what life is all about, one worthy of daily meditation—and weekly at the table of remembrance. It is the great prelude for the magnificent picture Paul paints a few verses later— the Fruit of the Spirit.
To offer a quick connection between prelude and painting, Bro. Norm Zilmer suggested that Paul might well have intended a colon after love, the first fruit in that wonderful list. In other words, love is the whole fruit that encompasses all the virtues that follow. Faith expressing itself in love surely is a life's work, one that yields a beautiful harvest.
"Let us run with perseverance the race that is set before us, looking to Jesus the pioneer and perfecter of our faith." (Heb 12:1-2 RSV). This true nugget is the capstone to the chapter on faith. Life is a long race, far longer than a marathon. Running well means not giving up. Put another way, perseverance is the crowning virtue of faith.
When our knees and hearts do grow weak, the key is looking to Jesus—our champion. He never gave up. From these and many other passages, the conclusion is powerfully simple: faith matters. It matters a lot. Without it, we simply cannot please God (Heb 11:6). If it's so important, how do we grow it across a lifetime?
WCF VISION AND MISSION
The Williamsburg Christadelphian Foundation (WCF) has taken this question to heart. We want to help grow mighty trees of faith (as described in Psalm 1 and Isaiah 61), ones that bear a bountiful harvest of loving fruit. WCF's vision is a community with a whole, vibrant faith.
God seeks a complete faith—one of head, heart and hands. Even so, WCF aims to help disciples grow a faith that goes beyond knowledge alone. Faith is rooted in a deepening understanding of God through His Word, the Bible. This is the essential starting point. But our faith must also develop strong trust in Him—seeking His will, not our own, leaning on Him in trial and crisis. A sturdy trunk keeps the tree from breaking when the storms of life arrive.
Finally, when we fully comprehend His grace toward us through His Son, we will naturally give back by showing love to others. When faith is whole, it far transcends reliance on Bible knowledge alone. Like a great tree, it bears the Fruit of the Spirit. WCF's mission is cultivating faith together. God wants us to grow a whole faith across a lifetime. WCF is committed to helping Jesus' disciples do that. Faith grows strongest and fastest when grown together. Our God has planted us in natural and spiritual families for good reason. Hence, WCF is committed to helping connect disciples in ways that encourage more growth.

WCF ACTIVITIES
How best to grow faith? The Master Gardener alone knows this vital process. But Scripture provides some useful cultivating practices for us to adopt. After extensive review, we identified five that seem especially helpful. They provide a useful way to describe what WCF is doing to help realize our vision.
TEACH
"Faith comes by hearing, and hearing by the word of God." (Rom 10:17 NKJV).
WCF helps teach God's Word and promote a faith rooted deeply in its wisdom. We have supported a broad range of efforts to introduce the Bible to those who seek its message.
We have funded Read Your Bible seminars by ecclesias. We have worked with outreach partners to fund Bible Education Centers (BECs) in the Philippines, Cambodia and elsewhere. Sometimes our efforts literally start with a basic education, the first step in introducing the Word of God. In Kenya and South Africa, we have funded education scholarships and facilities that advance literacy and basic learning skills. In Cambodia, we have funded a dormitory that gives Cambodian students access to an education unavailable in their villages.
GROW
He who abides in me, and I in him, he it is that bears much fruit… Herein is my Father glorified that you bear much fruit. (John 15:5, 8 RSV).
We help disciples use the tools that grow a mature faith, one that guides decisions and overcomes trials. These tools include things like self assessment, prayer and a network of fellow disciples. WCF is especially focused on helping our youth grow their faith. We see a generation buffeted by damaging currents in today's culture. In one response to this challenge, we started a major new program in 2020, called Faith Launch.
The program was held virtually due to the pandemic, but that turned into a blessing. We now have more than 100 participants worldwide. The objective of Faith Launch is to equip young adults (ages 18-35) with the tools they need to grow faith. We drew inspiration from the 50-year anniversary of Apollo 11, and all the care and attention paid to equipping astronauts for a long, successful journey.
Four phases of our faith journey are the central focus:
Day-to-day decisions;
Big life decisions;
Managing relationships; and
Overcoming crisis.
Another critical element of the program is connecting participants with Faith Mentors that can be a source of guidance and support in the future. Nearly 50 brothers and sisters are part of the mentor program. They have inspired everyone by sharing their faith lifelines, the lessons learned through all the twists and turns of life.

ENCOURAGE
"Let us consider how to stir up one another to love and good works… encouraging one another, and all the more as you see the Day drawing near." (Heb 10:24-25 RSV)
We help faith grow faster and stronger through products that encourage one another—giving song to faith, telling faith stories, increasing prayerfulness and sharing burdens. WCF tries to create beneficial ways for disciples to share all elements of their faith. One of these is our Faith Talk video series. This is a new Faith Commons, where brothers and sisters can encourage others by sharing lessons from their own faith journey.
We also have podcasts for all ages that aim for similar encouragement. Music is a vital avenue for inspiring faith in others. After the pandemic struck in 2020 and many asked for better ways to present music in virtual worship services, WCF moved quickly to launch our Hymns for Sunday music series. We estimate that upwards of 400 ecclesias now use Hymns for Sunday in their services. WCF also sponsored a virtual choir in 2020 that brought together 128 voices and 35 instruments from around the world to perform "Here at Last," a musical inspiration during a dark year.
CONNECT
"The whole body, joined and held together by every supporting ligament, grows and builds itself up in love, as each part does its work." (Eph 4:16 NIV).
We help connect people of faith globally to create a greater sense of belonging and foster love and support among believers near and far. The past year offered a powerful reminder of just how vital connections are to growing faith. All the social distancing and isolation made virtual ties all the sweeter. With summer Bible Schools canceled, WCF took steps to facilitate these vital faith connections in virtual ways.
We partnered with several Bible Schools to host the Online Christadelphian Bible School. Spanning five weeks, OCBS attracted more than 1,200 participants from all corners of the globe. The school offered several classes each week along with a Saturday evening program that brought everyone together; the Mountain Top Café was an especially welcome feature, allowing everyone to connect with brothers and sisters from afar, often for the first time.
WCF launched a Newcomers Program to help brethren immigrating to North America receive critical spiritual support. These refugees are often placed in communities far from any ecclesia. This program aims to fill that void.

SERVE
"As each has received a gift, use it to serve one another, as good stewards of God's varied grace." (1 Pet 4:10 ESV).
We help disciples give back to God for His grace by exercising a "Faith of the Hands" in service to others, especially to those with urgent physical needs. WCF has been a service enabler in many ways, much of it coming under the heading of Touch-to-Teach (T2T).
WCF distributed more than $1.2 million in humanitarian aid in 13 countries in 2020.
This work emulates our Lord's example of extending a loving hand to those in need, in the process opening a door for the Gospel to be shared. Our White Fields program has sponsored more than 160 people at mission hubs around the world, helping others and growing faith at once. WCF has also provided significant support to many mission hubs, spanning South Africa, India and Southeast Asia.
With severe economic lockdowns accompanying the pandemic, in 2020 we shifted most of our T2T funding to family financial assistance. In all, WCF distributed more than $1.2 million in humanitarian aid in 13 countries in 2020. In one country alone, we supplied basic material needs for a few hundred Christadelphian families for six months. We reckon more than 90% of our humanitarian aid goes to Christadelphian families in the Central Fellowship.
HOW CAN YOU HELP?
WCF sees an even greater need to grow faith in the coming year. The pandemic effects linger. Many North American ecclesias struggle with small and declining membership. And the cultural currents confronting our youth remain a huge challenge. Accordingly, WCF is giving special attention to four initiatives this year. There is more work than hands. We welcome you to join us in this work.
We're giving new focus to T2T. We are forming two key groups to advance this critical work. Our T2T Committee will identify the best projects to meet physical needs and to share the Gospel in all parts of the world. With light appearing at the end of the pandemic, they are also making plans to sponsor White Fields service workers again. Our T2T Roundtable will bring together leading practitioners from around the world to best harvest practices and form guidelines that help us make wiser decisions.
We're launching new efforts to teach faith fundamentals. This includes a new series of articles, videos and podcasts on the Biblical cornerstones of faith cited at the start of this article. Knowing God and His Son. Growing a faith rooted deeply in God's wisdom. Leaning on Him in crises and decisions big and small. Giving back for God's grace by serving others. We've also begun developing a Faith Toolkit with six tools (Self-Assessment, Scriptural Understanding, Prayer, Community, Cultural Influence Awareness, and Contemplation) that can be a daily help to disciples of all ages.
We're emphasizing more and better faith connections. This includes coordinating the Online Christadelphian Bible School (July 3-24) to benefit the global faith community. This school will feature videos from Africa, Asia and beyond, showing how brothers and sisters we rarely see practice their faith and offer praise day by day.
Salvation is the gift of God. But we are saved by grace through faith.
We're giving a new effort to supplying tools to help encourage growth in our ecclesias. Our youth remain a vital target. We will host Faith Launch II, starting in October. We're also looking at ways to help coordinate youth curricula, so there is continuity and seamless efficiency to equip our youth to grow faith for a lifetime.
One of God's first creative works was planting a garden (Gen 2:8). The garden had everything required for abundant life and bountiful glory. The Master Gardener had thought of everything— including the one thing he did not create, the one thing he left to us— faith. Salvation is the gift of God. But we are saved by grace through faith. Such faith is precious in God's eyes. In the end, faith is what matters.
Each of us must develop faith across the whole arc of life. We pray He will bless all efforts to grow faith into mighty trees that bear the fruit of the spirit. And we invite you to join us in Cultivating Faith Together.
Stay connected to our faith activities: wcfoundation.org/subscribe
Mark Drabenstott,
Kansas City, MO, CGAF
WCF Chairman