September 25, 2023
Getting to Know our God and Jesus
Our goal every day is to come closer to the way Jesus lived.
By JIM STYLES

Read Time:
8 minutes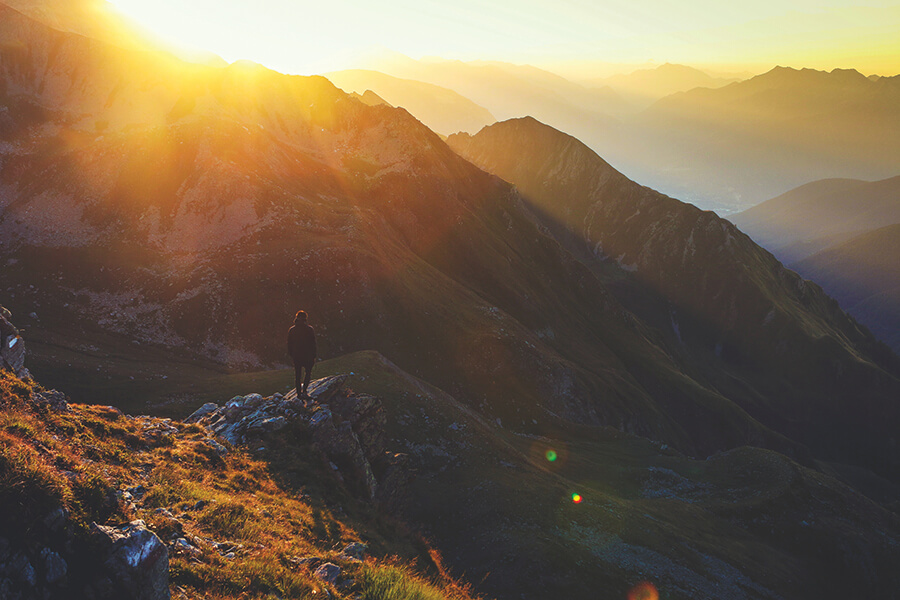 God's Incredible Love For Us 
This topic is one of the key first principles of our Faith, yet it took me years to realize just how essential it is that we understand and appreciate God's love. I grew up in an ecclesial atmosphere so worried about the Evangelical Revival that most members did not mention or discuss the love of God.
I have witnessed many interviews for baptism that never mention God's love at all, yet God intended it to be one of the greatest motivators in our lives to battle the devil within us. Jesus said in John 17:3, "This is eternal life, that they know you the only true God, and Jesus Christ whom you have sent."1 Getting to know our God and His son, Jesus, influences how we live and treat one another by providing us with the most powerful motivation to resist our natural desires and instead choose to live like our God. 
Our goal every day is to come closer to the way Jesus lived. The gospels show us how Jesus treated people and make it clear that he was showing everyone the eternal way of life of his Father. As Jesus said, "whoever has seen me has seen the Father." (John 14:9). We do become like the God whom we worship, so we better get to know Him as the loving, merciful Father He is, and grow our relationship with Jesus Christ His son, who "has made Him known."
How is your relationship with Jesus Christ maturing?  If he returned today, and showed up to meet you, would your reaction be one of running away in fear and trying to hide like Adam and Eve, or would you want to hug him and thank him for all he has done for you in changing your life?
Do you view God as an angry Father who watches everything you do wrong and wants to punish you for all your failures, like Job's friends did?  Or do you have a loving relationship with your God, seeing Him as a Father who dearly loves you, who greatly desires you to be in His family forever? 
He freely wants to show you mercy for your failures as you grow in His word. God sent His beloved son to engage in the battle with the devil to the end to show us how to resist sin and trust Him. He is a Father who loves you so much He sends His angels every day to train you to understand Him so you will learn to live more like Him.  Jesus put it best: "If anyone loves me, he will keep my word, and my Father will love him, and we will come to him and make our home with him." (John 14:23).
We sometimes think this is just a New Testament idea, but God's love for us is throughout the Bible.  When the angel passed by Moses to reveal God to him, the angel proclaimed the character of God: 
The LORD, the LORD, a God merciful and gracious, slow to anger, and abounding in steadfast love and faithfulness, keeping steadfast love for thousands, forgiving iniquity and transgression and sin, but who will by no means clear the guilty. (Exod 34:6-7).

 
Moses reminded the people that they were:
a holy people to the Lord your God; the LORD your God has chosen you to be a people for Himself… because the Lord loves you, and because He would keep the oath which He swore to your fathers (Deut 7:6-8 NKJV).
God hoped that if His people understood and appreciated His love for them, they would respond by showing God's love to others. They should have learned to treat others with the same love, kindness, patience, compassion and mercy that motivated God in His treatment of His people—and so should we!  Deuteronomy 10:12-20 reminds us, 
The LORD set his heart in love on your fathers and chose their offspring after them… He executes justice for the fatherless and the widow, and loves the sojourner, giving him food and clothing. Love the sojourner, therefore, for you were sojourners in the land of Egypt.
When we experience and appreciate God's love towards us and recognize how He is doing so much every day to train and save us, it motivates us to show others the same love, mercy and patience.  This changes our lives, how we interact with people, and our willingness to show love, compassion and mercy to others who sometimes fail in the battle with sin, just like us.
Our God has always been motivated by His love for us. Still, He expects that His love, mercy and patience will drive us to fight sin in our lives as Paul reminded us: 
Or do you presume on the riches of his kindness and forbearance and patience, not knowing that God's kindness is meant to lead you to repentance?
(Rom 2:4).
God's love for us is not unconditional!  He expects us to respond by changing our lives to be more like His.  We sometimes forget one of the great blessings in the promises to Abraham was that God would motivate people to resist Sin. As Peter proclaims: 
You are the sons of the prophets and of the covenant that God made with your fathers, saying to Abraham, 'And in your offspring shall all the families of the earth be blessed.' God, having raised up his servant, sent him to you first,
to bless you by turning every one of you from your wickedness.
(Acts 3:25-26).
God does expect us to develop into His children, reveal His love, and learn to live His eternal way of life if we hope to join His family forever.
Although we may begin our relationship with God based on our fear of God disciplining us for all our failures, God hopes our relationship with Him will mature to become based on love, not fear. It's like a two-year-old child learning not to walk out into a busy street because they may fear the discipline they will receive, as opposed to that same child as a teenager who accepts and trusts their parents' guidance because they love their parents, not because they fear some discipline that may follow.  
Love has so much more power to change our lives for good, than fear. Remember when Joseph's brothers made up the story about the wild animal killing Joseph because they feared telling Jacob the truth? Years later when Judah pleaded with Joseph to take Benjamin's place, it was because Judah loved Jacob and could not bear to see Jacob deal with the loss of another son. Or as John puts it in 1 John 4:18,
"There is no fear in love, but perfect love casts out fear. For fear has to do with punishment, and whoever fears has not been perfected in love."
God knows He cannot give eternal life to those who primarily serve Him because they fear punishment. Once they were given immortality, their main motivation to serve would be gone! But if we are motivated by love, God knows that this will drive us to serve Him and love His family forever, because "love never ends" and "the greatest of these is love." (1 Cor 13).
God didn't wait until we were spiritually developed and worth saving to redeem us. He didn't hold out until we asked for forgiveness and mercy.  His love for us drove Him to initiate a plan and carry it out so he could save us by his grace despite our ungodliness and sinfulness.  Even though we: 
All once lived in the passions of our flesh, carrying out the desires of the body and mind…But God, being rich in mercy, because of the great love with which he loved us, even when we were dead in our trespasses, made us alive together with Christ by grace you have been saved–and raised us up with him and seated us with him in the heavenly places in Christ Jesus. (Eph 2:3-6).
An accurate understanding and appreciation of how God loves and acts should compel us to become more like Him in treating others when they spiritually fail. We must become more like our God and take the first step in seeking to save those who have missed the mark, provide a pathway for them to be restored in mercy and grace, and then prayerfully do our best to help and support their journey.  Paul reminds us all that, 
When we were still without strength, in due time

[at just the right time (NIV)]

Christ died for the ungodly. For scarcely for a righteous man will one die; yet perhaps for a good man someone would even dare to die.

 

But God demonstrates His own love toward us, in that while we were still sinners, Christ died for us.

(Rom 5:6-8 NKJV).

 
God's love was real, planned for over 4,000 years, and it cost Him, and it was all for humans who did not deserve it! The Bible makes it clear in the lives of Jacob, Samson, David, the woman caught in adultery, Peter, and so many others that our God does not want to condemn us for our sins and mistakes. Still, He is very interested in what we learn from them and if we are growing in faith. God hopes that, like the woman caught in the act of adultery, we will "sin no more."
There are times when God's love for us causes Him to bring sad, devastating events into our lives or the lives of others to cause us to consider our ways or to demonstrate and grow our faith and trust in God.  As God reminded His people through Isaiah, "I form light and create darkness, I make well-being and create calamity, I am the Lord, who does all these things." (Isa 45:6). 
Just as any mom or dad today must discipline a child, they love to train them, so our loving Father must discipline us through the experiences of life so we will mature into His children, learning to live His eternal way of life. We can completely trust that when God chastens us, "God is treating you as sons" and "He disciplines us for our good, that we may share his holiness." (Heb 12:7,10).
We must communicate to our children, grandchildren, and interested friends the love God has for all of us and that everything He does in our lives is done in love, for our good, because He greatly desires us to become members of His eternal family.
We can confidently trust that whatever illnesses, accidents, financial troubles, family problems and ecclesial issues that God causes to surface in our lives, He is in control, working for our good to train us to become His children who live like the loving Father who "of his own will he brought us forth by the word of truth, that we should be a kind of first fruits of his creatures." (Jas 1:18).  It's not easy to change us, with our nature so prone to sin, into children of God, but our loving Father has taken on that challenge and "I am sure of this, that he who began a good work in you will bring it to completion at the day of Jesus Christ." (Phil 1:6).
What a privilege we have today to have been called by God into His family. "See what kind of love the Father has given to us, that we should be called children of God; and so we are." (1 John 3:1). Getting to know the love God has for us, that same love He revealed in the life of Jesus, will energize us with a motivating power to change the way we live. Let's respond to His love by keeping His commandments and loving one another with the kind of love God shows us every day. As John reminds us: 
Beloved, let us love one another, for love is from God, and whoever loves has been born of God and knows God. Anyone who does not love does not know God, because God is love. (1 John 4:7-8).
Jim Styles,
Simi Hills Ecclesia, CA
All Scriptural citations are taken from the New King James Version, unless specifically noted.