March 24, 2023
Into The Wilderness
All people enter the wilderness. It is a land of solitude, where one stands completely alone and is tested. It is a time when we learn about ourselves and what matters to us.
By DAVE JENNINGS

Read Time:
7 minutes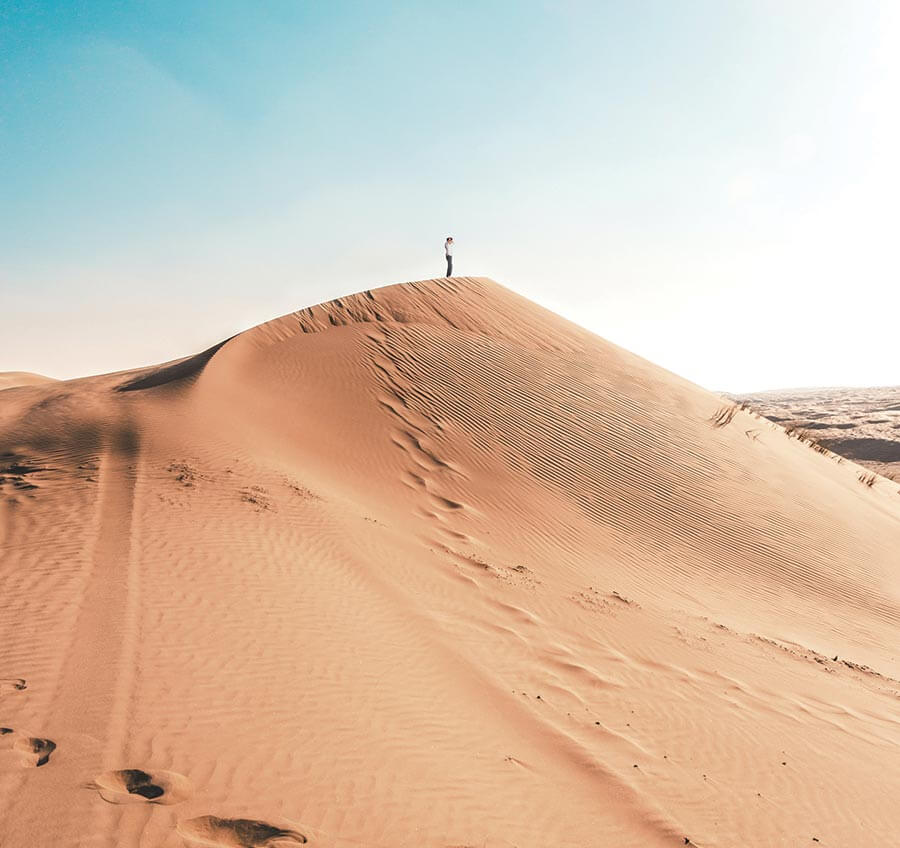 The gospel record provides a fascinating juxtaposition of two men being "led into the wilderness." Of the Lord Jesus, immediately after his baptism, "the spirit driveth him into the wilderness." (Mark 1:12). Of the tormented man, Legion, he was "driven of the devil into the wilderness." (Luke 8:29).
Two very different men, driven for different reasons into the dangerous perils of the wilderness. One represents the work of the Spirit, the other the natural trials of the man of the flesh.
The wilderness exposes us to threats against our faith
All people enter the wilderness. It is a land of solitude, where one stands completely alone and is tested. It is a time when we learn about ourselves and what matters to us. We learn what is useful, as well as what is frivolous. The wilderness exposes us to threats against our faith and even against our life. It proves us like a refining fire. We learn how to survive. When we emerge, we can be stronger and more prepared to face future wilderness experiences.
Jesus was driven, or "led up of the spirit." (Matt 4:1). This was a God-led exercise. Previously, Moses had been on the mountain before God for forty days and nights and had not eaten bread or drunk water (Exod 34:28). During this time, Moses would see the remarkable revelation of the character of God. His skin shone like rays shooting out. In the wilderness, Moses became more fully equipped to lead God's people and endure the trials and temptations that would come his way.
Jesus was fully aware that the wilderness was an important part of God's preparation for his ministry. Each temptation was laser-focused on the major challenges Jesus would later face. He would be tempted by the risk of inappropriate use of the Spirit for his benefit, to demonstrate his authority, and compulsion to be exalted as king of this world. The Lord masterfully conquered each trial by citing Deuteronomy for his spiritual direction. God directed Jesus to go to the wilderness for his own spiritual growth. 
Legion
Legion's experience was quite different. He was "driven of the devil," not the Spirit, into the wilderness. The madness of this man was not a recent phenomenon, for we are told he had suffered for a long time. His flight from his hometown in the region of the Gadarenes to the wilderness was a fruitless escape rather than for a positive purpose. It was the release of a wild man.
This poor soul was under torment that few of us could imagine. His illness was so uncontrollable that even when bound by chains and fetters, there was no controlling him. His family had been powerless in all attempts to bring his madness under control. With no other hope, he fled into the wilderness, naked and homeless, finding no better sanctuary than the desolate tombs. He found others with similar madnesses, but their company provided no solace. The wilderness was not a place of spiritual testing for this man. It was a place of utter torment.
The Wilderness Today
Thankfully, our wilderness journey is more like the Lord's, not Legion's. The trials we endure are prompted by God for our learning. We are told that:
No chastening for the present seemeth joyous, but grievous: nevertheless afterward it yieldeth the peaceable fruit of righteousness to them that are exercised
[trained]
thereby."
(Heb 12:11).
The trials we endure are prompted by God for our learning
In the wilderness, we will be scourged, "as with sons." (Heb 12:7). Our entire lives are to be lived under the righteous hand of God, who works carefully with us to build our faith. Our whole experience in the wilderness is about development.
Sadly, most of the world is in the wilderness with Legion. Lonely. Terrified. In agony. Unable to master the basic impulses of the flesh. Survival is day by day. There is no hope or expectation of a better day ahead. What joy is found is fleeting and balanced with sorrow.
We feel deeply for such people because we were once part of the same experience. Apart from the grace and salvation of our Lord, life can only be measured by a series of disappointments. Without the Lord, we were powerless to control our flesh and bring it into obedience. Bad habits and sins we wanted to conquer instead brought us into captivity. Until our Lord delivered us, we also were those "who through fear of death were all their lifetime subject to bondage." (Heb 2:15). We were Legion.
Meeting Jesus
The encounter with Legion was extremely dramatic. Matthew describes Legion as "exceeding fierce." (Matt 8:28). Matthew's account clarifies that it was not one, but two possessed men who approached Jesus. The NLT translates this as they "were so violent that no man could go through the area." Their very appearance (and likely smell) would have been repulsive, as they were unclothed, with skin torn and festering from cuts made with rocks. Even courageous people would avoid such an encounter. Further, as Jesus and his disciples came near, one of the madmen ran as fast as possible toward Jesus.
But the approach was not to attack. Instead, Legion prostrated himself at the feet of the Master and "worshipped him." (Mark 5:6). I wonder how the disciples reacted to this? I suspect some were paralyzed in fear. Others may have felt the compulsion to protect their Master. Then, after lying on the ground before Jesus, Legion screams out, "What have I to do with thee, Jesus, thou Son of the most high God? I adjure thee by God, that thou torment me not." (Mark 5:7-8).
I find Legion's reaction most interesting. First, while most were still grappling with who Jesus was, this man, who was an outcast and filled with madness, knew exactly who he was! This declaration is well before Peter confessed in Caesarea Philippi that Jesus was "the Christ, the Son of the living God." (Matt 16:16).
Yet this poor man didn't calculate that he could be healed. He only asked that Jesus not torment him as so many others had. He worried Jesus would banish him again, and he would have to search for a new haven. At this point in their interaction, Legion saw the Lord as a man of great authority, but he did not know that he would merit compassion. People only feared Legion. Could somebody show him love and compassion? He didn't think so.
But Legion was at the feet of the most compassionate man that has walked this earth. I am certain the Lord's heart was abounding with great love as he looked down on him. Jesus asked, "What is thy name?" (Luke 8:30). I wonder when the last time someone had asked this of the man? Jesus didn't see him as a monster but as a man worthy of redemption. He responded, "Legion." His identity was no longer his given name. He identified only with his torment. But the Lord didn't label him as Legion. He was interested in the man himself.
Sadly, there are many in this world who share Legion's pain. They struggle to feel that it could be possible for their lives to be changed. Their lives are too messy, too manic. They feel unworthy of the love of the Master. "Surely, the Lord couldn't love a person like me!"
Jesus demonstrates his power to heal by sending the madness into the swine that were feeding nearby. Interestingly, the swine ran "violently" into the sea and were drowned (Matt 8:32), running just like Legion himself had run before the Lord. Legion must have been astounded as he saw the swine wildly running away, as he had done so many times.
The man, now healed, would wash and be clothed. How long had it been since he was clean and clothed? When the keepers of the swine saw this, they ran, and the whole city came out to see what had happened. They found the wildest of men now sitting, clothed, "and in his right mind." (Mark 5:15). Undoubtedly, this man would return home to the joy of his family. The Master returned their lost son.
We need not be afraid
Paul describes the Last Days as "perilous." This is the same word Matthew and Mark use to describe Legion—fierce. Because our Lord has compassion on us, we face this perilous world "in our right mind," not as aimless, retreating creatures. We need not be afraid, for we are driven not by the devil into the wilderness but by the Spirit.
The Value of Our Wilderness
The first message to all of us, is to preach urgently to those huddled with Legion in the wilderness. Do we see them as men and women with a name, or do we label them by their anguish? What a powerful message of hope we offer. We cannot heal them, but we can bring them to the feet of he who can. Each of us can choose the road that no others will journey for fear of Legion. What a remarkable opportunity it is for us to witness the transformation of the souls of people under the care of the Master!
All people go to the wilderness. Some go without God; others go under His care and supervision. This provides an important perspective on our spiritual lives. The trials we face are for a purpose, assuming we can have our minds exercised by them. Going through difficult experiences does not guarantee spiritual value will be realized. The man who battles a life-threatening illness may emerge less godly and not see his Creator as the one who granted health. But for those who learn in the wilderness, it brings us closer to our God. We learn to depend on Him. We feel His presence near us, rather than loneliness. We obtain the "peaceable fruit of righteousness" when we recognize that our God provides abundant strength in our hour of need.
Just as Jesus's temptations in the wilderness prepared him for the work ahead, so our God is shaping each of us as individuals to prepare for the work ahead. Paul described this when he wrote, 
For we are God's handiwork, created in Christ Jesus to do good works, which God prepared in advance for us to do. (Eph 2:10 NIV).
God is working through His Son, who is deploying the angels to shape us and prepare us for work ahead. Each of us will need to take a different path in the wilderness, as our faith requires. Ultimately, if we submit to his training program, He will work through us. We will become the "good ground" that will "bring forth fruit, some thirtyfold, some sixty, and some an hundred." (Mark 4:20).
After the wilderness experience, Jesus "returned in the power of the Spirit into Galilee." (Luke 4:14). Immediately after the wilderness, our Lord went right to work.
May we each travel through the harsh and perilous times we face, not feeling fear or loneliness. Our compassionate Lord is with us, bringing us through our trials. Let's submit to his leadership, for if we do, we, too, will surely bear fruit from the Master working through us. He has called us to "yield ourselves unto God, as those that are alive from the dead." (Rom 6:13). He knows our names. He washed us. He clothed us. He has given us the mind of Christ, which brings us great peace.
Dave Jennings