July 23, 2022
Knowledge Puffs Up
Knowledge is good. In fact, the right knowledge of God's Word is necessary for salvation.
By CHRIS SALES

Read Time:
7 minutes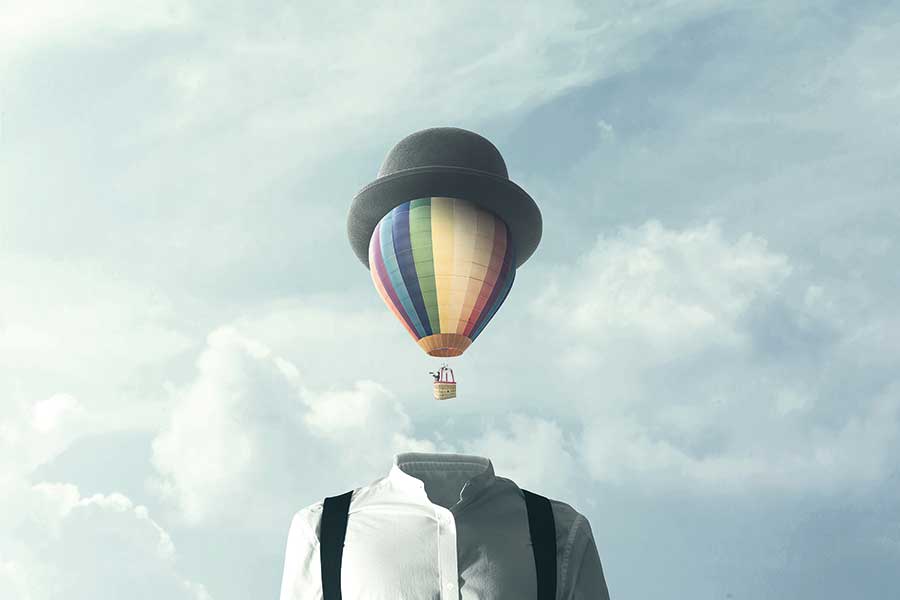 Solomon wrote, "The fear of the LORD is the beginning of wisdom, And the knowledge of the Holy One is understanding." (Prov 9:10).11 Conversely, a lack of knowledge is bad! "My people are destroyed for lack of knowledge. Because you have rejected knowledge, I also will reject you." (Hos 4:6). In fact, it was ignorance (a lack of knowledge that Jesus was their Messiah) that caused the people to kill God's Son. (Acts 3:17).
Sodom prided itself on its affluence and success.
Although knowledge is good, and the right knowledge is necessary for salvation, we are warned by Paul that knowledge can result in pride, which leads to sin! Paul wrote that "knowledge puffs up, but love edifies." (1 Cor 8:1). Pride was certainly at the core of Sodom's downfall (Isaiah 3:9) and the prophet Isaiah reminds us that Sodom, the home of righteous Lot, prided itself on its affluence and success. Isaiah upbraided his contemporaries for not giving full heed to the Word of God (Isaiah 1:10).
Incredibly, a correct understanding of God's word can lead us to sin! If we use knowledge in an unloving way and let pride enter into our motives, this can cause us to despise our brother or sister. Disregard for another can cause us to cause them to sin. How sad!
And because of your knowledge shall the weak brother perish, for whom Christ died? But when you thus sin against the brethren, and wound their weak conscience, you sin against Christ. (1 Cor 8:11-12).
Ouch! Sounds like what Jesus said in Matthew 25:45. "Assuredly, I say to you, inasmuch as you did not do it to one of the least of these, you did not do it to Me." He also warned against offending one of his "little ones" and causing them to stumble. Remember the millstone? (Mark 9:42).
So, what was happening in the First Century when Paul addressed this issue with the ecclesia at Corinth and said, "Knowledge puffs up, but love builds up." Well, Paul clearly says that the "knowledge" he was speaking about was that an idol was nothing. (1 Cor 8:4). This was a well-known fact from the Old Testament. Isaiah wrote, "Indeed you [the idol gods of verse 23] are nothing, and your work is nothing; He who chooses you is an abomination." (Isa 41:24).
So, the Jewish faithful, and perhaps many Gentile believers, totally understood any meat blessed by or offered to an idol was unchanged. The idol could do nothing to the meat because the idol was nothing! But for some Gentile Christians who grew up believing an idol had power, their "conscience" [Greek: perception or awareness] was pricked, and they couldn't shake the feeling something actually happened to the meat. To them, the meat offered to the idol was somehow different from the meat that wasn't, so their solution was to not eat meat (1 Cor 8:7). So, what was an ecclesia to do? Some members (with knowledge) knew that meat was just meat and could be eaten. Others (with a weak conscience) did not want to eat what they considered "defiled" meat. 
Interestingly, the ecclesias in Acts 15 had decided that part of the "necessary things" to transition Gentiles into the mostly Jewish body of believers was to instruct them to not eat meat offered to idols, mostly because of Jewish sensitivities to dietary restrictions. By the time Paul wrote to the Corinthians and also the Romans (chapter 14), the issue was dividing Gentile ecclesias, and some (the strong, knowledgeable ones) were arguing that it was perfectly fine to eat meat offered to idols. Paul argued that they were right. That is, their knowledge was based correctly on Scripture. The idol was nothing and therefore could not affect the meat presented to it. But there was another attribute at play. It was love, and that was a game-changer.
The knowledgeable brother or sister, acting on a right understanding of God's word about idols, could freely eat any meat. But if that action caused a "weak" member to go against their conscience to eat the same meat, it would be a sin. To act proudly and boldly on knowledge and rights is not acting in love. Paul calls it a sin (1 Cor 8:12). My "right" action is wrong because it is done without love! WOW! This is clearly what is meant in 1 Corinthians 8. The implications are profound.
In 1 Corinthians 9, Paul gives a personal example of this principle. It was within Paul's rights to get married and be supported financially during his missionary journeys (he had solid Scriptural support and ecclesial precedent). But he purposely chose neither for conscience's sake and to set a good example of acting in love. He made these decisions for himself and did not impose them on others.
In 1 Corinthians 10, Paul reminds us that even if we know an idol is nothing (v.19), we do not have the liberty to do as we please. The oneness of the body of Christ is more important (v. 17). He summarizes with this timeless principle: "All things are lawful for me, but not all things edify. Let no one seek his own, but each one the other's well-being." (v. 24).
How often do brothers and sisters become divided over an issue that in and of itself is neither right nor wrong but a matter of personal choice? It is the resulting interactions between members that can result in sin. Romans 14 sheds some light on this very issue, but there's a new twist. Both sides were wrong in their attitudes towards one another! Pride had reared its ugly head in both camps! Both sides were acting proudly based on their knowledge and rights. Both probably considered themselves the strong ones. Neither were acting in love!
Paul said the meat-eaters despised their brothers and sisters. "What's your problem? Do you really think that an idol has power? Go read Psalm 115. There's nothing wrong with this meat! I want to eat it, and the Bible clearly tells me it's okay to do so." But then the vegetarians were judging their fellow disciples. "How can you eat that meat? Don't you know it's contaminated? You just don't have enough self-control! Look at me; I touch not, taste not, handle not. I'm more righteous than you, and if you're not careful, you won't be in God's Kingdom!"
The key is how we treat others
Paul's solution was on a much higher level and had nothing to do with knowledge or rights. He encouraged both sides to be "fully persuaded in their own minds" (Rom 14:5 KJV) but to respect the conclusions of others (v. 6). The key is how we treat others. We must act out love (v. 15), and this may mean not eating meat, even though we know it's well within our rights to do so (v. 20). Paul encouraged the Corinthians and us to have an extra level of discernment based on those around us (our children, other ecclesial members, young people) and what impact our right actions might have on their spiritual well-being. 
What issues are there in the community today that should be left as matters of conscience and not be allowed to divide us? When can too much knowledge and not enough love lead to despising and judging? As we answer these questions, we should be careful not to say, "But I have the right Biblical understanding on this matter!" Remember, knowledge puffs up self and tears down others. Love builds up. When we examine ourselves, we know our fruits reveal our true character. Are you tearing down or building up?
Here is one modern example–celebrating Christmas. We know the pagan origins of many of the rituals surrounding the celebrations of December 25th. Some think associating this with the birth of Christ is wrong, and we must distance ourselves as much as possible from these traditions. Others may find this holiday crucial for family time, especially with relatives outside our community. To refrain from being involved could create terrible upset for those they love dearly. Members may feel it is more important to maintain their family relationships and look for relevant opportunities to speak about Jesus Christ than stay home and refuse the pagan feast. To paraphrase Romans 14:5-6, let not them that celebrate despise them that celebrate not; let not the refrainer judge the indulger, for God has received them both. 
There may be other things in our lives that fall into a similar category–certain careers, level of education, lifestyle choices, use of money and resources, diet, vacations, entertainment, use of social media, and maybe even some positions on doctrine and fellowship!
Whatever your "thing" is (It's different for each of us.), it might be helpful to consider a paraphrase of Paul's advice about "food" in Romans 14:15-22:
Yet, if your brother is grieved because of your "thing," you are no longer walking in love. Do not destroy with your "thing" the one for whom Christ died. Therefore, do not let your good be spoken of as evil; for the kingdom of God is not this "thing" and "that thing," but righteousness and peace and joy in the Holy Spirit. For he who serves Christ in these things is acceptable to God and approved by men. Therefore, let us pursue the things which make for peace and the things by which one may edify another. Do not destroy the work of God for the sake of "your thing." All things indeed are pure, but it is evil for the man who "brings offense because of his thing." It is good neither to do this "thing" nor that "thing," nor do anything by which your brother stumbles or is offended or is made weak. Do you have faith? Have it to yourself before God. Happy is he who does not condemn himself in what he approves.
The right knowledge and even right action, without love, are meaningless and can be very harmful. Paul himself says in 1 Corinthians 13:1-3: 
Though I speak with the tongues of men and of angels, but have not love, I have become sounding brass or a clanging cymbal. And though I have the gift of prophecy, and understand all mysteries and all knowledge, and though I have all faith, so that I could remove mountains, but have not love, I am nothing. And though I bestow all my goods to feed the poor, and though I give my body to be burned, but have not love, it profits me nothing.
He doesn't say having knowledge and doing good deeds without love is less than ideal–he says it's useless and worthless.
In summary, we must know the truth (which takes time, study, and devotion), and we must act on that truth in the right ways (which takes practice, experience, and patience). It starts with a fear of the LORD and a love of His children. Our love of God, our love of the truth, and our love of our neighbor will develop in us the mind of the Spirit. This love, in turn, develops the fruit of the spirit, love, joy, peace, longsuffering, kindness, goodness, faithfulness, gentleness, and self-control. (Gal 5:22-23). This is the antithesis of pride!
Therefore, whether you eat or drink, or whatever "thing" you do, do all to the glory of God. (1 Cor 10:31).
Chris Sales,
Collingwood Ecclesia, ON
1 All Scriptural citations, unless otherwise noted, are taken from the New King James Version.