December 28, 2020
Maximizing Spiritual Contributions in Retirement
The biggest mistake we can make is to retire spiritually. Retirees may face various challenges including loneliness, loss of loved ones, aches and pains, short-term memory loss and other health-related issues. But these trials can be opportunities for our community of retired believers to offer love and support.
By CHUCK LINK

Read Time:
7 minutes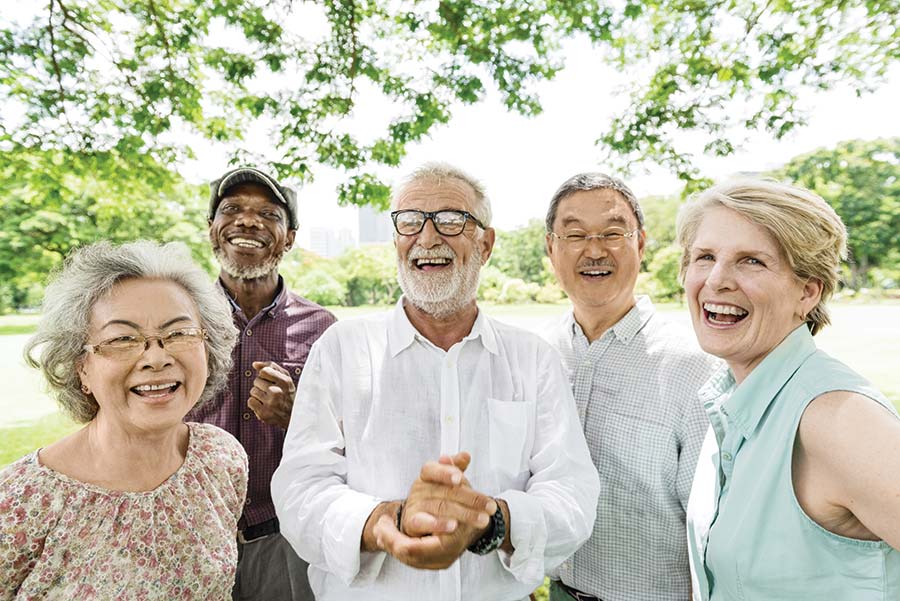 Retirement has been defined as "withdrawal from one's position or occupation or from active working life."¹
For many, retirement is freedom from the daily 9-5 grind, a time to rest, to relax, to travel, to dabble in hobbies, to visit the kids, etc. However, for some in the secular world, retirement is not always a fully welcomed change. They derive their self-worth, identity and purpose from an occupation. Consequently, when they retire, they may feel adrift and melancholy.
From the dawn of civilization to the industrial revolution, vocational retirements in the private sector were virtually unheard of. There were no golden parachutes, corporate pensions, 401K plans or Social Security. The elderly worked their entire lives, though some transitioned to less strenuous work while mentoring those younger and stronger. This was mostly made possible because of multi-generational family living arrangements and shorter life spans.
The first secular retirement pensions went to Roman Empire soldiers.²
Almost 2,000 years later, with the industrial revolution expanding, the private sector sought a younger more productive work force and began offering pensioned retirements. However, in the 1980s companies began contributing less to pension plans and by 2018, only 12% of American workers in the private sector were participating in a Defined Benefit pension retirement plan.³
Corporate contribution cutbacks have caused many to begin saving for retirement earlier. This is a wise implementation of Luke 14:28, where the advice is to calculate the cost of a project before starting it. However, God doesn't want us to covet material possessions; rather, He wants our hearts focused on spiritual riches (Isaiah 55:1-2; Luke 12:13-21).
In Jesus' Parable of the Rich Fool, the man planned an early retirement. Instead of being satisfied with the blessings God had already bestowed on him, he devoted his time to building bigger barns and filling them with more goods. He had neglected to use his possessions for others. And he did not know he never would enjoy those riches.
"So is he that layeth up treasure for himself, and is not rich toward God." (Luke 12:21).
SPIRITUAL RETIREMENT
The biggest mistake we can make is to retire spiritually. Retirees may face various challenges including loneliness, loss of loved ones, aches and pains, short-term memory loss and other health-related issues. But these trials can be opportunities for our community of retired believers to offer love and support.
retirement provides additional time, freedom and opportunity to maximize service as ambassadors of Christ
Simple kindnesses like a phone call, an email, a letter, a card, a visit, a shared meal, etc. benefit both receiver and giver— and compassionate deeds are as done unto Christ (Matt 25:34-40).
But, for those in Christ, vocational retirement provides additional time, freedom and opportunity to maximize service as ambassadors of Christ. It is a time filled with purpose, value and joy.
God provides spiritual opportunities befitting retirees. Expertise, free time and the ability to travel unhindered by employment are gifts not to be wasted.
A retiree might be ideally suited for the following: long-term missionary work, relocation to a small ecclesia, editor of a Christadelphian magazine, book writing or production of online materials including videos. Some retirees or their spouses, due to the ravages of age or illness, may sometimes need our constant attention. But retirees in these demanding circumstances may be able to contribute in other ways such as helping to fund Christadelphian charities.
Retirement offers rest from vocational toil. But retirement and old age are not a time to spiritually rest and dry up, for
"they still bear fruit in old age; they are ever full of sap and green." (Psa 92:14 ESV).
Those with godly wisdom never spiritually retire:
Samuel judged Israel all the days of his life (1 Sam 7:15- 17).
The prophetess Anna contributed to God's service though advanced in years (Luke 2:36-38).
Samuel and Anna each made a free-will decision to forever serve a loving master. They metaphorically had their ears pierced to Christ, the door to eternal life; they are among the sheep who hear and respond to the shepherd's voice (Exod 21:5-6; John 10:4-5, 7-9).
The Apostle Paul, a tent maker by trade, worked hard day and night with his own hands supporting himself and others (Acts 18:1-4; 20:34-35; 1 Thess 2:9). And Paul's lengthy list of spiritual accomplishments was without the time-freeing benefit of a vocational retirement.
There was a partial retirement for Levite males who served in the tabernacle:
"Now the LORD spoke to Moses, saying, 'This is what applies to the Levites: from twenty-five years old and upward they shall enter to perform service in the work of the tent of meeting. But at the age of fifty years they shall retire from service in the work and not work anymore. They may, however, assist their brothers in the tent of meeting, to fulfill an obligation,'" (Num 8:23-26 NASB).
Job observed the aged as having wisdom and understanding (Job 12:12).
Peter exhorted spiritual elders to shepherd the flock, though not in a domineering way, but by example and in humility (1 Pet 5:1-5).
Samuel, Anna, and other sheep helped shepherd the flock in times of old. They prayed to God for guidance and help. We also benefit from today's experienced sheep who have prayerfully responded to the good Shepherd's call. They too help guide the flock but with the advantages of vocational retirement, plus modern advancements in communication and travel.
Faithful retirees can additionally help the Bride of Christ grow spiritually not only by sharing knowledge, insights, but also with their contagious enthusiasm and godly character. All these aspects allow retiree believers to maximize their spiritual contributions in the Lord's vineyard.
ENCOURAGING EXAMPLES
One brother seized early retirement joyfully, so his wife could join him on extended missionary visits. During a journey to Africa he obtained permission from CBM, Meal-a-Day, and re-opened a school for blind and handicapped children under the Christadelphian name.
Because he was retired, he had opportunity to travel extensively while raising funds for the improved re-opening. A Christadelphian brother managed the school. Many were helped with sightr-estoring operations and procedures enabling the lame to walk.
God won't test us beyond what we can bear, but He may test us beyond what we think we can bear.
Attending children were taught reading, writing, arithmetic and farming skills enabling them to later survive a challenging environment. They were taught God's Word, some using Braille Bibles, and with God's grace a number were baptized, including some who had heard of, but never attended, the school.
More recently, he and his wife have shared the gospel elsewhere resulting in additional baptisms. A sister retired due to a medical condition depriving her of the ability to speak. But she developed PowerPoint presentations to facilitate teaching. She used it for Sunday school classes and, in faraway South Africa, presented a weekend women's retreat while another read out loud for her. She also used Zoom at a sister's meeting in South Africa.
Retirement also allowed mission trips to Jamaica where she provided lesson plans and supplies for a vacation Bible school so a young brother could teach. Additionally, she continues to encourage believers with letters, emails and spiritual contributions online.
Another sister is on a disability retirement. Asked about coping under adversity she replied, "God won't test us beyond what we can bear, but He may test us beyond what we think we can bear."
With limited resources she created TV programs promoting God's Word. She also reaches out, inspiring the brotherhood by writing letters, while living in relative isolation. When another brother retired as a teacher, he became a domestic missionary. He traveled the USA helping and growing ecclesias in various ways—distributing leaflets, visiting contacts and so forth.
One of his "contacts" was a relocated Christadelphian from overseas who happily joined the local ecclesia. The retired brother also traveled to contacts in isolation leading to several baptisms.
the retiree believer pursues an eternal prize
He had a talent for getting invited in the homes of contacts by personally delivering requested free literature. Once inside, provided there was interest, he utilized a first principles flip chart beginning with the promises to Abraham. He carefully planned out every day, thus optimizing time. He helped Christadelphian families in financial need from his own pocket. One could confide in him and ask for spiritual guidance, knowing he wasn't a gossip.
He contributed by writing for Christadelphian internet sites. Despite being vocationally retired, he never spiritually retired. Now he sleeps awaiting the resurrection, having run his race.
The Bible instructs us to be spiritual runners with a strong finish. Paul counseled,
"Do you not know that in a race all the runners run, but only one receives the prize? So run that you may obtain it." (1 Cor 9:24 ESV).
There have been many outstanding runners over the years who won an Olympic gold prize: Abebe Bikila, Dave Wottle, Usain Bolt, to name a few. While their races were impressive, they're all part of the secular rat race, where one hopes to win a temporal prize. But the retiree believer pursues an eternal prize.
Among those pursuing an eternal prize was a retired brother, hampered by illness much of his life. He loved God and wanted to be useful, but was nearly blind and suffered from other maladies. How could he spiritually contribute to his ecclesia? He was understandably frustrated and discouraged.
Some reached out to help him, but without much success. However, God arranged for a persuasive elderly retiree brother to encourage and explain how the ecclesia sorely needed him. This approach proved most effective, and he changed more than anyone I've ever known. He suddenly became full of hope and joy.
Toward the end of his race, as he ran toward the finish line, he was literally smiling. A memorable moment was when he prepared, and without notes, gave an exhortation. In it he referred to a song where the lyrics asked, "What's love got to do with it?" And he answered, "Everything."
He finished his spiritual marathon sprinting, enduring to the end, and inspiring those who knew him to never spiritually retire.
Chuck Link,
Moorestown, NJ
1 Merriam-Webster's Collegiate Dictionary, Eleventh Edition, principal copyright 2003.
2 Clark R.L., Craig L.A., Wilson J.W., A History of Public Sector Pensions in the United States, 2003, Wharton School of the University of Pennsylvania. Archived from the original (PDF) 2016, https:// en.wikipedia.org/wiki/History-of-Retirement
3 Pension Rights Center: How many American workers participate in workplace retirement plans? Pension Rights Center, July 15, 2019, https://www.pensionrights.org/publications/statistic/howmany-american-workers-participate-workplace-retirement-plans