November 25, 2020
Motivation
Our motives matter because God cares primarily about who we are becoming, not what we are achieving.
By ALEX HARPER

Read Time:
7 minutes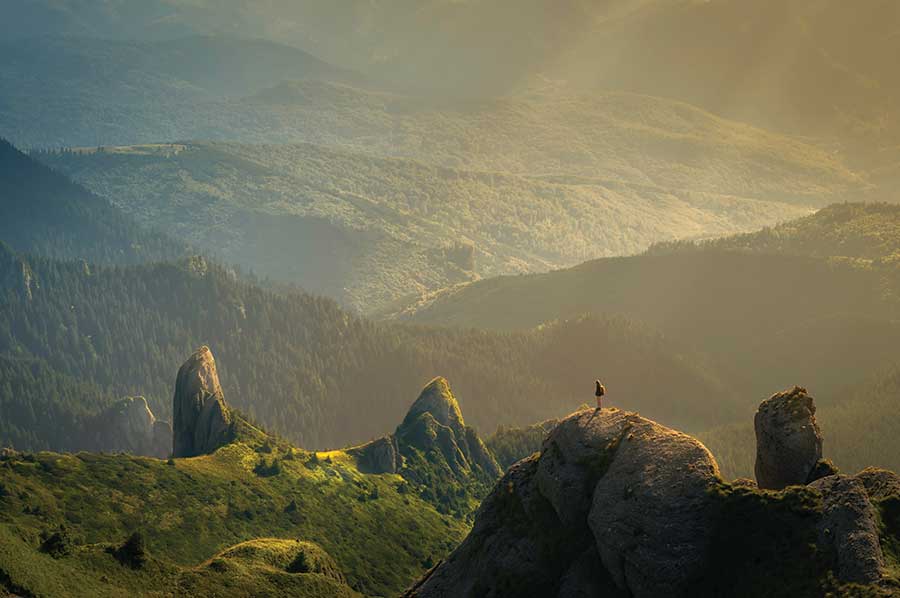 What is our motivation in our walk to God's kingdom? Motivation can be defined as the reason or reasons one has for acting or behaving in a certain way. Psychologists agree that motivation can be split into two broad categories: intrinsic and extrinsic motivation.
Intrinsic motivation involves engaging in a behavior because it is personally rewarding. You are performing an activity for its own sake, rather than the desire for some external reward. The behavior itself is its own reward.
Extrinsic motivation occurs when one is moved to perform a behavior or engage in an activity to earn a reward or avoid punishment. In this case, you do something, not because you enjoy it or because you find it satisfying, but to get something in return or avoid something unpleasant.
I'd like us to consider if our motivation matters to our Heavenly Father
As an example, consider the reasons you might have for participating in a sport. If you are intrinsically motivated, you would participate because you enjoy the sport and the activity. If you are extrinsically motivated, you might be participating for a medal or for the approval of your peers.
Motivation is what drives people to build, work, eat, sleep and do just about anything else under the sun. I'd like us to consider if our motivation matters to our Heavenly Father and to further discuss intrinsic and extrinsic motivation.
I believe our motivation does matter to God. Our intentions matter because God cares primarily about who we are becoming, and then what we are achieving. If we believe that God cares simply about our outcomes, then we will all fall short of the glory of God. Here are two passages which demonstrate that our motives matter to God:
"All the ways of a man are pure in his own eyes, but the LORD weighs the spirit." (Prov 16:2 ESV).
"I the LORD search the heart and test the mind, to give every man according to his ways, according to the fruit of his deeds." (Jer 17:10 ESV).
How much time do we spend considering our motives? Do we focus our energy simply on what needs to get done and the action involved? We can do a lot of actions and exhibit behaviors that are Christ-like, but what is our reason for doing those actions? Is it love, concern, compassion? Or are we driven by pride and the desire for man's approval? Are we stirred up by our internal desires, or are we motivated by the desires of God?
As an example of why motivation matters, consider the well-known parable of the good Samaritan in Luke 10:
"In reply, Jesus said: 'A man was going down from Jerusalem to Jericho, when he was attacked by robbers. They stripped him of his clothes, beat him and went away, leaving him half dead. A priest happened to be going down the same road, and when he saw the man, he passed by on the other side. So too, a Levite, when he came to the place and saw him, passed by on the other side. But a Samaritan, as he traveled, came where the man was; and when he saw him, he took pity on him. He went to him and bandaged his wounds, pouring on oil and wine. Then he put the man on his own donkey, brought him to an inn and took care of him. The next day he took out two denarii and gave them to the innkeeper. "Look after him," he said, "and when I return, I will reimburse you for any extra expense you may have."'" (Luke 10:30-35 NIV).
Consider the Samaritan's purpose here—was he motivated intrinsically or extrinsically? I think it's easy to see he was motivated intrinsically. Notice verse 33 states he had pity, and verse 34 mentions he bandaged and poured oil and wine on the man. In verse 35 we are told he paid for the man to stay at the inn.
Our motives determine what we do, who we are, and who we will become.
The Samaritan was not motivated to perform these acts for a reward, and he did not receive one. He also did not do it to avoid punishment, as all the other passers-by were not punished. Verse 37 tells us that the Samaritan behaved this way because he had mercy on the man. He committed this act because of his intrinsic desire to help the man, and his desire to live up to God's values.
We need to not only try to practice right behavior in our lives but to also be of the right spirit and heart. Our motives determine what we do, who we are, and who we will become. The primary difference between the two types of motivation is that extrinsic motivation arises from outside of the individual while intrinsic motivation arises from within.
Researchers have also found that the two types can differ in how effective they are at driving behavior. In one study, children who were rewarded for playing with a toy in which they had expressed an interest became less captivated with it after being externally rewarded.
It was found that extrinsic motivation and rewards can be used to induce people to acquire new skills or knowledge. However, once these early skills and knowledge have been learned, it is found people may then become more intrinsically motivated to pursue the activity.
I think this applies to our walk to God's Kingdom and our ambition to live a life like Christ's. When we are initially converted, we may be motivated by possible rewards. These rewards may still encourage us when we are feeling spiritually low. But ultimately, I think God wants us to be intrinsically motivated in our walk to His kingdom.
God wants us to behave and act in a certain way because we value those behaviors and actions, not just because we believe it is the right thing in God's eyes and we will get rewarded. We will often hear that our aim in life is to be in the Kingdom of God, but maybe we should be asking ourselves "what is motivating us to get there?"
It can be very easy for us to choose to follow Jesus because we think there is a reward waiting for us. However, in the process, we might forget what our true motives should be regarding the Kingdom. Consider this passage:
"The aim of our charge is love that issues from a pure heart and a good conscience and a sincere faith." (1 Tim 1:5 ESV).
Our charge in life is not to tick the boxes and list what we have done. Rather, it is to love from a pure heart and to live in faith. If we are only motivated by a reward and are committed to just itemizing our accomplishments, are we living a life in love for God, or a love for ourselves?
Our charge in life is to love from a pure heart and to live in faith.
When we are thinking about the motivation behind our actions and behaviors, there needs to be a distinction between pleasing man and pleasing God. For example:
"But just as we have been approved by God to be entrusted with the gospel, so we speak, not to please man, but to please God who tests our heart." (1 Thess 2:4 ESV).
We should not be doing things and behaving in ways to please our community, but to please our Father in heaven. Jesus taught this in the Sermon on the Mount:
"Beware of practicing your righteousness before other people in order to be seen by them, for then you will have no reward from your Father who is in heaven. Thus, when you give to the needy, sound no trumpet before you, as the hypocrites do in the synagogues and in the streets, that they may be praised by others. Truly, I say to you, they have received their reward. But when you give to the needy, do not your left hand know what your right hand is doing. So that your giving may be in secret. And your Father who sees in secret will reward you." (Matt 6:1-4 ESV).
Unfortunately, we are of a carnal mind, and we have a selfish nature. If at times we are solely looking for a reward, then let's look to our Father in heaven, not to those around us. Let's try to be motivated to live a life pleasing to God, loving His values. If it is a reward we seek, we will find no greater a gift than the Kingdom of God.
"Whatever you do, work heartily, as for the Lord and not for men, knowing that from the Lord you will receive the inheritance as your reward. You are serving the Lord Christ." (Col 3:23-24 ESV).
If we wish to receive that gift, then let's work heartily. Let's serve our Lord Jesus Christ and try to live more closely to the example he left for us. That's who we should be motivated by—the man we come to remember at the Breaking of Bread. He lived a life of perfect love, obedience and faith and provided us the perfect example to follow.
Jesus was not driven by his own desires, or by the desires of man, but by the desires of his Father. Christ has shown us the way. To summarize Jesus' many characteristics and those that God desires, Paul's description of the fruit of the Spirit explains in more beautiful words than I can, how we should aim to walk.
"But I say, walk by the Spirit, and you will not gratify the desires of the flesh. For the desires of the flesh are against the Spirit, and the desires of the Spirit are against the flesh, for these are opposed to each other, to keep you from doing the things you want to do.
But if you are led by the Spirit, you are not under the law. Now the works of the flesh are evident, sexual immorality, impurity, sensuality, idolatry, sorcery, enmity, strife, jealousy, fits of anger, rivalries, dissensions, divisions, envy, drunkenness, orgies, and things like these.
I warn you, as I warned you before, that those who do such things will not inherit the kingdom of God. But the fruit of the Spirit is Love, Joy, peace, patience, kindness, goodness, faithfulness, gentleness, self-control, against such things there is no law.
And those who belong to Christ Jesus have crucified the flesh with its passions and desires. If we live by the Spirit, let us also keep in step with the Spirit. Let us not become conceited, provoking one another, envying one another." (Gal 5:16-26 ESV).
Notice the contrast between "works" and "fruit." The fruit of the Spirit springs from what is in our hearts, not just the external acts we do. This is how we should be walking in our path to God's Kingdom. We should be motivated to live a life more like Christ, not only because of the sacrifice he made on our behalf but also because we love him, our Father in heaven and His divine values.
When we break bread, Paul exhorts us to examine ourselves. In doing so, let's reflect not only on our actions in comparison to Christ's but also on our motives. Let our motives be love, joy, peace, patience, kindness, goodness, faithfulness, gentleness and selfcontrol in all that we do.
"Whatever we do, in word or deed, do everything in the name of the Lord Jesus, giving thanks to God the Father through him." (Col 3:17 ESV).
Alex Harper
Vernon, BC