July 25, 2023
Needing a Vision
Do we look forward to the Kingdom daily?
By DAN STYLES

Read Time:
6 minutes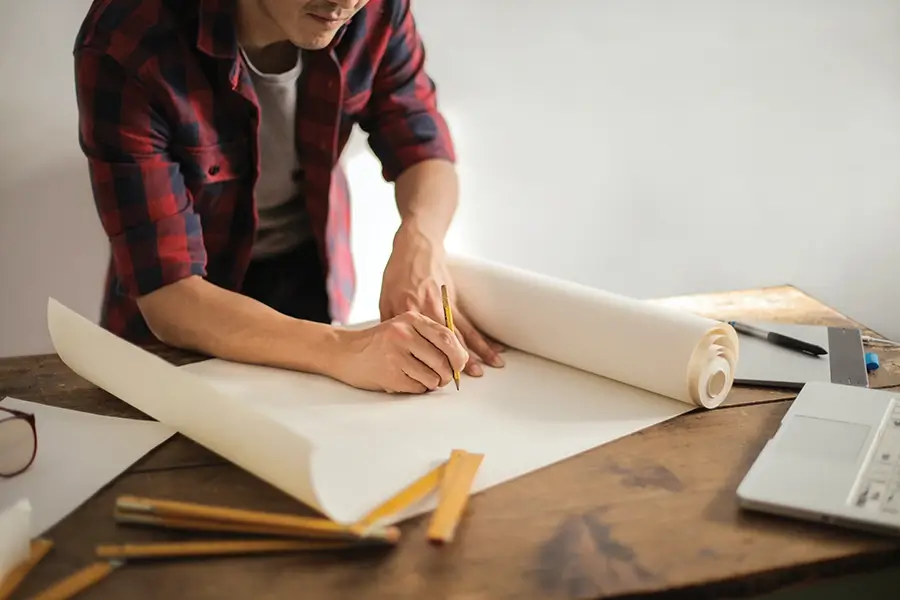 The Kingdom of God is a central first principle for all true believers. Indeed, the Kingdom is identified as one of the two key "mega first principles" along with "those things which concern the Lord Jesus Christ" in Acts 28:31. How blessed we are that we have been given a proper understanding of the future reward of the saints, the resurrection, Judgment Seat and Millennial reign of Christ. Yet do we look forward to the Kingdom daily?
Apostate Christian groups believe they are going to heaven when they die. This is a nebulous concept for sure, with little detail on what one's role will be for eternity. Once you get past the pearly gates and harp lessons, the obvious question becomes, "What exactly am I going to be doing up there?"
Fortunately for us, God, through His Holy Scriptures, has given us a detailed blueprint of the true reward of the faithful. But are we studying the plan and getting excited about our potential involvement in it? It's easy to fall into the same trap as nominal Christianity and not have a real idea of what the future will be like. Solomon warns us:
Where there is no vision, the people perish: but he that keepeth the law, happy is he. (Prov 29:18).
The word "vision" is from the Hebrew hazon, which means a forward-looking vision or prophecy. The word "perish" is from the Hebrew para, which means to let loose. Without a forward-looking vision of the Kingdom, we will not only fail to desire it, but our behavior in this life will be negatively impacted.
In order to serve God in this life we need a firm vision of the next life. I recall Bro. Harry Tennant asserting in a talk many years ago that those who really want to be in the Kingdom will be there. I was a bit dubious at first that it could be that easy but have grown to appreciate his remark. There's an excellent verse in 2nd Timothy which backs up Bro. Harry's idea:
Henceforth there is laid up for me a crown of righteousness, which the Lord, the righteous judge, shall give me at that day: and not to me only, but unto all them also that love his appearing. (2 Tim 4:8).
We love what we know, and clearly, the Apostle Paul had a firm vision of the second coming of the Lord Jesus Christ, to the point that he loved it! Do we? It's easy to get caught up in the cares of this world to the point that we lose our desire for the profound changes Christ will bring to this earth. How do we combat this world-weariness? By having a keen vision of what the Kingdom will be like!
I recall a family vacation many years ago to a theme park called "The Magic Kingdom." One of our young children turned to us and asked, "Is this the Kingdom?" Well, he was trying to envision it! As we experienced the long lines and overpriced food, Mom and Dad were more convinced than ever that this was an extremely poor substitute for the real Kingdom!
While anything this world has to offer ultimately is a letdown at best, God has assured us that the future glory planned for the saints is more wonderful than we can even imagine: 
But as it is written, Eye hath not seen, nor ear heard, neither have entered into the heart of man, the things which God hath prepared for them that love him.
(1 Cor 2:9).
It's indeed a comfort to know we will be freed from the limitations of mortality and will have unimaginable experiences in the Kingdom. Our aches and pains will be gone. The sadness brought on by physical and mental illness will be a thing of the past. The constant struggle with sinful nature will be behind us.
One word that frequently surfaces relative to the Kingdom is "joy." (Matt 25:21; 1 Thess 2:19; Heb 12:2) The word for "joy" in these verses is the Greek word chara, which denotes a background level of long-term joy, not the short-lived burst of joy this world pursues. A corresponding emotional low often follows this temporary joy.
Once again, how blessed we are to have such a "hope, or joy, or crown of rejoicing," as the Apostle Paul states in 1 Thessalonians 2:19. 
The Kingdoms of David and Solomon
So, how do we get a vision? One great source of information on the Kingdom is the reigns of David and Solomon. While these are imperfect prototypes of the future Kingdom, Scripture does call the Kingdom of Israel "a kingdom of priests, and an holy nation." (Exod 19:6).
David recognized Solomon as the first fulfillment of God's promises to him that he would have a son to "sit upon the throne of the Kingdom of the LORD." (1 Chron 28:5; 22:9-10).
The apostles asked Christ at his ascension if he would "at this time restore again the kingdom to Israel?" (Acts 1:6).
Even Christ referred to himself as the greater Solomon (Matt 12:42).
So a study of David and Solomon's kingdoms can give us a "sneak peek" of the future Kingdom.
The chart below highlights the similarities between Solomon's kingdom and the future Millennial Kingdom of Christ. While Solomon was an imperfect man, for sure, the early part of his reign especially gives us a vision of how wonderful the future Kingdom will be.
We can go to events in David's and Solomon's kingships to provide us with images of the future glory of the Kingdom.
David's bringing back the ark to Jerusalem, and his religious reforms. Solomon's building and dedication of the Temple. The visit of the Queen of Sheba. However, one often overlooked period of insight into the future Kingdom is a time when David and Solomon's reigns overlapped, and David made extensive preparations for Solomon's kingdom in 1 Chronicles 22-29.
This circumstance arose when David's son, Adonijah, declared himself king and seized the throne. (1 Kgs 1:5-10). At the time, David was on his deathbed. But because of this incident, David roused himself to declare Solomon his heir, as he had promised Bathsheba.
What's more, we read in the Chronicles account of this episode that David was rejuvenated and spent considerable time counseling Solomon and preparing for the building the Temple, a period of seven years. Clearly, this period of preparation and looking forward to Solomon's kingship re-energized David, and his final years were spent productively in a planning and mentoring role. This is a real lesson for us!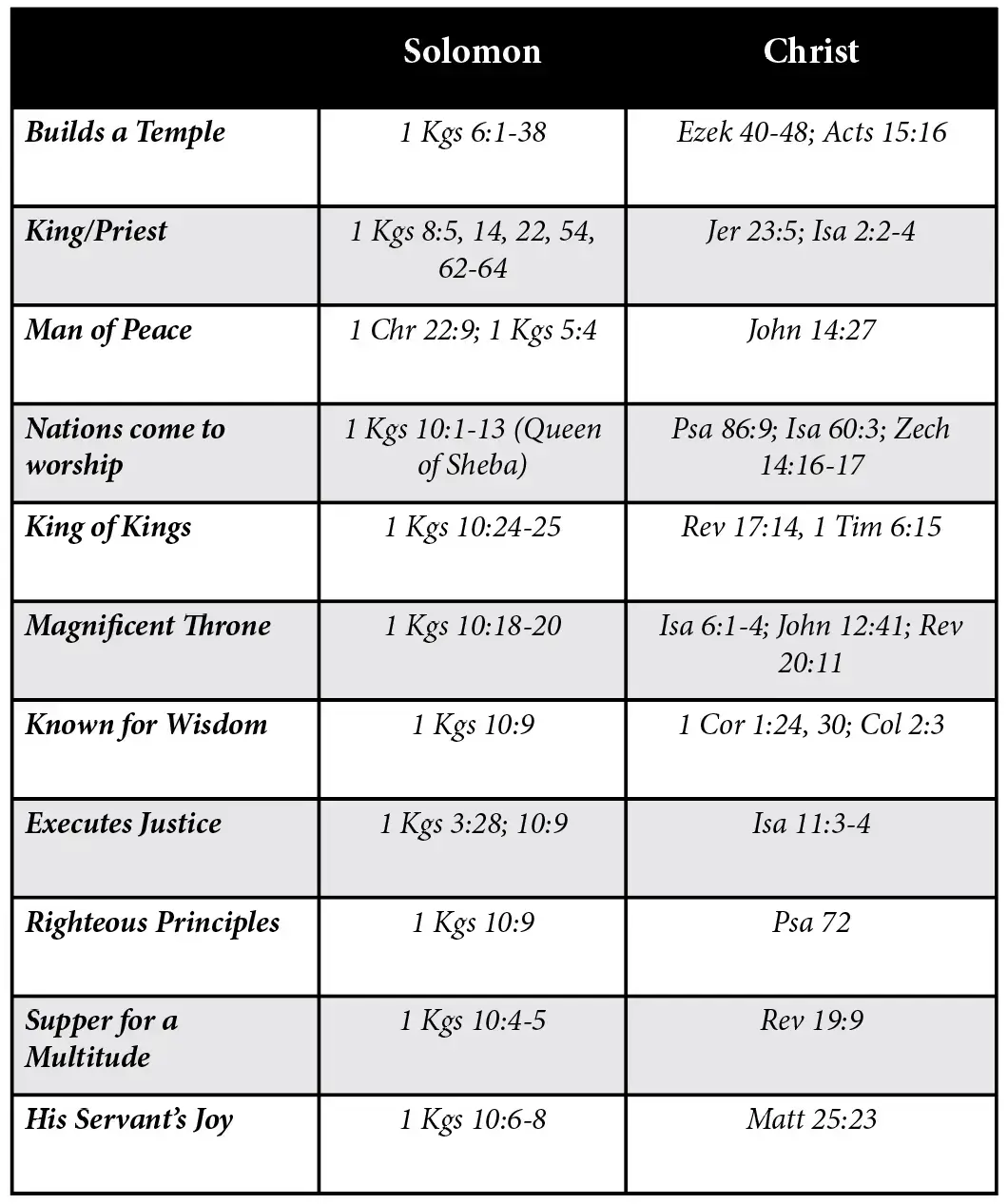 David and Solomon's Kingdom Preparations—1 Chronicles 22-29
There are many other lessons we can take from this time period, but we will focus on just one that can get us excited about the future Kingdom. David realized the Levites needed reorganization, as the Temple would now be a permanent structure. Their responsibilities to transport the tabernacle would no longer be required. David said:
The LORD God of Israel hath given rest unto his people, that they may dwell in Jerusalem for ever: And also unto the Levites; they shall no more carry the tabernacle, nor any vessels of it for the service thereof. (1 Chr 23:25-26).
What, then, did David do? He reorganized the Levites to have roles that would be more appropriate for Solomon's future kingdom. 
Now the Levites were numbered from the age of thirty years and upward: and their number by their polls, man by man, was thirty and eight thousand.
Of which, twenty and four thousand were to set forward the work of the house of the LORD; and six thousand were officers and judges:
Moreover four thousand were porters; and four thousand praised the LORD with the instruments which I made, said David, to praise therewith. (1 Chr 23:3-5).
We ask, what exactly are these duties assigned to the Levites? Responsibility for the worship services, officers and judges, porters, and musicians. Other jobs listed in 1st Chronicles 27 include military and administrative positions, jobs in finance, commerce, agriculture, the environment, and others.
What do all these appointments have to do with the saints? Well, we know the saints have been made a "kingdom and priests to our God, and they shall reign on the earth." (Rev 5:10 ESV). The jobs listed above are the ones we are applying for in the Kingdom right now. Do any sound interesting to you?
Will the Kingdom be a non-descript place? Absolutely not! Many fascinating priestly and ruling roles await the saints. Through our Lord's grace, we will all be able to discover the perfect job that will excite us.
This thought can give us hope and courage to keep soldiering on in this life. We've been blessed with a real, joyous, and rewarding aspiration for the future. Let's develop our own personal vision for the Kingdom and get excited!
His lord said unto him, Well done, thou good and faithful servant: thou hast been faithful over a few things, I will make thee ruler over many things: enter thou into the joy of thy lord. (Matt 25:21).
Dan Styles,
Ann Arbor Ecclesia, MI
All Scriptural citations are taken from the King James Version, unless specifically noted.