April 25, 2022
Never Return to Our Old "Gods"
Sometimes when we're in the middle of troubles, God will seem distant. We'll be left looking for assurance and comfort, and we will sometimes wonder where God is because He won't be as obvious as we'd like.
By JULIUS BUMADILLA

Read Time:
7 minutes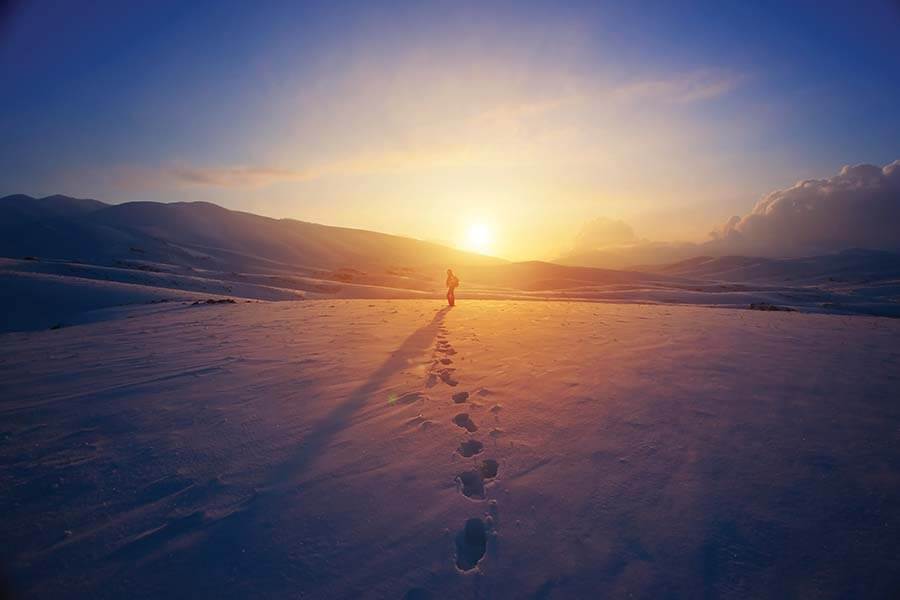 My dearly beloved brothers, sisters, and friends in one precious hope and faith. This morning you made the right decision to be here and in unified purpose to serve our Heavenly Father. The right choice leads to Life. We are gathered before this table of our Lord Jesus Christ to renew our vows once again, our faith and our hope as we are to remember that great love of God shown to us by the sacrificial death of His Son and our Lord Jesus Christ.
We share the blessing of eternal hope, as evidenced by his resurrection. Allow me to share with you some thoughts from the Holy Scriptures as we together prepare ourselves in receiving the memorials. I will share with you some vital points by way of exhortation from today's first reading in Exodus 32, which our loving brother read for us. This chapter recorded one of the most grievous sins committed by our forefathers in the wilderness, as they journeyed towards the promised land, "a land flowing with milk and honey." (Exod 3:17).
The promised land was a picture of abundance and prosperity! There are two relevant questions I can place to jumpstart my exhortation. First, what would cause believers to fall flat on their faces? Second, what would cause someone to compromise everything they stood for and lose their reputation? The context of this chapter tells us that forty days earlier the people of Israel witnessed and felt the unimaginable power and sovereignty of Yahweh, their living God, as He delivered the Ten Commandments from the Mt. Sinai (Exod 20:18-19), in addition to the many wonders and miracles they saw even from the land of Egypt.
Convinced and confident, the people confessed "All the words which the LORD hath said we will do." (Exod. 24:3). But, when the people saw that Moses delayed coming down from the mountain, the people gathered themselves together to Aaron and said to him,
"Up, make us gods who shall go before us. As for this Moses, the man who brought us up out of the land of Egypt, we do not know what has become of him." (Exod 32:1).
To understand what happened here, it is helpful to get inside the story and try to imagine being in their situation. Maybe then we'll begin to understand why we're so prone to go astray. God's move was evident to the nation of Israel. God had taken them from being a nation under slavery to a free nation on the way to a land that God had promised them. God had told them that they would be His treasured possession, and that He would live among them. This was amazing!
He had provided for them miraculously in the desert. They had seen God move with their eyes and had heard His voice with their ears. They'd just heard God make a covenant with them. God made it very clear He would not tolerate divided loyalty. He wanted all their devotion. He would not share it with anyone. However, we read in verse 1 that Moses was delayed in coming down from the mountain. This actually was a big deal. From their perspective, Moses had been gone much longer than they'd expected. They were people with families. They were standing in the middle of the desert with no homes or jobs.
God had given them manna and quail, but that was only good if it lasted. At any moment, as far as they knew, God's provision could end, and they would be stuck in the middle of the desert with nothing. They felt exposed, vulnerable, and scared. Moses was their only connection with God, and who knew if he was even still alive or if he would ever come back?
These were valid concerns. So, their solution was, "Make us gods who will go before us." Brothers and sisters and friends, this circumstance and reaction is not just of the ancient Israelites. This is a picture for us too. The Apostle Paul wrote:
Now these things took place as examples for us, that we might not desire evil as they did. Do not be idolaters as some of them were; as it is written, "The people sat down to eat and drink and rose up to play." (1 Cor 10:6-7).
When confronted with issues in this present life, we may fall the same way they did. Paul said we face the same danger they did. We could make idols. No one here I believe has an idol in their house. We're not about to create a golden calf or anything like that. What does Paul mean that we face the same danger Israel did back then?
As I exhort today, you may have circumstances in your life which make you feel exposed, vulnerable, and scared. This is an ordinary human experience. You are going to go through difficult trials in your life you are looking for something to hold on to for assurance and comfort. And we know for certain that a weightier part of discipleship is about taking up the cross. Jesus taught: "If any man will come after me, let him deny himself, and take up his cross, and follow me." (Matt 16:24).
There are times during such trials, God may sometimes seem distant. How do we propose to carry these burdens, being true disciples of Christ? God has given us eternal life, but we don't have the complete fulfillment of these promises yet. We believe they're true, but we walk by faith, not by sight. Sometimes when we're in the middle of troubles, God will seem distant. We'll be left looking for assurance and comfort, and we will sometimes wonder where God is because He won't be as obvious as we'd like.
Whenever we begin worshipping the things of the world, we stop worshipping God.
In those times, we'll grab on to something for assurance and comfort, and if it's not God, for many it will be something else. Under stress, we return to "gods" we used to trust. This is actually the sin that we're tempted to repeat every single day. There was a time when God was temporarily absent before the sight of Adam and Eve in the Garden of Eden. Eve doubted God's goodness and his word. They were afraid, and so they clung to something familiar in the place of God. For Adam and Eve, it was the tree. For Israel, it was the golden calf. For us, it will be something else if we do not learn well the lesson!
We're going to be struggling with this temptation for the rest of our lives. It's the same as the first temptation faced by Adam and Eve. The apostle John wrote: "For all that is in the world, the lust of the flesh, and the lust of the eyes, and the pride of life, is not of the Father, but is of the world." (I John 2:16).
When we're scared or under stress, we tend to return to these old idolatries and worship them instead of God. Let us not forget that whenever we begin worshipping the things of the world, we stop worshipping God. So, we read in Exodus 32:5 that they worshiped the golden calf, even as they held a feast for the LORD. We can cling to our old idols as well as God. We look to them for comfort and strength. Now we can understand why some can easily go astray. They faced some pressure, and they looked to something other than God as a way to deal with that pressure or fear.
Where do you turn for comfort and strength when you feel scared? What do you tend to trust in alongside of God? The modern world has its own way to answer. Many of us, especially our children, are enslaved with gadgets today. Many of us bury ourselves in work. Many of us look to relationships to feel we're okay. Many of us look to our bank account or something that preserves our status or reputation. Some of us turn to drugs, alcohol, or pornography. Where is God in all of these? What may be your idols, knowingly or unknowingly?
Where do you turn for comfort and strength when you feel scared?
Think what thing you usually grab first when you wake up. Think how you spend your first hour in every day. Think about what you love to daydream about. Think about where you spend your money. Think about the places you turn when you're under great stress. Think about what you can't imagine losing because you don't know how you'd go on. Think about what sparks uncontrollable emotions in your life—anger, fear, or passion. The Apostle Paul tells us,
"Mortify therefore your members which are upon the earth; fornication, uncleanness, inordinate affection, evil concupiscence, and covetousness, which is idolatry." (Col. 3:5).
We're all in danger of idolatry without even knowing it. Under stress, we return to "gods" we used to trust in. This is the universal human condition. God tells Moses to go down from the mountain (v. 7). He threatens to wipe out the entire nation and to start again with Moses. In verse 19, Moses takes the tablets containing the Law and smashes them. The Law represents the terms of God's covenant with the people. Moses is communicating that everything is in danger. This act could unravel everything. It's endangering their very relationship with God. Why is idolatry a big deal in our discipleship?
We're all in danger of idolatry without even knowing it.
When we serve other gods, we are setting our whole hearts on something other than God. Something has taken God's place in our lives. This will endanger our entire spiritual lives. It's a matter of serious concern for all of us. Where will we place our worries in life? In whom shall we put our trust and hope? A choice must be made. Moses challenged the people, "Who is on the LORD'S side?" (v. 26).
Our only choice and only hope is a mediator. God tells Moses that he wants to wipe the people out. "Now therefore let me alone, that my wrath may burn hot against them and I may consume them, in order that I may make a great nation of you," he says (Exod 32:10). When you consider how holy God is, and how often we rebel against Him, it's amazing that His patience has endured so long.
Why didn't God wipe Israel out? Because Moses mediated for them. He pled with God, based on his reputation and covenant to preserve the people, and God answered his prayer (Exod 32:11– 14). Brothers and sisters and friends, God is so patient. What has kept Him from wiping us all out? It certainly isn't our innate goodness. We have a pretty poor track record. What has kept God from wiping us all out is a commitment to His reputation and the covenant that He has made with us.
We need a mediator. We have that mediator, an even better one than the Israelites had. We have a mediator in our Lord Jesus Christ (1 Tim 2:5). Jesus is a better mediator than Moses. Moses only prayed. Jesus not only prayed, but he died for us that we might live. He didn't just ask God to forgive our sins, he laid the basis for our reconciliation to God at the cost of his own life. This being the case, nothing ought to prevent any sinner from pleading for himself through Jesus Christ.
In a sense, Exodus 32:14 is written over the head of every believer: "And the LORD relented from the disaster that he had spoken of bringing on his people." What does our mediator do? He intercedes for his people. Hebrews 7:25 says, "he is able to save to the uttermost those who draw near to God through him, since he always lives to make intercession for them." Right now, he is praying for us. Having died for our sins, he's making specific requests to God on our behalf.
This means that he won't leave the work of saving you only half done. He will complete it. He will save me and all of you, every part of our lives, for all of eternity. This morning, brothers and sisters, as we receive the memorials before us, we remember our mediator who has set an example for us to follow. A life dedicated to serve and worship his God and Father alone, no matter what temptations, trials, shame came his way, or even in the face of his death on the cross. Under stress, we must never return to "gods" we used to trust. Our only hope is our mediator.
We began today by talking about people who've ruined their lives because they've turned to someone or something other than God in times of stress. We're not that different, and it's a big deal. It will destroy our lives. That's what sin intends to do to us. It intends to destroy us. But all glory be to our God and Father, Who allowed His begotten Son to die for us to live!
Julius Bumadilla,
Bugallon Ecclesia, Philippines