March 15, 2014
No Man Is an Island
"No man is an iland, intire of it selfe; every man is a peece of the Continent, a part of the maine; if a clod bee washed away by the Sea, Europe is the lesse, as well as if a Promontorie were, as well as if a Mannor of thy friends or of thine owne were; any mans death diminishes me, because I am involved in Mankinde; And therefore never send to know for whom the bell tolls; It tolls for thee…"

Read Time:
5 minutes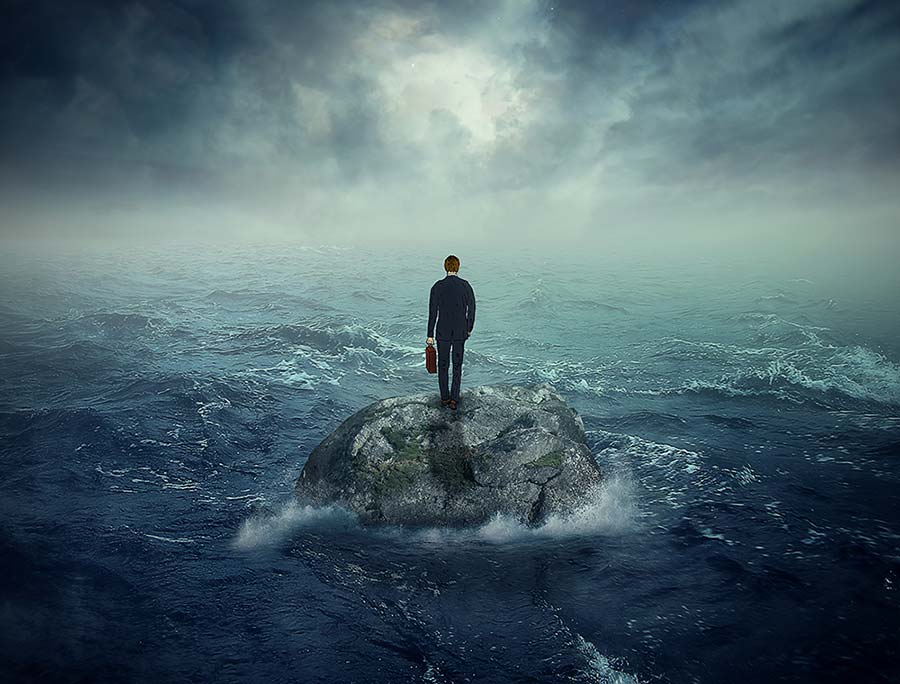 "No man is an iland, intire of it selfe; every man is a peece of the Continent, a part of the maine; if a clod bee washed away by the Sea, Europe is the lesse, as well as if a Promontorie were, as well as if a Mannor of thy friends or of thine owne were; any mans death diminishes me, because I am involved in Mankinde; And therefore never send to know for whom the bell tolls; It tolls for thee…" (John Donne, 1624).
The ideal ecclesia
I know it is unusual to start an editorial in The Tidings with a secular quote, but this well-known passage, usually seen as a poem, illustrates my topic: we are all connected, we are all part of the whole, especially in an ecclesial setting. When any member leaves, either to the sleep of death or by transfer or any other way, we and the ecclesia are thereby diminished. Paul also emphasizes the interconnected way an ecclesia functions:
"For as we have many members in one body, and all members have not the same office: So we, being many, are one body in Christ, and every one members one of another. Having then gifts differing according to the grace that is given to us, whether prophecy, let us prophesy according to the proportion of faith; Or ministry, let us wait on our ministering: or he that teacheth, on teaching; Or he that exhorteth, on exhortation: he that giveth, let him do it with simplicity; he that ruleth, with diligence; he that sheweth mercy, with cheerfulness. Let love be without dissimulation. Abhor that which is evil; cleave to that which is good. Be kindly affectioned one to another with brotherly love; in honour preferring one another;" (Rom 12:4-10).
It is easy to agree to this: but the practical outworking is much more difficult. All too often, inter-personal conflicts arise, for any of a multitude of reasons. Sometimes we disagree over the finer points of doctrine; sometimes our personalities conflict; and sometimes our personal problems enter into our relations with others.
It is clear what the ideal is: we all walk in the Truth in a harmonious manner, "in honour preferring another," as Paul says. Unfortunately, this rarely happens, as we can see from the New Testament, and as we can observe in all but a few of our ecclesias.
So what I want to consider is the conflicts that might arise, and some possible ways of dealing with them. I will not consider disagreements over what can be considered a violation of our common first principle beliefs. Such situations (as well as the one we are considering) were dealt with by Bro. Robert Roberts in his 'ecclesial guide' over 130 years ago, and are as valid now as when he wrote them. He also considered many of the areas I will deal with, but my observation is that we have a tendency to give lip-service to Bro. Robert's advice, but many avoid having to follow it for one purported reason or another.
The reality
Most ecclesias, however peaceful and Christ-like they strive to be, are made up of all-too-human individuals. Down through the ages, conflict and problems have arisen. Paul dealt with:
Personality conflicts: disputes between followers of Apollos and Paul (1Cor 3:4-6).
Arguments about conscience (over meats offered to idols) (1Cor 6:13, etc.).
Terrible immorality (1Cor 5:1).
Grave apostasy over the resurrection of Christ (1Cor 15:15).
Disputes about trivia: fables and genealogies (1Tim 1:4).
The list could be continued: but I might mention a sample of disputes that have, to my knowledge, divided ecclesias in these days:
Colors of the walls of ecclesias.
Attitude for prayer: whether to stand or sit.
Precise forms of the baptismal formula.
Divorce and remarriage.
Who gets to hold what office, or who gets to provide food for fraternals.
The temperature of the meeting room.
Who sits where in the hall.
Length of sisters' skirts, or whether it is necessary for brethren to wear a suit to meeting.
Brethren with beards: should they be on the platform.
Again, this list could be endless: and the matter of divorce and re-marriage has probably split more ecclesias than any other, in my lifetime and before. But almost all of these purported reasons are in fact colored, if not caused, by personality conflicts.
Ecclesia hopping
But why do these problems, big or small, result in such conflicts that they cause disruptions, with members leaving? Only rarely are the steps laid down by Robert Roberts properly followed. None of the above would be considered by most to involve a denial of the Truth. I believe the major cause is that we have come to believe "ecclesia hopping" is acceptable. If we have a dispute, often it is not worked through, but instead members leave and join another meeting. Any area with a multiplicity of meetings sees this happen; and members often travel quite long distances as a result.
Robert Roberts does not deal with this problem: in his days, there was rarely more than one ecclesia within commuting distance. But I personally believe that leaving a meeting for any other reason than the formation of a genuine new light-stand, or a change in your location, should be considered to fall under the provisions of "A Time to Separate…," clause 40 in the ecclesial guide. As I commented at the start of this editorial, the departure of one member diminishes us all. It inevitably changes the dynamics of an ecclesia, usually for the overall worse. After all, conflict is not necessarily bad: "Iron sharpens iron, and one man sharpens another" (Prov 27:17). If all the ecclesia is of the same mind in everything, I would suspect something. The only problem is when a disagreement becomes a conflict, and a conflict becomes so serious that the only resolution seems to be to go separate ways. So how do we avoid getting to that serous a situation?
Conflict resolution
"Endeavouring to keep the unity of the Spirit in the bond of peace" (Eph 4:3).
The principle is easy to say, but hard to practice. With all the best will in the world, conflicts can escalate. We have dealt, and are dealing with, such topics in these pages, and I only have space for a few suggestions. These deal mainly with the problem of conflict with an individual, but this is usually the root behind what might be considered a dispute about conduct or doctrine:
Pledge your commitment (Rom 12:18).
Pray for yourself (Psa 139:23–24).
Prepare before you ask for a meeting (Prov 16:21).
Provide a private place (Matt 18:15).
Purpose to be honest (Prov 12:17).
Permit total forgiveness (Col 3:13–14).
Perceive a future harvest (Gal 6:9).
Of course, the best way of resolving conflict is to avoid it. As Paul told Timothy "Have nothing to do with foolish, ignorant controversies; you know that they breed quarrels" (2Tim 2:23, ESV). It is often said that it takes two to make an argument: just because you disagree with someone is no reason to attempt to change their mind. After all, even if you think you succeed, a mind changed against its will is of the same mind still.
Sometimes, we might unfortunately discover the conflict has made someone into what most would consider an enemy. We can, perhaps, run and hide, and move to another ecclesia so we can avoid the conflict. But what did Paul counsel? "Therefore if thine enemy hunger, feed him; if he thirst, give him drink: for in so doing thou shalt heap coals of fire on his head. Be not overcome of evil, but overcome evil with good" (Rom 12:20-21). Avoidance was not recommended: engagement rather. So that hopefully you can turn the one who has become an enemy back into a friend, and can walk united towards the Kingdom.
Peter Hemingray