February 24, 2023
On Creating – A New Song
Can familiarity really breed freshness? How can habitual actions foster new creations? 
By JESSICA GELINEAU

Read Time:
5 minutes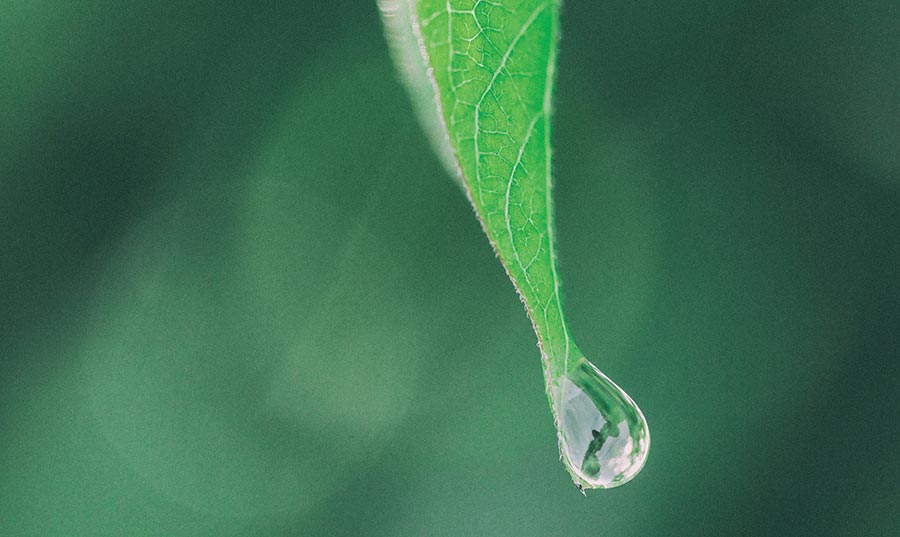 Winter morning walks in Southern California can be chilly (don't laugh) but beautiful. On the hilly street overlooking my neighborhood, buckwheat and scarlet firethorn bushes grow thickly. Their tiny white flowers and bright red berries add color and texture to a sometimes-drab landscape.
The hills here are greener than green by February and through April, thanks to the spring rains. Deuteronomy 32:2 comes to mind as I go on my regular walks.
May my teaching drop as the rain, my speech distills as the dew, like gentle rain upon the tender grass, and like showers upon the herb.1
Once the regular rains have passed, dew is often the only water our thirsty native plants receive, and the morning air feels freshest and best before the sun's heat sets in–often as early as 8 AM in the summer. How precious are these drops to the plants and people dwelling in desert-like terrain–and how precious are all of God's teachings to us? Perhaps they become more precious once their regularity sets in. "New every morning," writes Jeremiah.
We've seen it before, and we'll hear these words again. But as avid walkers don't seem to grow tired of taking daily walks, maybe we best recognize the mercies found in the instruction of our Father once they have become so familiar that they seem like the morning dew. We crave those predictable dewdrops. We can't live without them. 
Is there a paradox here, in the metaphor of the dewdrop? Can familiarity really breed freshness? How can habitual actions foster new creations? 
Newness. Freshness. Creativity. Inspiration. 
These are some ideas we'll explore together in this series: "On Creating." Look out for it several times a year in the Music and Praise section of the Tidings magazine.
We'll now turn to our thought for today: A New Song.
The phrase "New Song," or Shir Chadash in Hebrew, appears in seven verses in the Old Testament. Six of these are found in the Psalms, with the Psalmist either exhorting the congregation to sing a new song or proclaiming that God gave the musician new songs in the first place.
"He put a new song in my mouth, a song of praise to our God," David tells out in Psalm 40:3. "Many will see and fear, and put their trust in the LORD." A passage in Isaiah 42:10 and onwards describes all inhabitants of the deserts, the coastlands, and the cities singing a new song, declaring the praise of the LORD.
The last two times we see Scriptural reference to singing a new song are in the exhilarating visions of Revelation (5:9, 14:3). This time, the singers include four living creatures, twenty-four harp-carrying elders, a myriad of angels, and, well, every single creature that can be found in heaven, on the earth, or under the earth. Wow!
Interestingly, the phrase "new song" here seems to refer to a single new song that God has composed and given everyone to sing in complete, unhindered unison. I've always thought of the words "new song" in the Psalms referred to many different original compositions (like the Book of Psalms itself).
As I continue to ponder the freshness of creation as seen in the morning dew, it seems notable that the Greek word kainos—the "new" in the New Testament "New Song" phrase—tends to be used more often to denote something unused, something never before encountered. It is not merely the opposite of "old"—there is a different word used in the New Testament for that type of newness or youthfulness.
Strong's definition of kainos reads "new—especially in freshness." Just like the dew, I imagine that the "new song" of Revelation, though it will resound daily into forever, will not lose its freshness. We know some of the lyrics: "By your blood you ransomed people for God from every tribe and language and people and nation." (Rev 5:9).
David was a skilled composer and could easily string notes together to create original tunes. I can picture him saying (or singing, actually), "I will sing a new song to you, O God; upon a ten-stringed harp I will play to you!" (Psa 144:9) and meaning, "Here's a brand-new song I'm playing for you now for the first time, God! May you accept my creativity expressed in this way as my offering of praise to you."
What I don't picture—do you?—is that every inhabitant of Israel's deserts and coastlands had a particular gift of musicality and could create tuneful worship songs. It follows then that we shouldn't read into the more commanding uses of the phrase, such as, "Oh sing to the LORD a new song, sing to the LORD, all the earth!"2 as saying that God expects each of his followers to compose music.
This simply wouldn't be realistic! (Although, as an aside for the nerdier types among us—there are an astonishing number of original tunes yet unwritten. As the great Russian composer Sergei Prokofiev said, in a wonderful little essay in which he discusses the mathematics more exactly, "We need not be afraid that there will come a time when all melody will have been exhausted and we shall be obliged to repeat old tunes.")3
What does it look like, then, to "sing a new song" to God in a more general sense? Here's one idea. It looks like: creating. Something. Anything. To the glory and praise of God.
As a university student, I took an "Honors Seminar in the Creative Process" class. Yes, it does sound a bit of a pretentious way to describe a group of 12 or 13 twenty-year-olds and their professor sitting around a U-shaped table and discussing the lofty concept of creativity with no particular conclusion to the matter in their syllabus.
Nevertheless, it was a memorable class for me, and to this day, I've held on to the "Creativity Journal," to which I was required to add pictures, notes, and ideas throughout the semester. Here's something my twenty-year-old self thought important to write near the front of my journal.
I believe:
There is a God.
He is the ultimate Creative force.
Humans were created in the image of God.
Humans are like God.
Humans are Creators.
Okay, good. This is still good logic. A quick look at the first few chapters of Genesis, as well as themes woven throughout the Bible, seems to support my youthful summation.
To the topic at hand: I can write songs. They're usually simple enough to be taught to kids within a few Sunday School sessions, so I'm not talking serious musicianship here. But, bottom line, can I write a new praise song if you ask me to? Probably by Tuesday.
And that's a fun thing—a blessing, a gift from God—but I can also prepare delicious food for dinner with my family (if the baby takes a good afternoon nap), or draw a cute enough picture or birthday card to impress my four-year-old.
I can be creative in many ways when I take the time. And all of those acts of creation are, I believe, acts of praise. They are singing a new song. They are examples of me living as who God created me to be a mini-creator.
Some of you can design and build homes or beautifully decorate their interiors. Some of you can paint murals or use software to create eye-catching graphics—even create the software itself! Some of your children can probably imagine entire worlds and play within them for hours. Some of you—and I'm so jealous—know how to hang items on walls artfully.
Life can feel overstimulating for those who live in the Western world. Our brains can feel clouded and cluttered as we often let continuous inputs override our own imaginations. Let's make space for creating as an act of praise to our glorious God, the definer and Creator of creativity itself.
What new songs will you sing today?
Jessica Gelineau,
Simi Hills Ecclesia, CA