December 28, 2020
Paul's Transformed Source of Confidence and Implications for Us
The Apostle Paul knew all about confidence prior to his conversion on the road to Damascus (Acts 9).
By JESSICA MILLER

Read Time:
8 minutes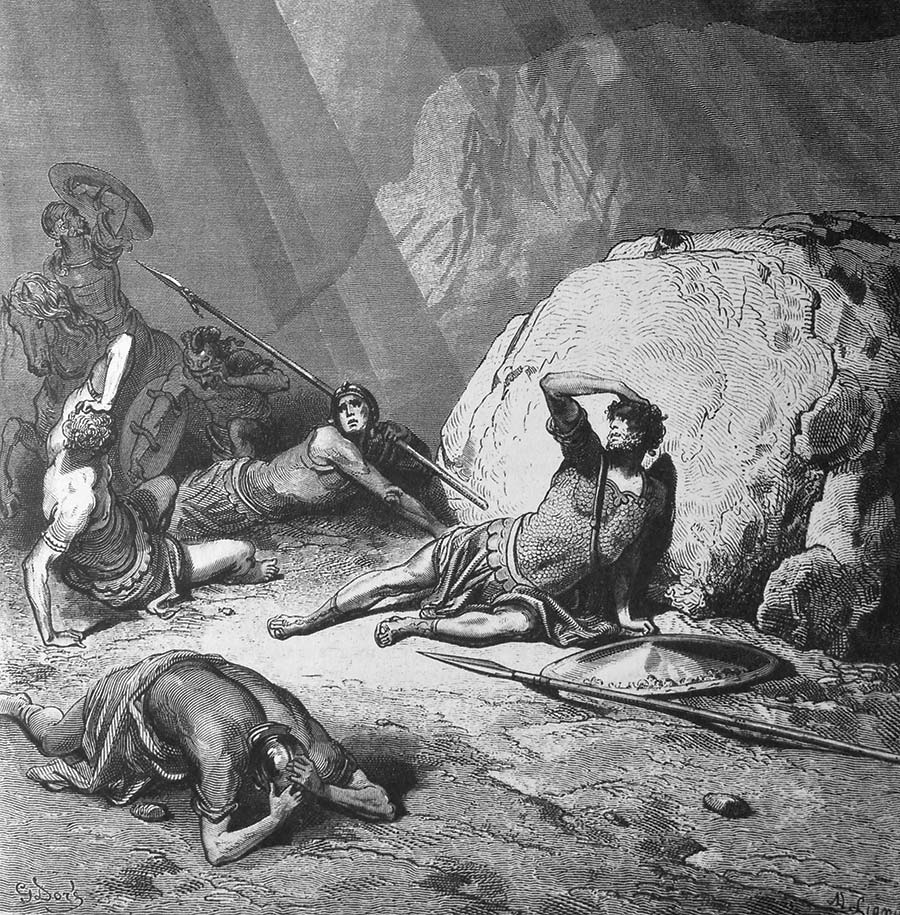 "If anyone else has a mind to put confidence in the flesh, I far more," he wrote to the Philippian believers (Phil 3:4). Paul was a "Hebrew of Hebrews," a Pharisee with impeccable credentials (vv. 5-6). But he tossed his claim to natural glory aside when he realized, in a literal flash, that his confidence was misplaced.
In that moment, he traded temporal glory for eternal. And ultimately death for life.
This trade is one that all believers must make, each on our own individual roads to Damascus. Paul summarized the transformational impact his conversion had on the source of his confidence in Philippians 3:7-9:
"But whatever things were gain to me, those things I have counted as loss for the sake of Christ. More than that, I count all things to be loss in view of the surpassing value of knowing Christ Jesus my Lord, for whom I have suffered the loss of all things, and count them but rubbish so that I may gain Christ, and may be found in Him, not having a righteousness of my own derived from the Law, but that which is through faith in Christ, the righteousness which comes from God on the basis of faith."1
Paul's newfound understanding radically changed his life and, presumably, his eternal destination. Instead of being confident in his own abilities, he had learned to "put no confidence in the flesh," and glory only in the Lord (Phil 3:3). This had a profound impact on his actions going forward.
In his letters, Paul demonstrated an absolute certainty regarding his salvation. In 2 Tim 4:7-8 he told Timothy,
"I have fought the good fight, I have finished the course, I have kept the faith; in the future there is laid up for me the crown of righteousness, which the Lord, the righteous Judge, will award to me on that day; and not only to me, but also to all who have loved His appearing."
But he did not connect the security of his salvation to his own merit. He never forgot the sins committed in his previous life. In 1 Timothy 1:15, Paul called himself the "foremost of all" sinners, having committed blasphemy and persecution of believers through his ignorant zeal (v. 13).
But following his conversion into the saving name of Jesus, rather than crediting his faithful attendance to the Law, his lineage or his prestige as a Pharisee as the source of his salvation, Paul emphasized the mercy and grace of his Savior (vv. 13,14) and the faith and love it inspired in his actions (1 Tim 1:12; 4:8).
As a result of Paul's spiritual recalibration, he wrote profound passages that can help inspire confidence in our own lives. In Philippians 4:13, Paul spoke of the ability to be content ("possessed of unfailing strength"— Strong's Concordance) under any circumstances, saying, "I can do all things through him who strengthens me."
In Romans 5, a chapter that describes the complete unworthiness of mankind and the delight God has in redeeming us anyway, Paul offered a tremendous expression of the practical impact Christ's sacrifice had on his life.
"Therefore, having been justified by faith, we have peace with God through our Lord Jesus Christ, through whom also we have obtained our introduction by faith into this grace in which we stand; and we exult in hope of the glory of God. And not only this, but we also exult in our tribulations, knowing that tribulation brings about perseverance; and perseverance, proven character; and proven character, hope; and hope does not disappoint, because the love of God has been poured out within our hearts through the Holy Spirit who was given to us." (vv. 1-5).
Paul exalted no more in his own accomplishments, but now in his tribulations. Similarly, in 2 Corinthians 12:7, Paul acknowledged the "thorn in the flesh" that kept him from "exalting" himself. Through the trial of praying for the removal of this natural deficiency (whatever it may have been) and not having that petition granted, Paul learned an important lesson which he passed along to the Corinthians:
"And He has said to me, 'My grace is sufficient for you, for power is perfected in weakness.' Most gladly, therefore, I will rather boast about my weaknesses, so that the power of Christ may dwell in me. Therefore I am well content with weaknesses, with insults, with distresses, with persecutions, with difficulties, for Christ's sake; for when I am weak, then I am strong." (2 Cor 12:9).
Paul's confidence in his salvation was not just an intellectual exercise. It impacted the way he lived his life every day. In 2 Cor 11:24-28, we read about the massive trials he went through for his faith:
"Five times I received from the Jews thirty-nine lashes.
Three times I was beaten with rods, once I was stoned, three times I was shipwrecked, a night and a day I have spent in the deep.
I have been on frequent journeys, in dangers from rivers, dangers from robbers, dangers from my countrymen, dangers from the Gentiles, dangers in the city, dangers in the wilderness, dangers on the sea, dangers among false brethren;
I have been in labor and hardship, through many sleepless nights, in hunger and thirst, often without food, in cold and exposure.
Apart from such external things, there is the daily pressure on me of concern for all the churches."
Most of the hardships Paul suffered were, in some sense, self-selected. God chose him for this purpose (Acts 9:16), but Paul still had to decide to live the life that was laid out for him. He faced the dangers described above because he made the choice to live confidently and courageously, no matter the cost.
Our trials will be different, but our attitude should be the same.
We have this decision to make as well. Our trials will be different, but our attitude should be the same. Today the world encourages a type of confidence, but it is closer to the kind Paul possessed prior to his conversion than the kind God desires.
The world tells us to be confident in our abilities and accomplishments, our possessions, our bodies and our sexuality, all the while bombarding us with images and accounts of people we can never live up to in any of those areas.
There's a key word often put in front of the type of confidence the world wants us to have—self. But we are setting ourselves up for failure when we trust in our selves. The word "self " is rarely spoken of positively in the Bible.
We read of self-indulgence (Matt 23:25), selfexaltation (Jer 48:29), self-will (Titus 1:7), and self-made religion (Col 2:23).
In 2 Timothy 3:2, Paul criticizes those who are "lovers of self." The flesh isn't something to glory in (Phil 3:3); it's something to be crucified (Rom 6:6). In Colossians 3:9,10, Paul tells us that we have "laid aside the old self" and "put on the new self." And this "new self " isn't our self at all. It is Christ in us (Col 3:11)!
This message can be hard to hear because it is quite opposite from what the world often tells us. And it may be hard to decipher exactly what it means in a practical, day-to-day way. With all the negative scriptural focus on self, does that mean we should dislike, or, even, hate ourselves?
No. We are all unique creations of God, with personalities and characteristics that He intended to be cultivated and developed, molded into distinct individuals.
By observing the vast differences of those around us regarding size and shape, skin color, hair length and color (or even existence), accent, personality and all the other beautiful variations in the spectrum of humanity, we can be sure that our Creator loves individuality!
We are called to Him as individuals and welcomed as such. And we would struggle to inspire others to come to our God if we presented ourselves as miserable, self-loathing creatures. Like Paul, we should recognize that there is no good thing in our flesh (Rom 7:18).
But this recognition shouldn't inspire self-hatred; rather, it should provoke a deep and abiding appreciation for what God has accomplished, and is accomplishing, for us through Christ. This appreciation, if taken to its logical conclusion, can lead to the possession of an unshakeable confidence that surpasses the transient whims of a society that reconfigures its standards of beauty.
So how do we counteract the messages that society bombards us with, in order to develop a biblically accurate view of confidence that we can cultivate in our lives? It comes from a simple, yet profound, acknowledgement of who we are without God and who we are with Him.
In Luke 7, Jesus was dining in the house of a Pharisee, when a woman who was simply described as "a sinner" approached him, crying and anointing his feet with perfume (v. 37). When the Pharisee criticized Jesus for allowing this woman to touch him, Jesus told a simple story and then asked a simple question.
"A moneylender had two debtors: one owed five hundred denarii, and the other fifty. When they were unable to repay, he graciously forgave them both. So which of them will love him more?" (v. 41-42).
The Pharisee knew the correct answer: "the one whom he forgave more." (v. 43). Through the rest of the chapter, Jesus contrasted the faithful acts the "sinner" performed to those of the Pharisee, and then told the woman, "Your faith has saved you; go in peace." (v. 50).
There are at least a couple of notable messages in his words to this faithful woman (who many conjecture is Mary Magdalene). First, he commended her faith; secondly, he encouraged her to walk in peace.
She had demonstrated her faith in the recognition of her position before Christ as a sinner, but Christ didn't ask her to remain there, groveling at his feet indefinitely. I imagine that as she walked away, her head was not raised high in the arrogance of self-confidence but was also not hung low in shame. I imagine that her Lord's blessing of peace had instilled a quiet confidence within her, a sense of contentment, or unfailing strength.
If this woman was Mary Magdalene, we know that her faith led her to follow Christ to his crucifixion and to proclaim his resurrection to her brethren (Mark 15:40; John 20:18). Her confidence was properly rooted in her Messiah and was, therefore, unshakeable. Like Paul, this faithful woman knew how great her sins were. But that was just the start. Because also like Paul, she knew that God's mercy was incomparably greater.
Recognition of our sins may begin with hanging our heads in shame, but it cannot end there if we want the kind of confidence God desires us to possess. As the words to a scripturally based children's song say, "Be bold! Be strong! For the Lord your God is with you!"2
An understanding of the second part of this phrase is the key to living out the first. We can and should walk in confidence, but with a firm understanding of the source from whom it comes. Once we appreciate how much has been done for us, we shouldn't have less confidence, but more!
But it is a confidence rightly acknowledged as coming from our position as loved, forgiven children of God, as opposed to our own merit or hard work. Confidence derived from our value to God and appreciation for Christ's sacrifice is so much more powerful than confidence derived from any inherent merit we may falsely believe we possess.
Properly derived confidence can lead us to live lives of purpose and courage
If our confidence is based on our achievements or our intrinsic positive characteristics, eventually we will come face-toface with the insufficiency of those qualities. There will always be someone more talented, more intelligent, more attractive; someone who is "more" of everything our self-confidence encourages us to take pride in.
But a properly derived confidence will stand the test of time and of our human failings and will allow us to be sure of our place in the world, and for eternity. Like the writer to the Hebrews, we can,
"draw near with confidence to the throne of grace, so that we may receive mercy and find grace to help in time of need." (Heb 4:16).
Properly derived confidence can also lead us to live lives of purpose and courage now, just like those whose witness we read throughout the Bible.
Like Joshua and Caleb, we can have the confidence to claim what God has promised (Num 13-14); like David, we can face any selfconfident giant who stands before us, threatening us or those we love (1 Sam 16-17); like Mary Magdalene, we can bravely follow our Lord and proclaim him to those around us; and like Paul, we can "overwhelmingly conquer" any temporal trial, knowing that none of them,
"will be able to separate us from the love of God, which is in Christ Jesus our Lord" (Rom 8:37-39). "For the Lord will be your confidence and will keep your foot from being caught" (Pr. 2:26).
Jessica Miller
Richmond Chapel, VA
1 All Scriptural quotations are from the New American Standard Bible (NASB) unless otherwise noted.
2 Words and music by Morris Chapman