August 15, 2014
The Apostles in the Gospel of John
John's Gospel is different - Matthew, Mark, and Luke are called the 'Synoptic' Gospels, because the events of Jesus' life and ministry are seen from roughly similar perspectives. The Gospel of John is different. There is no account of the birth of the Savior, but an account of the spiritual rebirth of those who "received him." "But as many as received him, to them gave he the right to become children of God, even to them that believe on his name: which were born, not of blood, nor of the will of the flesh, nor of the will of man, but of God" (John 1:12-13).

Read Time:
7 minutes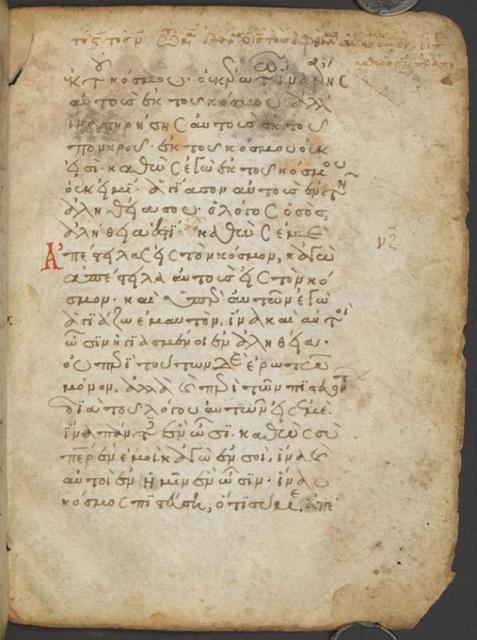 John's Gospel is different
Matthew, Mark, and Luke are called the 'Synoptic' Gospels, because the events of Jesus' life and ministry are seen from roughly similar perspectives. The Gospel of John is different. There is no account of the birth of the Savior, but an account of the spiritual rebirth of those who "received him."
"But as many as received him, to them gave he the right to become children of God, even to them that believe on his name: which were born, not of blood, nor of the will of the flesh, nor of the will of man, but of God" (John 1:12-13).
John alone omits Jesus' words about the bread and wine at the Last Supper, but he alone records Jesus' teaching about bread from Heaven:
"I am the living bread which came down out of heaven: if any man eat of this bread, he shall live for ever: yea and the bread which I will give is my flesh, for the life of the world… He that eateth my flesh and drinketh my blood hath eternal life; and I will raise him up at the last day. For my flesh is meat indeed, and my blood is drink indeed. He that eateth my flesh and drinketh my blood abideth in me, and I in him" (John 6:51, 54-56).
The Synoptic Gospels all record Jesus' saying that we must take up the cross and follow him. John does not, but illustrates the principle in reporting the new commandment:
"This is my commandment, that ye love one another, even as I have loved you. Greater love hath no man than this, that a man lay down his life for his friends" (John 15:12-13).
John's account of the life of Christ is less comprehensive than the Synoptics, but invites us to a deep contemplation of the events recorded. John highlights Jesus' involvement in the spiritual development of the apostles, his authority as Lord and Master, his love in calling them friends (15:13-15). John alone recounts the foot-washing:
"So when he had washed their feet, and taken his garments, and sat down again, he said unto them, 'Know ye what I have done to you? Ye call me, Master, and, Lord: and ye say well; for so I am. If I then, the Lord and the Master, have washed your feet, ye also ought to wash one another's feet. For I have given you an example, that ye also should do as I have done to you.' " (John 13:12-15).
John alone records the prayer of Jesus on the way to Gethsemane (John 17). Verses 6-19 of this prayer are for the disciples; the remainder (17:20-26) is for us. The focus and goal of the Gospel is given in the last verses of John 20:
"And many other signs truly did Jesus in the presence of his disciples, which are not written in this book: But these are written, that ye might believe that Jesus is the Christ, the Son of God; and that believing ye might have life through his name" (John 20:30-31).
In this article we consider some of the unique aspects of John's Gospel in its portrayal of the apostles. We do so bearing in mind that John wrote his Gospel so that we may believe, and in hope that our belief can spring up to eternal life through Jesus' name.
Nathanael is referred to as "Bartholomew" in the Synoptics; James and John are not mentioned by name in John, although it is normally assumed that the "beloved Disciple" is John. Thaddaeus is "Judas son of James" in Luke and "Judas, not Iscariot" in John.
The first five
John's Gospel begins with John the Baptist, "sent from God" (1:6), bearing witness of Christ (1:15). Two of his disciples see him gazing at Jesus, hear his words "Behold, the Lamb of God," and follow him (1:36-40). One is identified as Andrew, brother of Peter; the other is not named. It is likely that this other is John, the author of the Gospel, who refers to himself only as "the disciple whom Jesus loved," and whose delicacy is such that the only reference to himself and his brother is as "the sons of Zebedee" (21:2). The two accompany Jesus to his lodging "and abode with him that day." Nothing is recorded of that day, but its profound effect is evident in what follows: Andrew finds his brother Peter and says,"We have found the Messiah!"
Natural incredulity yielded to the evident conviction and enthusiasm of brother and friend, and Peter himself went to meet Christ (1:42). Once again we are told little of the encounter, except that Jesus "looked at him" — not a glance but a gaze, a steady and fixed look1Same word as used of the Baptist in John 1:36, and notably in Luke 22:61 of Jesus' look at Peter from across the courtyard of the high priest's house — and said that Peter would be known as Cephas, 'the Stone.' No words of Peter's are recorded; no response is given, but further explanation is deemed unnecessary. From this time on, Peter is a disciple and an apostle.
It seems safe to assume that Philip was a friend of Peter, John, and Andrew; that Jesus heard of him through them (1:44). Jesus sought Philip (1:43) and said, "Follow me." As with Peter, there is no record of a direct response. But that Philip joined the previous three is evident from his words to Nathanael:
"We have found him of whom Moses in the law, and the prophets, did write…"
In these three episodes, the sparseness of the record speaks volumes. A skilled musical composer uses silence artfully; the best painters can shape impressions with few strokes of the brush. So it is with the Gospel of John. Think of those who, sent to arrest Jesus, returned empty-handed (7:45-46). Challenged for their failure they could only say "Never man spake like this man." It was explanation enough. Such is the effect of the Master. His sheep know his voice (do we?) and forsaking all, follow him (10:3-4, 16).
The record of Nathanael's first encounter with Christ is more detailed than that of the previous four, but still tantalizingly spare (1:45-51). Jesus speaks first, greeting Nathanael as, "an Israelite indeed, in whom is no guile." Nathanael, taken aback, responds "How do you know me?" Jesus' response, that he had seen Nathanael when he was under the fig tree before Philip's call, was enough to convince Nathanael: "Rabbi, thou art the Son of God; thou art the King of Israel."
Jesus' next words, alluding to Jacob's ladder, are often laid together with his reference to Nathanael as without "guile." Jacob's name and history bear witness to something less than a guileless character. It is supposed that Nathanael was contemplating the life of Jacob when Jesus saw him, and that this awareness of his inmost thoughts was the basis of Nathanael's conviction. This may be the case — if it please God, some day we will meet Nathanael, and ask him personally! But regardless of the explanation, the power of Jesus' presence and words is manifest, as on so many other occasions. "Whom seek ye?" he said to the mob sent to arrest him (18:4-5). "Jesus of Nazareth," they replied. His simple response "I am he," had the power of a blow: "they went backward, and fell to the ground" (18:6).
So Nathanael became a disciple of the Lord, joining Peter and Andrew, John, and Philip. There is no further specific reference to him, except as among the seven on the remarkable morning which began with Peter saying, "I go a fishing" (21:3). Nathanael shared the breakfast of bread and freshly cooked fish prepared by the Lord himself (21:12-13). That blessed morning surely prefigures another day, described by the Lord this way:
"Blessed are those servants, whom the Lord when he cometh shall find watching: verily I say unto you, that he shall gird himself, and make them sit down to meat, and shall come and serve them" (Luke 12:37).
Thomas
Table 1 highlights a difference between John and the Synoptics. Philip, Nathanael, and Thomas are only mentioned in lists of names in the Synoptics, but John gives glimpses of their experiences and spiritual development. John tells us it was Philip that Jesus tested, asking where they could buy bread to feed the 5,000 (6:5-7); that it was Philip to whom certain Greek proselytes came, "saying, 'Sir, we would see Jesus' " (12:20-21); that it was Philip who said "Show us the Father," prompting Jesus' response, "Have I been so long time with you, and dost thou not know me, Philip? he that hath seen me hath seen the Father; how sayest thou, 'Shew us the Father?' "
Similarly, all that we know about Thomas, we know from the Gospel of John. He is best known as the "Doubting Thomas" (20:19-29) who would not believe that the risen Lord had met with the other apostles. Luke's account of that very meeting (Luke 24:36-49) says that those present, "were terrified and affrighted, and supposed that they beheld a spirit"; that Jesus showed them his hands and feet and urged them to, "handle me, and see," and that still, "they believed not for joy." Perhaps we have been too hard on Thomas, who was not present and desired the same proofs. A week later Jesus gave those same proofs to Thomas, and his response was unqualified conviction, "My Lord and my God!" Jesus said to him, "Because thou hast seen me, thou hast believed: blessed are they that have not seen, and yet have believed" (20:29).
If there is reproach in the words, it is mild reproach; the emphasis is on the blessedness of those who, having not had their doubts so convincingly set aside, still believe.
The picture of Thomas as dithering and irresolute does not fit with our first introduction to the man in John 11. Jesus and disciples had withdrawn to Peræa, the region "beyond Jordan" (John 10:40), after repeated attempts on his life (8:59; 10:31, 39). Word came from Bethany, "Lord, behold, he whom thou lovest is sick." Lazarus was dying, and Jesus knew it. He must return to raise him, "for the glory of God, that the Son of God may be glorified thereby." The disciples all opposed the return to dangerous territory: all but one, that is. Thomas said, "Let us also go, that we may die with him" (11:16). The words may have been imperfectly thought out, like Peter's unmeasured assertion that he would die rather than deny Jesus (echoed by ten other disciples: Matthew 26:35). But they are not the words of a coward, a ditherer, a doubter, and they received no rebuke from Jesus. They were the words of a loyal follower.
In light of this the epithet 'doubting Thomas' seems unfair. Yet some point to the thrice repeated phrase, "Thomas, called Didymus," offering the explanation that Didymus means 'the twin' in Greek, and commentary to the effect that this means he was a 'double-minded man, unstable in all his ways.' There is a simpler explanation. "Thomas" also means 'the Twin' in Hebrew; John's Gospel was written to a predominantly Gentile audience and thus includes the name by which he was known among Gentiles.
The disciple Jesus loved
Our consideration of the apostles in the Gospel of John could not be complete without mention of John himself2It has been argued that "The Disciple who Jesus loved" is Lazarus, but the normal assumption is that it is John himself, as assumed here. He is "the disciple whom Jesus loved," mentioned as "reclining in Jesus' bosom" at the last supper (13:23); the one to whom Jesus committed his mother's care from the cross (19:25-27); the one who outran Peter to the empty tomb (20:1-5).
What an extraordinary title: "The disciple whom Jesus loved!" Jesus' love for all his disciples was the basis of the new commandment; it is the most comprehensive love imaginable. But that love for all does not disallow a special affection for John, or for Lazarus and his sisters (11:5), or for a rich young ruler caught in the web of materialism (Mark 10:21). These descriptions do not detract from the comprehensiveness of Jesus' love; they enhance our appreciation of the humanity of our Master.
The disciple whom Jesus loved was specially privileged to know the love of Christ. Writing as an old man, he could say, "we know and have believed the love which God hath in us… we love, because he first loved us" (1John 4:16-19). His Gospel reveals the very personal nature of Christ's dealings with the disciples, and with those that believe on Him through their word.
Bill Link (Baltimore, MD)