August 25, 2023
The Joy of Living in Christ
The Bible is a book of joy, telling us how we can share in that joy.
By RUSSELL PATTERSON

Read Time:
8 minutes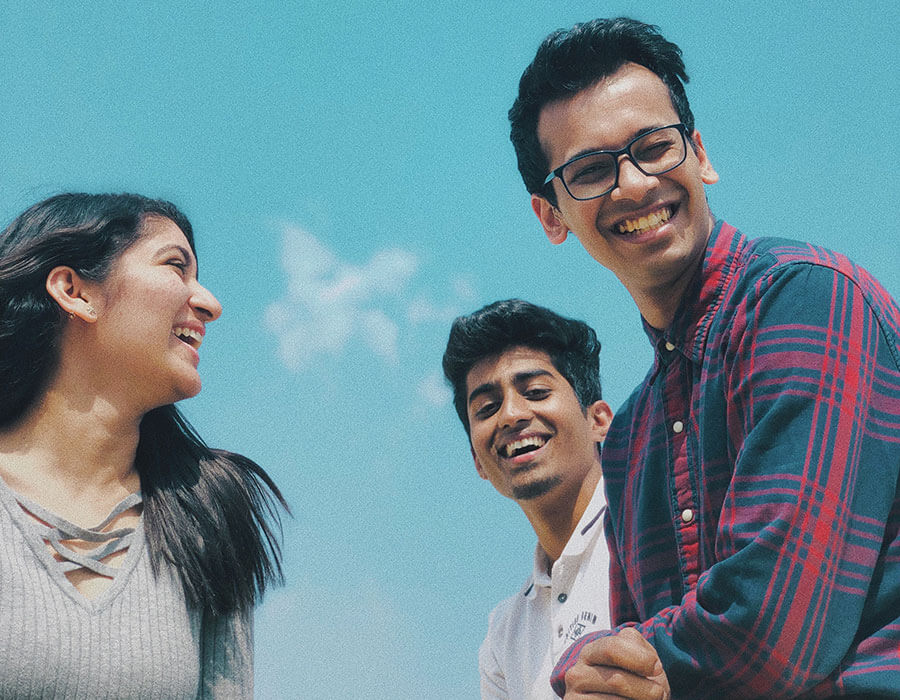 That sounds pretty important, doesn't it? The Bible mentions joy, being joyous, and joyfulness at least 215 times, and there are other times when it is implied. Even when there is weeping, there is the promise of coming joy. David wrote, "weeping may endure for a night, but joy cometh in the morning." (Psa 30:5).
In the Bible, God tells us His purpose in creating the earth. I will quote four verses to show this. 
Thou hast created all things, and for Thy pleasure they are and were created. (Rev 4:11).
He created it [the earth], not in vain; He created it to be inhabited. (Isa 45:18).

 
As truly as I live, all the earth shall be filled with the glory of the LORD. (Num 14:21).

 
For the earth shall be filled with the knowledge of the glory of the Lord, as the waters cover the sea. (Hab 2:14).
He created the earth to bring pleasure and joy to Himself. It involved people. It involved the earth. It involved filling the earth with His glory. It involved people who knew His purpose. The Bible is a book of joy, telling us how we can share in that joy. 
Even when there is weeping, there is the promise of coming joy.
However, there is much in the Bible which is not joyful. That's because men were wicked and ignored God's promises of goodness and mercy. So He needed to apply His power of correction to fulfill His purpose. That's why He brought curses such as the Flood, wars, and other disciplinary measures to preserve His goal. Sadly this consumes much of the Bible. But His goodness is always there. 
God desires joy in our service to Him. In Deuteronomy 28, we read that the Jews would receive curses. But the core reason is provided in verse 47, "Because thou servest not the Lord thy God with joyfulness, and with gladness of heart." 
The nation thought they were pleasing the LORD when they performed sacrifices and observed the rituals of the Law. But they did these things as ends in themselves. They weren't serving out of joy and love in their heart. God's reaction to these joyless offerings is recorded in Isaiah 1: 11,
To what purpose is the multitude of your sacrifices unto me? saith the Lord: I am full of the burnt offerings of rams, and the fat of fed beasts; and I delight not in the blood of bullocks, or of lambs, or of he goats. Bring no more vain oblations, incense is an abomination unto me.
God gives us guidance on how to serve Him. The scriptures teach us how we can grow to please Him and fulfill His ultimate purpose to bring joy and praise in honoring Him. We need to be faithful to God and His purpose to be joyful. We transform our minds by doing our service to God the right way (Rom 12:2).
God gives us guidance on how to serve Him.
The gospel is full of joy. Jesus lived a life that brought joy to thousands as he healed their bodies and souls. Picture the joy on the face of a blind man that Jesus healed. For the first time, he could see his family. The deaf could now hear the voice of their loved ones and laugh and hear sweet music. Jairus could hold his little daughter in his arms again. Think of all the miracles Jesus did and the joy that resulted. I am sure these healings must have also brought much joy to Jesus. 
I have many reasons for immense joy as a result of knowing God. Since I am in Christ, I receive many blessings. First of all, I am filled with joy because of my family in the Lord. It is a real joy to have many brothers, sisters and friends like you in my life.
Secondly, it is a blessing for me to know that God is always merciful and loving. The LORD God reveals Himself as "merciful and gracious, longsuffering, and abundant in goodness and truth, keeping mercy for thousands, forgiving iniquity and transgression and sin, and will by no means clear the guilty." (Exod 34:6-7) This idea is repeated in Micah 7:18, with one addition. "Who is a God like unto thee, that pardoneth iniquity, and passeth by the transgression of the remnant of his heritage? he retaineth not his anger for ever, because he delighteth in mercy." 
He delights in mercy. He wants to forgive me for my sins. He, the Almighty God, cares for me, forgives my sins, and wants to give me the Kingdom. When I fail, I am not lost because there is forgiveness with Him. His forgiveness is complete. "Like as a father pitieth [or loves] his children, so the Lord pitieth or loves them that fear him." (Psa 103:13).
Our God is a Father who loves His children, and God loves each one. Knowing that God is a merciful and long-suffering Father brings great joy to me. So I rejoice in all my serving, knowing that in all of God's commands, His purpose was to prepare me for the joy He has in store. 
He delights in mercy. Notice how He deals with our sins. "He will not always chide: neither will He keep His anger for ever. He hath not dealt with [me] after [my] sins; nor rewarded me according to my iniquities." (Psa 103:9-10). If He kept His anger, I would have no hope. This idea is so important that it is repeated in Psalm 130:3, "If, thou, Lord shouldest mark iniquities, O LORD, who shall stand?" My sins are totally disposed of "as far as the east is from the west, so far hath he removed my transgressions from me." (Psa 103:12). 
I am so glad He is a forgiving Father. He suffers when I suffer. He rejoices when I rejoice. In a recent article in the Tidings (Bereavement, May 2023), the author mentioned that when he lost his twenty-two-year-old daughter in an accident, God grieved along with him. I am beginning to appreciate this concept and realize He knows me and cares about me. He will be pleased when I do what is right and disappointed when I do what is wrong.
I am joyful because God sent His Son, Jesus, who lived a life overcoming sin and giving his life on the cruel cross as a perfect sacrifice for my sins. I can only be counted as righteous because I am in Christ. It is not something I earned or deserved. Only through the undeserved love of God and His Son, Jesus, and by their grace, do I have hope for any future life. Thank you, Jesus! 
God has given me many blessings which bring me joy and security. I think of David's words in Psalm 34:7, "The angel of the Lord encampeth round about them that fear him, and delivereth them." God sends His angels to watch over me. I am sure there were times in my life when God's angel delivered me from serious consequences.
I am sure there were other times when I wasn't aware of the work of the angels, but their activity was certainly there. The LORD has said, "I will never leave thee, nor forsake thee." (Heb 13:5). That assurance brings me great joy and a sense of security. He remembers I am dust. He knows how I struggle to overcome sin. He knows of tragedies in my life. He knew when our home burned to the ground. He knows, and He cares. Praise God! 
I need to be joyful when it doesn't seem like I should be joyful. As James wrote, "My brethren, count it all joy when ye fall into divers temptations; Knowing this, that the trying of faith worketh patience." (Jas 1:2-3). Temptations and trials are not joyful, but when I remember what they do for me if I properly regard them, I realize how to react to trials and temptations. Trials give me patience or endurance, so I rejoice in my trials when I realize that they help to prepare me for the coming Kingdom and to grow in Christ. So trials are a blessing, and I can rejoice when they come.
That's how I can understand how Paul and Silas could do what they did. They were beaten with many stripes and their feet fastened in the stocks. Their backs were bleeding and sore. What did they do? They prayed and sang praises unto God. The jailer heard them, and good things happened after that. (Acts 16:25-27).
Jesus's mind was so devoted to serving God that his trials were considered trivial. "Looking unto Jesus the author and finisher of our faith; who for the joy that was set before him endured the cross, despising the shame, and is set down at the right hand of the throne of God." (Heb 12:2). He didn't even think about the shame he was going through hanging on that cruel cross. There was joy set before him, the results of his ordeal. He would think that through his sacrifice, millions would be redeemed to their Creator, and the earth would be filled with people reflecting the glory of God. 
God loves me, and He reminds me of that in many places. He doesn't have to do that, but He does because that's who He is. I am very joyful that I am secure in His love. He loved me before I loved Him. (1 John 4:19). That brings joy to me. I have the assurance that nothing can separate me from His love. (Rom 8:35-39). That certainly brings me joy.
The very hope of the promised Kingdom is another great reason for joy. Excitement for that coming day gets increasingly exciting as I see the happenings happening today in Israel and other places in the world. The Kingdom surpasses any sense of joy we have had in our mortal lives. "Eye hath not seen, nor ear heard, neither have entered into the heart of man, the things which God hath prepared for them that love him." (1 Cor 2:9, cited from Isa 64:4). I don't even know how wonderful it will be. We need to shout for joy for His unspeakable love. 
Music is an expression of our joy. Remember the songs of joy in the Bible. Miriam, Hannah, Elizabeth Mary. We sing with joy, making melody in our hearts to the LORD. We may sing songs unto the LORD in the Kingdom. Imagine the beauty of immortal voices in harmony. Picture the joy at that time. We read the songs in the Apocalypse, 
And they sung a new song, saying, Thou art worthy to take the book, and to open the seals thereof: for thou wast slain, and hast redeemed us to God by thy blood out of every kindred, and tongue, and people, and nation; And hast made us unto our God kings and priests: and we shall reign on the earth. (Rev 5:9-10). 
What joy I will feel then!
I'll conclude by looking at two verses in the Book of Jude. The first is Jude 24-25. These words are familiar to us, as they are the lyrics of Hymn 106. 
Now unto him that is able to keep [me] from falling, and to present [me] faultless before the presence of his glory with exceeding joy.

 
Look at this more carefully. God does three things. He sends His angels to keep me from falling. I'm not faultless, but He presents me as faultless, which must mean He forgives me and does it with exceeding joy. There is joy in heaven. Joy in the presence of the angels of God over one sinner that repents. (Luke 15:10). Wouldn't there be joy in heaven when I please Him? God loves me, and He is concerned for me. I am important to Him. That means a lot to me. It goes with Micah 7:18, where we are told He delights to show mercy and forgive. 
You, too, can have the same joys as I have. What joy we have in these last days as we wait for the coming of Jesus. Without this hope, things would be dreary. I am so thankful to have God in my life today in the middle of all the stress and wickedness, I have a hope that is both sure and steadfast. And as I project to the time of the Kingdom, my joy will be beyond my comprehension when, by the grace of God, Jesus says to us, "Well done, good and faithful servant; thou hast been faithful over a few things, I will make thee ruler over many things: enter thou into the joy of your lord." (Matt 25:23). 
What greater joy could I ever have? 
Russell Patterson,
Verdugo Hills Ecclesia, CA