August 25, 2022
Thoughts on the Way: A Little Child
Sister Karen Hutchinson, of Austin, age 63, died on May 11. I know that she would be embarrassed to hear what I am about to say, but since she can't hear it, I feel free to speak.
By GEORGE BOOKER

Read Time:
5 minutes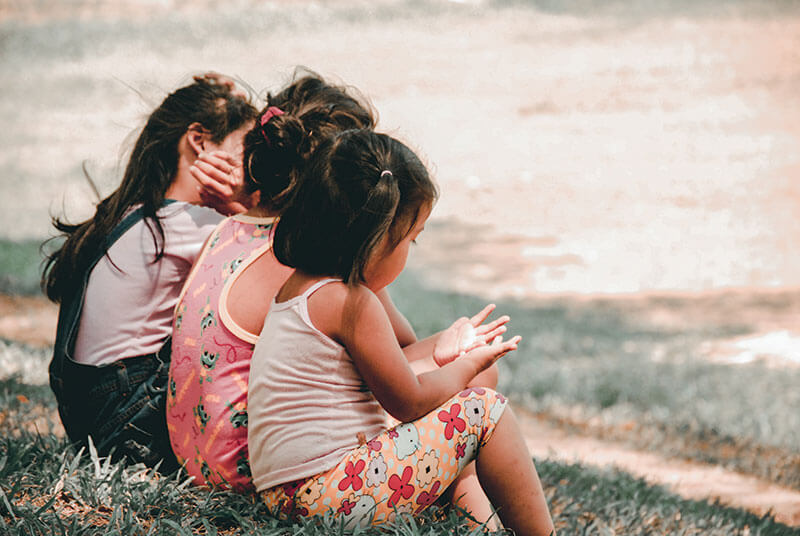 "An argument started among the disciples as to which of them would be the greatest. Jesus, knowing their thoughts, took a little child and had him stand beside him. Then he said to them, 'Whoever welcomes this little child in my name welcomes me; and whoever welcomes me welcomes the one who sent me. For he who is least among you all—he is the greatest.'" (Luke 9:46-48 NIV).
"People were bringing little children to Jesus to have him touch them, but the disciples rebuked them. When Jesus saw this, he was indignant. He said to them, 'Let the little children come to me, and do not hinder them, for the kingdom of God belongs to such as these. I tell you the truth, anyone who will not receive the kingdom of God like a little child will never enter it.' And he took the children in his arms, put his hands on them and blessed them." (Mark 10:13-16 NIV). 
---
In the incidents described above, Jesus and his disciples were dealing with actual children and not adults. But when Jesus tells his disciples—and us—that we adults must receive the kingdom like a little child (Mark 10:15), then we need to pay attention! Then we need to figure out how we, as grown-ups, must become like little children again.
How An Adult Becomes a Little Child Again
Karen Hutchinson is, to me, the best example of what Jesus meant by "a little child." I certainly don't mean that Karen was a little child intellectually—not at all. She studied and earned a degree in history from Texas State University and worked as a librarian for many years with the Central Austin Public Library. I believe that Sis. Karen was "a little child" in the best way, the way that Jesus described. Karen was patient, kind, cheerful, thoughtful, trusting, and caring. In fact, she demonstrated practically all the characteristics of love that were enumerated by the Apostle Paul in 1 Corinthians 13. 
To put it simply, she was sweet! That is a word that isn't often used today to describe adults, and that's too bad, because the world would be a better place if we had more "sweet" people like Karen. 
"Sweet" people don't carry grudges, and they don't criticize or pass judgment upon others. Karen didn't carry grudges, so far as I know. I doubt that she ever judged anyone. "Sweet" people don't get angry with others. I doubt that Karen was ever really angry with anyone—and if she were, it was certainly not for long. 
the disciples had to learn that they should never compare themselves to one another
We just read about Christ's disciples. They were good men, righteous men, men who laid down their lives for others—and that's all to the good for them. But they had to learn a lot of things as they followed Jesus from place to place, observing him and helping him in his work. 
For one thing, the disciples had to learn that they should never compare themselves to one another:
We do not dare to classify or compare ourselves with some who commend themselves. When they measure themselves by themselves and compare themselves with themselves, they are not wise. (2 Cor 10:12 NIV).
Of course, the disciples should never have been arguing about who would be the greatest in the kingdom! I am sure they learned these lessons from Christ eventually, but Karen seemed to understand that teaching of Jesus from the start. She never pushed herself forward. She was always there, in the background, doing something to help when she could but never trying to call attention to herself.
For a second thing, Christ's disciples also had to learn that, to Jesus, the "little children" (those who were truly two years old, or six, or ten) were some of the most important people in the world and definitely should not be ignored. Jesus wanted to spend time with the little children. To put it simply, he loved them, and they loved him. 
Karen loved cats and koalas, but she especially loved children. Although she had no children of her own, she found it easy to love any child. Jesus said that the Kingdom of God belongs to people like Karen.
From Karen, we can learn other lessons. Karen was modest. From her, we can learn that it's more important to spend time with little children, to hold them and play with them. It is more important than trying to dominate a conversation, or enhance your own reputation, or promote your own agenda. 
One other thing: Karen hugged everyone. That was an obsession for her. She loved people, and she wanted to be near them and with them.
Furthermore, Karen did not want people to go to any trouble on her account. Her brother David (aka "Scotty") said  he thought Karen would not want anyone to feel obliged to dress up for her funeral. So, most of us who heard this followed that suggestion. 
Karen was a baseball fan. She rooted for the Los Angeles Dodgers, and she was buried wearing her favorite Dodgers jersey. 
Karen went through months of suffering in hospitals and rehab centers, but she did not complain. Until the end, she bravely put up with all her treatments. However, she did complain about one thing: the fact that, toward the end, she was unable to do her daily Bible readings. 
We are grateful now that Karen has found rest and peace. We pray that her sleep will not last long and that an angel will always watch over her resting place. We also pray that soon the angel will gently wake her up—along with her mother, her grandparents, and other family members buried in that little country cemetery in Rockdale, Texas, where Karen grew up. Then she will find a new and glorious dawn, a healthy body, and a special home in God's Kingdom. 
And then she will hear the voice of our Lord Jesus Christ: 
Come, you who are blessed by my Father; take ["receive"] your inheritance, the kingdom prepared for you since the creation of the world. (Matt 25:34 NIV).
The Kingdom of Little Children
It will be a wonderful kingdom. In fact, it will be a kingdom of "little children!" Isaiah wrote about Jesus Christ and the Kingdom which he will establish when he returns to this earth:
He [Christ] will not judge by what he sees with his eyes, or decide by what he hears with his ears; but with righteousness he will judge [or "defend"] the needy, with justice he will give decisions for the poor of the earth. Righteousness will be his belt and faithfulness the sash around his waist.
The wolf will live with the lamb, the leopard will lie down with the goat, the calf and the lion and the yearling together; and a little child will lead them. The cow will feed with the bear, their young will lie down together, and the lion will eat straw like the ox. The infant will play near the hole
[or "pit"]
of the cobra, and the young child will put his hand into the viper's nest. They will neither harm nor destroy on all my holy mountain, for the earth will be full of the knowledge of the LORD as the waters cover the sea.
(Isa 11:3-9 NIV).
George Booker
Austin Leander Ecclesia, TX