August 15, 2014
Titus
Titus is clearly a most important individual in the spreading of the gospel: and indeed he is referred to as an apostolos in the passage above, so he is included in our survey of the apostles. Even a cursory read of Paul's letter to Titus reveals that the circumstances and issues being addressed are very familiar to the brotherhood in these last days...

Read Time:
6 minutes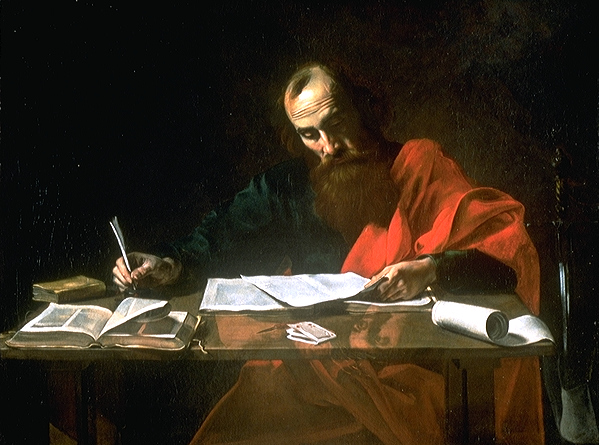 "Whether any do enquire of Titus, he is my partner and fellowhelper concerning you: or our brethren be enquired of, they are the messengers [apostles] of the churches, and the glory of Christ" (2 Cor 8:23).
Who was Titus?
Titus is clearly a most important individual in the spreading of the gospel: and indeed he is referred to as an apostolos in the passage above, so he is included in our survey of the apostles. Even a cursory read of Paul's letter to Titus reveals that the circumstances and issues being addressed are very familiar to the brotherhood in these last days — travelling near and far to spread the gospel of salvation; establishing administrative arrangements and procedures in new ecclesias; ensuring a proper doctrinal foundation for ecclesial growth and godly behavior; making clear distinctions between the ecclesia and the world; handling controversies with antagonists of the Gospel; and more besides. To put the point in contemporary language, it's as though the great apostle was writing a CBMA handbook, or an ecclesial guide or manual for the ecclesial elders, and indeed for all of us, to have within easy reach — inspired guidelines, not only for Titus the great preacher and ecclesial administrator, but for us too in these far off days. The timelessness of Scripture is revealed yet again. We are, or should be, the modern Tituses being guided on how we should handle our great tasks in the Master's service.
Who, then, was Titus? Well, it's perhaps puzzling to find that the name of one so respected by the apostle Paul does not appear in the Acts of the Apostles. It's possible that he was the person recorded as Justus in Acts 18:7, a name prefixed by Titus in some early manuscripts. But such surmising is not especially fruitful. Much more important to note is that Titus appears many times in Paul's correspondence, especially in his letters to the Corinthian and Galatian ecclesias, reflecting the important role played by Titus in that early preaching to the Gentiles.
Scripture reveals that Titus was a Gentile disciple (Gal 2:3). He was very likely a native of Antioch in Syria, the great center of early Gentile Christianity. It was also likely that he met Paul there, and was taught the Truth by him, becoming his "true child in the common faith" (Titus 1:4). He accompanied Paul and Barnabas on the journey to Jerusalem for the council meeting on the "Gentile controversy" (Gal 2:1). Being a Gentile, Titus "was not compelled to be circumcised" (Gal 2:3). Subsequently, Titus probably accompanied Paul on some of his missionary travels into the Gentile world, including to Galatia.
Messenger to Corinth
Into the able and discreet hands of his friend, Paul entrusted his first letter to the Corinthians, with its stern rebuke of serious abuses affecting morality. While Timothy was sent to Corinth about the same time, his terms of reference seem to have been related to reconciliation rather than controversy (1 Cor. 16:10-11). The role of Titus would make considerable demands upon him for tact and firmness of decision in persuading the vain and unpredictable Corinthians to accept the admonitions of Paul.
The mission to the Corinthians:
The apostle Paul was very anxious about the reception of his first letter to the Corinthians, especially as Titus failed to keep his appointment at Troas on the journey to Macedonia. He says that he had "no rest for his spirit, because he found not Titus his brother" (2 Cor 2:12-13). Further on in his journey, however, Titus met Paul with good tidings of the success of his mission. In a reference to this in the second letter to Corinth, we are permitted a glimpse into the close relationship existing between the older and younger man, and the strong character of the young disciple himself:
"Nevertheless God, that comforteth those that are cast down, comforted us by the coming of Titus; And not by his coming only, but by the consolation wherewith he was comforted in you, when he told us your earnest desire, your mourning, your fervent mind toward me; so that I rejoiced the more" (2 Cor 7:6-7).
Titus thus played an especially important role at the time of the crisis in the Corinthian ecclesia. As we see, Titus is reported as bringing reassuring news to Paul in Macedonia that the troubles within the Corinthian ecclesia were being resolved. Titus, clearly a fine ambassador and diplomat in the Lord's service, with a concern and affection for the Corinthian ecclesia (2 Cor 8:16), was delighted to bring Paul such comforting news (2 Cor 7:13-16). Titus later returned to Corinth, commissioned by Paul to complete the organization of the welfare collection system there (2 Cor. 8:6). In appreciation, Paul describes Titus to the Corinthians as "my partner and fellow worker in your service" (2 Cor 8:23). Paul especially commends Titus for not "taking advantage" of the Corinthians in any way (2 Cor 12:18).
Several years later, Paul, following his release from imprisonment, took Titus with him to Crete (Titus 1:5). He apparently left him there to assist with the growth and organization of the Cretan ecclesia. This ecclesia was finding itself in a very difficult and generally hostile social environment (1:10), in which Titus needed the greatest support.
The Cretan populace was notoriously unsteady, insincere, and quarrelsome; they were given to greed, falsehood, and drunkenness in no ordinary degree, and the Jews who had settled among them appear to have exceeded the natives in immorality. Among such a people it was no easy office which Titus had to sustain when commissioned to carry forward the work Paul had begun; that of setting in order the "things that are wanting" in the ecclesias. This involved the "stopping the mouths of unruly and vain talkers"; "speaking the things which become sound doctrine"; and "rejecting heretics."
"For there are many unruly and vain talkers and deceivers, specially they of the circumcision: Whose mouths must be stopped, who subvert whole houses, teaching things which they ought not, for filthy lucre's sake. One of themselves, even a prophet of their own, said, The Cretians are always liars, evil beasts, slow bellies. This witness is true. Wherefore rebuke them sharply, that they may be sound in the faith" (Titus 1:10-13).
Of a practical and willing turn, Titus was doing well, manfully striving to overcome the obstacles before him. It called for a no-nonsense approach, to inculcate and organize an orderly, disciplined and useful Christian life in all ages and classes. It appears that Titus received Paul's letter in Crete soon after the great apostle had left the island. Subsequently, Paul encouraged Titus (3:12) to join him at Nicopolis, on the west coast of the Aegean Peninsula, when relieved in Crete by either Artemas or Tychicus. Later still, 2 Timothy 4:10 refers to a visit by Titus to Dalmatia (modern Croatia). Non-Biblical sources (Eusebius) assume his later return to Crete, describing him as a bishop or elder until his old age.
Paul, therefore, knew Titus well. (It is argued by Bro. John Carter that Titus was, in fact, the natural brother of Luke.)1See The Christadelphian, 1960, p. 296 Although he was not a constant and close companion, as were Timothy, Luke, and Silas, he clearly relied on him greatly, including sensitive and difficult assignments. Paul appreciated his fellowship and assistance — especially in dealing with the turmoil in the Corinthian ecclesia, and now with the difficult social and ethical environment in Crete — and was anxious to encourage him. Paul had no need to remind Titus of basic doctrinal truths which he and Timothy, the recipients of the Pastoral Epistles, knew well.
Searching questions for ourselves
…if our main interests center around anything less noble than Jesus Christ, our discipleship will fail of its bestIt would be difficult to find such examples of ardent and constant friendships employed on so wide a scale and to such noble ends as appears in the Christian career of the apostle Paul. Such a contemplation prompts some searching questions in regard to our own chosen associates. Who are these companions? What are the links which bind us to them? What benefits do we derive from them, and through them confer on others? Our companions receive our influence and reflect our feelings and habits of thought. Through them we leave our impress on society and they regulate in measure our attitudes in the home, the work-a-day world and in the ecclesia.
However broad our views of life and its associations, if our main interests center around anything less noble than Jesus Christ, our discipleship will fail of its best. Loyal allegiance to the Son of God is the one link that should unite us, the one strong bond that will give strength and meaning to lasting friendships and lead us to "adorn the doctrine of God our Saviour in all things" (Titus 2:10). May it be our aim so to testify and minister that we may be good stewards of God's manifold grace, ambassadors through whom God Himself may entreat men and women to be reconciled to Him.
"For the grace of God that bringeth salvation hath appeared to all men, Teaching us that, denying ungodliness and worldly lusts, we should live soberly, righteously, and godly, in this present world; Looking for that blessed hope, and the glorious appearing of the great God and our Saviour Jesus Christ; Who gave himself for us, that he might redeem us from all iniquity, and purify unto himself a peculiar people, zealous of good works" (Titus 2:11-14).
This article is based in part on an article by Ron Hicks (Washington, DC) which appeared in the Lampstand.