Subscribe to the PRINTED EDITION of The Tidings Magazine
Please fill out the following information. After you click Submit, you will be forwarded to our donation page to make a donation to help cover the costs of printing and mailing your magazine. The suggested donation approximates the actual cost of printing and shipping which is USD $50.00. (If you cannot afford this amount, the minimum donation is USD $25.00.)
If you are able to donate more, please do so in order to help out those who cannot afford the suggested donation.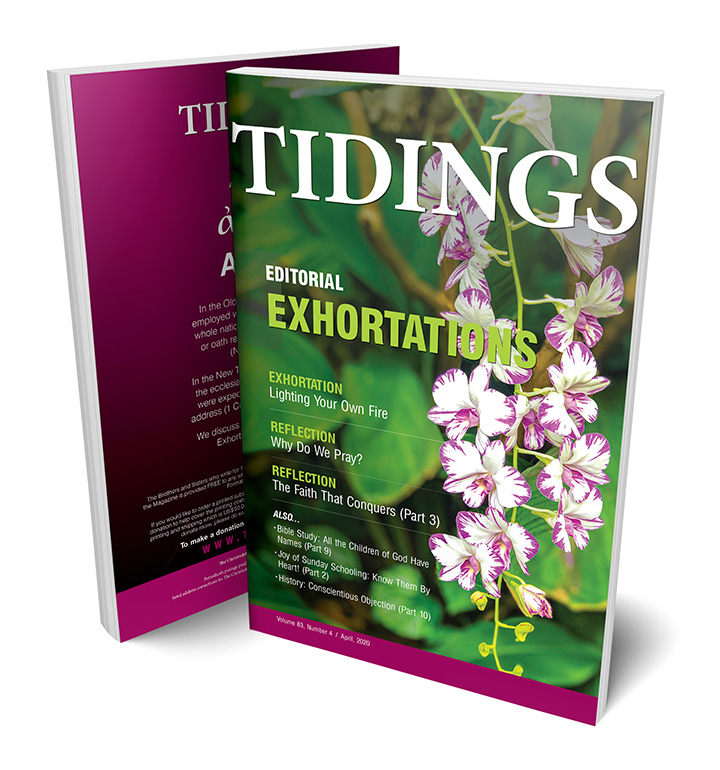 Brothers and sisters from outside of North America, please contact:
United Kingdom & Europe – Bro. Trevor Hanson – EMAIL
Australia & Asia – Sis. Beth Symes – EMAIL
New Zealand & South Pacific – Sis. Rosemary Jackson – EMAIL
Africa – Sis. Gill Miles – EMAIL
The Tidings is published on the 25th of the preceding month. Items for publication should be received by the 5th of the month. Any questions or comments should be addressed to Brother Jeff Gelineau.
Email can be sent to the Editor, Brother Dave Jennings at editor@tidings.org
Publication of articles does not presume editorial endorsement except on matters of fundamental doctrine as set forth in the BASF.
Thank you for your support!