January 25, 2023
"Benjamin and Grace", by Peter Ojike
This new book, by Brother Peter Ojike of Nigeria is a powerful work that demonstrates the gracious hand of God in the life of Benjamin.
By PETER OJIKE

Read Time:
9 minutes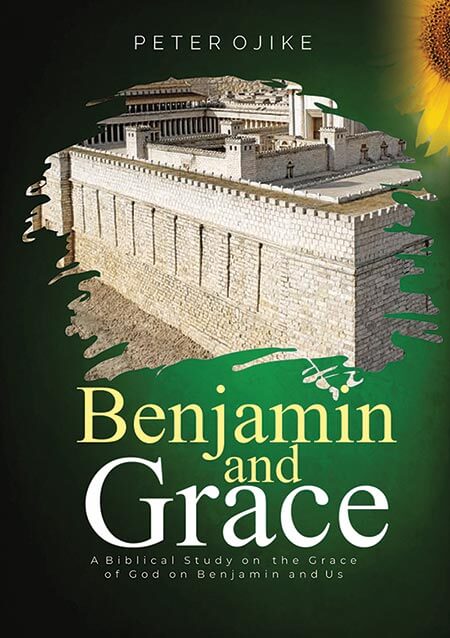 The Tidings is pleased to announce the publishing of a new book, authored by Bro. Peter Ojike of Nigeria. Bro. Peter has written a powerful work that demonstrates the gracious hand of God in the life of Benjamin.
He begins by examining the relationship between Benjamin and his older brother, Judah. Then he develops the story of the failure of the house of Saul and the mercy to be shown to David's son.
He continues to the First Century, where Benjamin's Saul of Tarsus ravens as a wolf but is transformed by the gospel of grace. Finally, Bro. Peter demonstrates how this will all culminate in the Kingdom of God when Christ will sit on the throne of grace in Zion. Benjamin and his descendants teach us about grace in ways we may not learn from any other character in the Bible, apart from Christ.
We are pleased to provide this excerpt from Bro. Peter's book. You may obtain your copy of the book through Amazon.com here: https://amzn.to/3HCqVNb.
---
Paul's relationship with Christ is another chapter in the story of Benjamin's everlasting covenant with the seed of David. Saul of Tarsus prided himself on being Benjamin's seed. Looking back at his former life as a Pharisee, he states:
If anyone else thinks he has grounds for confidence in the flesh, I have more:
circumcised the eighth day; of the nation of Israel, of the tribe of Benjamin, a Hebrew born of Hebrews; regarding the law, a Pharisee; regarding zeal, persecuting the church; regarding the righteousness that is in the law, blameless. (Phil 3:4-6).
In Romans, Paul identifies himself as Benjamin's descendant, "For I also am an Israelite, of the seed of Abraham, of the tribe of Benjamin." (Rom. 11:1).  So, it is conclusive that Paul is of the tribe of Benjamin, sharing in Benjamin's blessing of grace.  
Just as Benoni ("Son of my Sorrows") became Benjamin ("Son of the right hand/side"), Saul the Pharisee became Paul the Apostle.  Paul is like Benjamin in many aspects. The life of Paul before he became a Christian and after is a fulfillment of these prophecies, as the chart below demonstrates: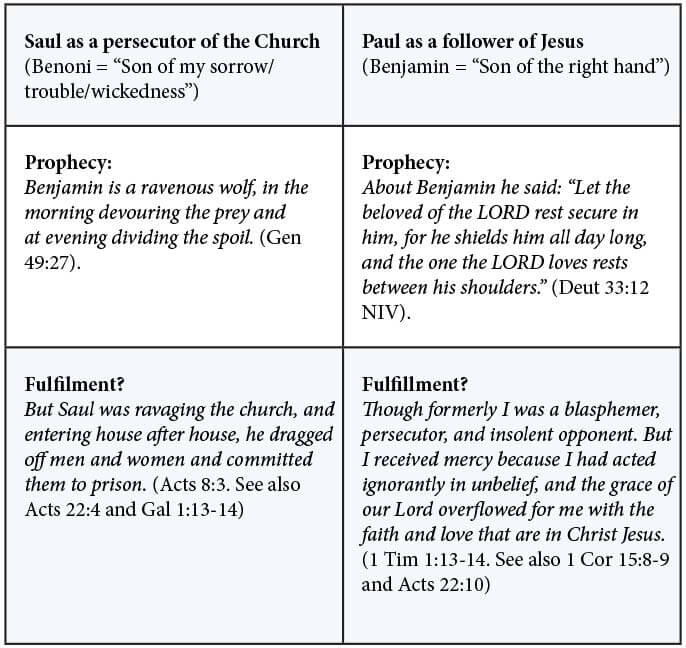 Paul indeed was a ravenous wolf to the church. He took it upon himself to destroy the church once and for all (Acts 8:3). Shortly before he encountered Jesus, we read that
"But Saul, still breathing threats and murder against the disciples of the Lord, went to the high priest and asked him for letters to the synagogues at Damascus, so that if he found any belonging to the Way, men or women, he might bring them bound to Jerusalem." (Acts 9:1-2).
The Greek word translated as "breathing" can also mean that Paul was "breathing out" threats against the Christians. It can also be translated as breathing in—as if he "breathed in" threats as air. "Threatening and slaughter had come to be the very breath that Saul breathed, like a warhorse who sniffed the smell of battle. He breathed on the remaining disciples the murder that he had already breathed in from the death of the others. He exhaled what he inhaled."1
You understand the weight of the pain Paul brought to the church when you read that the church had peace immediately once this one man was converted to Christianity:
"So the church throughout all Judea and Galilee and Samaria had peace and was being built up. And walking in the fear of the Lord and in the comfort of the Holy Spirit, it multiplied." (Acts 9:31).
Saul's heritage evokes Jonathan, and spiritually speaking, Paul is this long-promised seed of Jonathan. Saul (of Tarsus) clearly saw himself in Saul (the king of Israel) when he echoed the king's words. (See 1 Sam 9:21 for Saul the King and 1 Cor 15:9-10 for Saul the Apostle.)
Paul saw the pattern. He is simply saying that, just as God chose Saul from Benjamin the least of the twelve tribes to be the king of natural Israel, in the same way, God has also chosen another Saul from Benjamin to be the leader of the spiritual Israel. However, Saul of Tarsus recognized that this could only be accomplished by the grace of God in him, the same grace of God that has followed Benjamin from the beginning.
There is no other person from Benjamin recorded in the Bible to have been called Saul except King Saul and Saul of Tarsus. It seems likely that Saul of Tarsus was named after king Saul.  We can infer that Paul was from the house of Saul, whose descendants continued to be proud of the first king. Perhaps Paul came from the line of Jonathan through Mephibosheth, the only male survivor in the house of Saul at the time.
The faith of Jonathan and Paul is most remarkable.
Paul is very much like Jonathan in terms of faithfulness. Jonathan was indeed a man who walked with God and could read God's clear message and interpret it very accurately, even if it meant forsaking his own status and position. The faith of Jonathan and Paul is most remarkable.
We show our faith by our actions, especially when we are in a difficult situation that demands some sort of sacrifice from us. Jonathan easily could have fought the will of God to replace David with his father. Jonathan was the crown prince, so he had everything to gain if David never became king. But by faith, he worked to make David the king and gave up his high place in Israel to glorify David. 
In the same vein, Paul gave up his place of prominence in Israel.  Paul was a student of the great Gamaliel from the famous House of Hillel. He recounted his zeal for Judaism, but that all changed when he encountered Christ. He was willing to lose everything to gain the true riches in Christ:
And I was advancing in Judaism beyond many of my own age among my people, so extremely zealous was I for the traditions of my fathers. (Gal 1:14).
But whatever gain I had, I counted as loss for the sake of Christ. Indeed, I count everything as loss because of the surpassing worth of knowing Christ Jesus my Lord. For his sake I have suffered the loss of all things and count them as rubbish, in order that I may gain Christ. (Phil 3:7-8).
We have been called into these true riches in Christ by the grace of God. What are we willing to lose or sacrifice for Christ's sake?
Paul—the seed of Jonathan—was the apostle of grace. We are reminded of Jonathan's prophecy:
"Go in peace, forasmuch as we have sworn both of us in the name of the LORD, saying, The LORD be between me and thee, and between
my seed
and
thy seed for ever.
And he arose and departed: and Jonathan went into the city."
(1 Sam. 20:42,
my emphasis
).
This prophecy implies that the seed of David (Christ) will look at the house of Saul and ask: "Is there still anyone left of the house of Saul, that I may show him kindness for Jonathan's sake?" (2 Sam. 9:1). Paul acknowledged the grace of God on him by telling us that, despite his past sins against the church, God chose him according to His ancient plan even before he was born: 
For you have heard of my former life in Judaism, how I persecuted the church of God violently and tried to destroy it. And I was advancing in Judaism beyond many of my own age among my people, so extremely zealous was I for the traditions of my fathers.
But when he who had set me apart before I was born, and who called me by his grace, was pleased to reveal his Son to me, in order that I might preach him among the Gentiles, I did not immediately consult with anyone. (Gal 1:13-16 ESV, my emphasis).
Mephibosheth's encounter with David is very similar to Paul's encounter with Christ on the road to Damascus (Acts 9:4-6). It is always a great privilege to meet in person and David could have blessed Mephibosheth without ever getting to see him. It was a great privilege and an act of grace for Paul to see Jesus face to face. This singular encounter with Christ placed him in a similar rank as the apostles of Christ. Paul knew how special this was:
"For I would have you know, brothers, that the gospel that was preached by me is not man's gospel. For I did not receive it from any man, nor was I taught it, but I received it through a revelation of Jesus Christ." (Gal 1:11-12 ESV).
Paul was called to fill a special place in the plan of God
That encounter was indeed special, and it ushered a new period of God's plan for humankind's redemption. Paul's unique mission was to help bring the rest of the nations to the only living God through Christ.
Paul, the son of Benjamin, was not called just to be another Christian. He was called to fill a special place in the plan of God. The grace of God in Benjamin has been manifested in Paul. This knowledge alone could have made Paul arrogant, which would have led to his destruction. Reading through his letters, Paul struggled with the sin of pride. Grace is designed to save us; however, it can lead to our destruction if we abuse it.
Our Lord Jesus Christ knew about this side of Paul. He allowed a very uncomfortable infirmity to torment Paul. This infirmity was designed to remind Paul that he was nothing before God, although God had chosen him for this special task. When Paul asked Christ to heal him, Christ reminded him that he already has God's grace, which is above every other gift from God, and which should be sufficient for him:
So to keep me from becoming conceited because of the surpassing greatness of the revelations, a thorn was given me in the flesh, a messenger of Satan to harass me, to keep me from becoming conceited.
Three times I pleaded with the Lord about this, that it should leave me. But he said to me, "My grace is sufficient for you, for my power is made perfect in weakness."
Therefore, I will boast all the more gladly of my weaknesses, so that the power of Christ may rest upon me. (2 Cor 12:7-9).
Whatever challenge we have should not make us neglect the grace of God in our lives. This grace is above all weakness, want and sickness we may experience in this present life. The grace of God leads us to a perfect and whole life in Christ and in the Kingdom.
Realizing Paul's encounter with Christ gets me emotional because it shows that the seed of David never forgot Jonathan's descendants. I believe that at the right time, Christ (the seed of David) remembered Jonathan and chose to honor his covenant with David by showering grace on Saul the Pharisee. This is the pinnacle of grace. I stress this point because some may feel that Jesus chose Paul only because he blasphemed and persecuted the church ignorantly. Paul felt the same way too, but acknowledged that grace overflowed for his sake. He wrote: 
I thank him who has given me strength, Christ Jesus our Lord, because he judged me faithful, appointing me to his service, though formerly I was a blasphemer, persecutor, and insolent opponent. But I received mercy because I had acted ignorantly in unbelief, and the grace of our Lord overflowed for me with the faith and love that are in Christ Jesus. (1 Tim. 1:12-14).
However, Paul was not chosen only because he was an ignorant persecutor of the church. It is not true that God pardons everyone who rebels against Him or his son ignorantly. While on the cross, Jesus confessed that many of the Jews who killed him were ignorant of the fact that he was the Messiah, yet the destruction of God came upon that generation in AD 70.
Also, Paul couldn't have been the only zealous Jew who persecuted the followers of Jesus ignorantly. So, why Paul? Grace! Grace found Benjamin; Grace found Paul!  Was Paul representative of his people in this way? "Yet now, brethren, I know that you did it in ignorance, as did also your rulers." (Acts 3:17 KJV).
Grace can change the least person and make him the greatest. We are in Christ today by this same grace. It's amazing that God has chosen to shower His grace on us. We know how insignificant and little we are. From a human perspective, when we look at the world's great leaders today, we are like ants in their presence. Yet, from God's perspective, in the Kingdom we will not only put on immortality, but all governments will be subject to us. God chooses the weak things of the world to confound the wise. 
We can make the mistake of not properly acknowledging the overflowing grace of God in choosing us to be in His glorious plan: "God shows his love for us in that while we were still sinners, Christ died for us." (Rom. 5:8).  We may think we deserved it somehow because we rigorously searched the Scriptures and found the truth. However, we are not the only ones sincerely seeking for the true religion and true Christianity. We are not saved by our intellect, but by grace, which is a free gift. 
Grace helps us to act in every way that opposes pride. Grace humbles us and exalts the one that chose us. This grace is uniquely demonstrated in the mercy God showed Benjamin. We see a unique similarity in the response of the children of Benjamin that found grace even up to Paul who is the promised seed.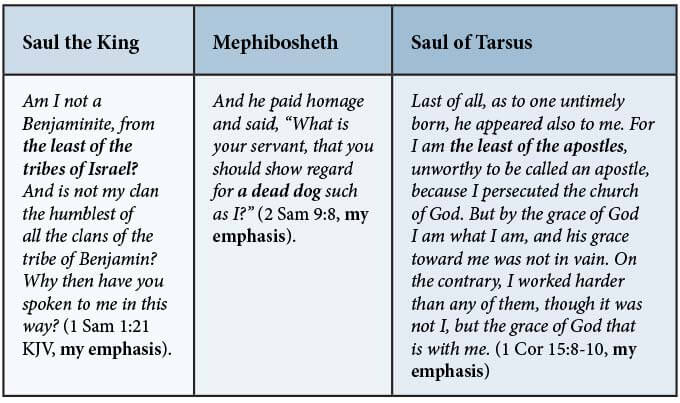 This must be our lifetime attitude to the overflowing grace bestowed on us through Jesus Christ. Do we appreciate that those who were not called God's people before are now declared the children of God in Christ?
Jesus elevated Paul to an important role despite the sorrow and trouble he caused the church. Pride has no place in the life of God's children. Grace brings out the humility that is seen in true Christians. Grace makes a Christian compassionate. Knowing we did not deserve what is given to us must truly make us humble and compassionate. It should also make us thankful at all times to God and to His son.
Peter Ojike,
Lagos Ecclesia, Nigeria
Available for purchase through Amazon.com here: https://amzn.to/3HCqVNb