July 25, 2021
Careers and Service in the Lord
The topic of work and careers is a major focus of young adulthood. Becoming financially independent is a goal that can be daunting, especially in our modern economy, where pressure is high and the cost of living even higher.
By JENNI DE CAUSSIN

Read Time:
5 minutes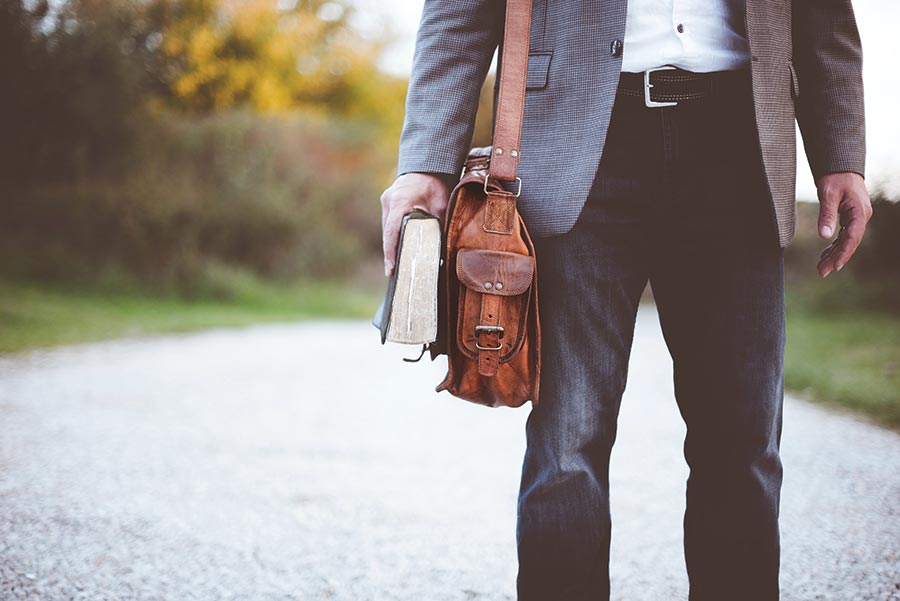 Though work may seem like a "necessary evil," it is much more than that. Time is a precious commodity. And the goal is to spend our limited time doing work that puts food on the table and allows time for family life and in the Lord's service.
THE FALL AND THE CURSE
What does the Bible have to say about work? Adam and Eve's circumstance in the garden was unique, but after Adam and Eve sinned, God told them they had to leave the garden of Eden, and death was now inevitable.
Adam was told he would have to work hard to grow food to eat and provide for his family all the days of his life. It would require labor and the sweat of his brow to bring forth fruit out of the ground.
Eve was told she would bear children, something she hadn't done before. She, too, would labor and bring forth fruit in the form of children. And it would be painful.
We call this decree from our Heavenly Father "the curse."
It was the consequence of their disobedience and striving for things in direct opposition to God's will and authority. So, it only makes sense that the road to resolving this breach involves working in harmony with God's ways.
Solomon concludes that a simple life is the best, most satisfying life humanly possible
We are given a clear purpose to work hard and bring up families in the Lord. God is good, and there are many blessings and much satisfaction found in the work God has put before us. Interestingly, both Adam and Eve are told that they will labor and bear fruit, each in their own way. And each of these roles has its blessings.
Of course, we would never say that this new role of bearing children was purely a curse. Many verses speak of children as a blessing from the LORD. Likewise, work is not all bad either.
Lo, children are an heritage of the LORD: and the fruit of the womb is his reward. (Psa 127:3).
When a woman gives birth, she has distress because her time has come, but when her child is born, she no longer remembers the suffering because of her joy that a human being has been born into the world. (John 16:21 NET).
Regarding work, in the Book of Ecclesiastes, Solomon searches to find the best that human life has to offer and, as a man of great power, riches and fame, he concludes that a simple life is the best, most satisfying life humanly possible:
I have concluded that there is nothing better for people than to be happy and to enjoy themselves as long as they live, and also that everyone should eat and drink, and find enjoyment in all his toil, for these things are a gift from God. (Eccl 3:12-13 NET).
Of course, this is only part of the picture. There is much more to life and hope when God is in the picture. Solomon concludes:
Let us hear the conclusion of the whole matter: Fear God, and keep his commandments: for this is the whole duty of man. (Eccl 12:13).
REGARDING WOMEN AND WORK
In today's world, it is quite common for women to work outside the home, in addition to bearing and caring for children (when God chooses to give them children). In most cases, this is just a fact of the financial demands of modern life.
We also know that the virtuous woman in Proverbs 31 did many kinds of work to support the needs of her family. We also have the examples of women like Deborah, Lydia, and Dorcas (Tabitha), working and making contributions to the community.
NEW TESTAMENT MESSAGES ABOUT WORK
In the Gospels, a spiritual theme around life and work starts to develop. Jesus says:
Come unto me, all ye that labor and are heavy laden, and I will give you rest. (Matt 11:28).
Do not work for the food that disappears, but for the food that remains to eternal life—the food which the Son of Man will give to you. (John 6:27 NET).
Do not accumulate for yourselves treasures on earth, where moth and devouring insect destroy and where thieves break in and steal. But accumulate for yourselves treasures in heaven, where moth and devouring insect do not destroy, and thieves do not break in and steal. For where your treasure is, there your heart will be also. (Matt 6:19-21 NET)
But above all pursue his kingdom and righteousness, and all these things will be given to you as well. So then, do not worry about tomorrow, for tomorrow will worry about itself. Today has enough trouble of its own. (Matt 6: 33-34 NET).
He tells us not to worry about what we will eat or drink or what we will wear. Clearly, we need to eat and drink, and eating requires work, as designed by God. But we are instructed not to worry about whether we will have enough. If we pursue God's Kingdom and his righteousness, he will take care of the rest.
Paul, in 2 Thessalonians 3:10, reiterated the importance of work when he said, "If anyone is not willing to work, neither should he eat." Later in Colossians, we are told to:
Walk worthy of the Lord unto all pleasing, being fruitful in every good work, and increasing in the knowledge of God. (Col 1:10).
Whatever you are doing, work at it with enthusiasm, as to the Lord and not for people. (Col 3:23 NET).
Perhaps Paul's use of the present tense to say that even though the Christian converts had found new meaning in life through the gospel, it didn't mean that they had to find a new line of work, if it didn't prevent them from keeping God's commandments and they did it "as unto the Lord."
Even Paul, first a Pharisee and later a Christian missionary, was also a tentmaker. So, we have found that God ordained work and that, while it could be fulfilling, it could also be burdensome. Most of all, we see that the real meaning of life isn't in our work but in following Jesus, seeking the Kingdom of God and being fruitful in godly service.
WORK, THEN AND NOW
In Bible times, most people didn't have a choice about what kind of work they did. Some were nomadic shepherds by birth. Others were born into temple service, or like Jesus, followed in their earthly fathers' footsteps and learned the family trade.
Today, most people must choose and train for a career since few people are born into a family profession. Unskilled jobs involve long and exhausting work hours, and while they are still good, honest work, they don't leave much time or energy (physical or mental) for service and learning in the ecclesia.
Though any kind of honest work that puts food on the table and a roof over the head (by God's grace) is acceptable, some jobs are more desirable than others. For those seeking more of a vocation than just a job that pays the bills (and for those who have opportunity and choices), we can find some food for thought in the parable of the talents (Matt 25: 14-30).
In this parable, the good and faithful servants developed and multiplied the gifts that had been given to them. Some were more well-endowed than others, but all were called to develop their natural gifts. Romans talks about the various gifts present in the body of Christ. All are members of the body, and all work together in the Lord's service, but all do not have the same gifts and purpose. "And we have different gifts according to the grace given to us." (Rom 6:12 NET).
Some examples of gifts at that time were prophecy, faith, service, teaching, exhorting, contributing with sincerity, leading with diligence, and showing mercy with cheerfulness.
What are your gifts and how might you develop them in a way you can contribute to the service of the Lord, as a member of the body, in ecclesial life? And how might your choice of career help you develop such gifts?
FINAL THOUGHTS
The LORD will remember us for our work and service. Here are a few verses.
Remembering without ceasing your work of faith, and labor of love, and patience of hope in our Lord Jesus Christ, in the sight of God and our Father. (1 Thess 1:3 WEB).
For God is not unjust so as to forget your work and the love you have demonstrated for his name, in having served and continuing to serve the saints. But we passionately want each of you to demonstrate the same eagerness for the fulfillment of your hope until the end, so that you may not be sluggish, but imitators of those who through faith and perseverance inherit the promises. (Heb 6:10-12 NET).
How beautiful it is that in the beginning work was tied up in death, but in the New Testament, it is God's gift through Jesus that if we labor in the work of the spirit, we can be freed from the bonds of sin and death?!
Jenni de Caussin,
Verdugo Hills, CA