March 4, 2020
Chile Convivencia & Kiwis in South America
The Convivencia this past November in Chile, the southern cone of South America was a special one: brothers and sisters came from many countries in Latin America, there were two baptisms...
By ANDREW YEARSLEY

Read Time:
4 minutes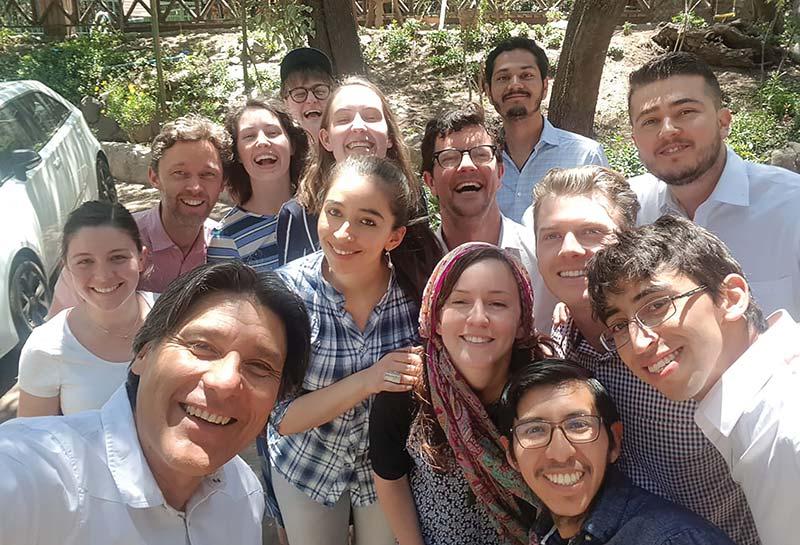 Chile Convivencia
The Convivencia this past November in Chile, the southern cone of South America was a special one: brothers and sisters came from many countries in Latin America, there were two baptisms, and a much larger contingent than normal of brethren from New Zealand who went over to support it (10 in total, of which most were "young people").
The school started on a rather sad note with the unexpected falling asleep of brother Francisco Pardo, a dear brother from Bolivia who was five hours from boarding the plane to fly to Chile for the Convivencia when he fell ill and died shortly afterwards. It was with great sadness that we had to notify the Bolivian brethren as they arrived in Santiago for the start of the Bible school that he had fallen asleep (as their last intelligence was that he was taken ill). Brother Francisco was a beloved brother who provided a calming stability to the ecclesia in La Paz, Bolivia. One of our lasting memories with him was during the first Convivencia in Chile, back in 2017, when he was asked how things were going, and whether he was enjoying it. His reply was that he was at a loss for words and didn't know how to express his joy to us, being able to be with so many brothers and sisters who believed the same as him – and that, when there were only around 40 brethren in attendance!
We pray that God may give him rest and raise him up soon, in the last day, when our Lord will return.
The baptisms of Sonia Carrasco and Gloria Guajardo from Temuco brought in a lot more positivity to the Bible school. Both have had a number of years of study and enthusiastic learning of God's truth contained in the Scriptures. They were both interviewed at the Bible school, and the baptisms really instilled a sense of joy and encouragement to everyone there.
After the Bible school, I returned home to my family (including a new addition only 6 weeks of age), while a lot of the Kiwis, some Ecuadorians, and some Costa Ricans all travelled together across the Andes into Argentina, in order to spend time with the brothers, sisters, and contacts for another week of "Post-Convivencia". Given the Chilean protesters had started lighting their delightful fires in the streets a block from where we were staying, it was probably a good thing they left when they did! Although, the trip to Argentina almost didn't happen at all, given that the bag carrying one of the passports, wallets, and all of the bus tickets and information for Argentina was locked inside the house as everyone left… We are just very grateful for the Uber driver who clambered up to the second story and then jumped across to a door that just so happened to have been left open! He got a large tip that day!
However, everyone finally made it there, and as with all good Argentinian visits, a lot of meat was consumed, and the Kiwis were able to experience a true Argentine grill (replete with intestines, black pudding, kidneys, and numerous other tasty delights).
Many of the brethren and friends in Argentina were unable to attend the Bible School this year so this was a wonderful opportunity to see them all, breaking bread with them, sharing fellowship over the word of God, and bringing a little bit of what we had enjoyed at the Convivencia to their own doorstep.
Written with love in our Lord, Bro. Andrew Yearsley
Submitted by Sis. Jan Berneau, CBMA/CBMC Publicity
---

Kiwis in South America
Our time in Chile and Argentina was unlike anything we had experienced before. The fellowship was joyous, the discussions robust, and the food outside of the western box. Having never been further afield than Australia, or our own country, we were not sure what to expect. The warmth and hospitality of the brethren in South America who had gathered for their annual Bible school, the Convivencia, far exceeded our expectations
We arrived with wobbly Spanish, armed only with gestures, nodding of heads, waving of hands, smiles and "no hablo español." To some, that might seem a barrier, which in a way it was, but the most special thing about being Christadelphian, is that we all have a common link…our faith in God and hope in the Lord Jesus Christ…and that link made the barrier of a common language fall away.
There were brethren at the Convivencia from Bolivia, Costa Rica, El Salvador, Argentina and Chile. For some of them, it was their first time meeting so many other Christadelphians in one go, as a few of them live in isolation. We all piled onto a bus to get to the Convivencia, excited about the weekend ahead but nervous because of our lack of Spanish. Without much incident, apart from taking a wrong turn up a narrow mountain road, we arrived safely.
We broke the ice in the most Kiwi way we know… playing games. We played Signs, Pit and The Mind until well after bedtime. This continued throughout the camp and made for fantastic bonding time with the young people.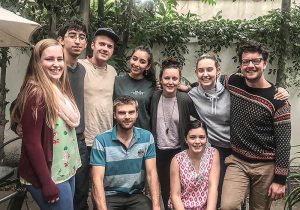 To assist us with the talks, we were given bullet points in English of the topics being discussed, and with English and Spanish Bibles, we followed along with as much as we could. However, even without being able to understand every word, it was so wonderful to be surrounded by so much spiritual enthusiasm and discussion. We all agreed that it was much easier for us to follow along with the Spanish songs rather than trying to pronounce the words while reading, so, we all joined in with an enthusiastic spirit.
And, as it always does, the Q and A session, held one evening, went well over the allocated time due to some fantastic ongoing conversations.
When it came to Bible readings time, all the attendees showed the best patience possible with us, while we stumbled along in Spanish. It would be hard to find a fellowship that has the warmth, hospitality, and thoughtfulness shown by these brethren.
Our time together in South America was really a once in a lifetime experience that all of us will cherish forever. We felt so blessed to be welcomed into the lives of our brothers and sisters on the other side of the world, and all of us intend to keep in touch, and, God willing, return when able.
Written by Sisters Abi O'Grady, Anna O'Grady, Anna Oosthuizen, Laura Brown, Connie Davies
Submitted by Sis. Jan Berneau, CBMA/CBMC Publicity