May 25, 2021
Dealing with Conflict in the Workplace
As students of God's Word, we should equip ourselves to address conflict among our coworkers. In the face of mistreatment, we must demonstrate a Christ-like love and a willingness to forgive--as we hope to be forgiven.
By JOE BADLU

Read Time:
6 minutes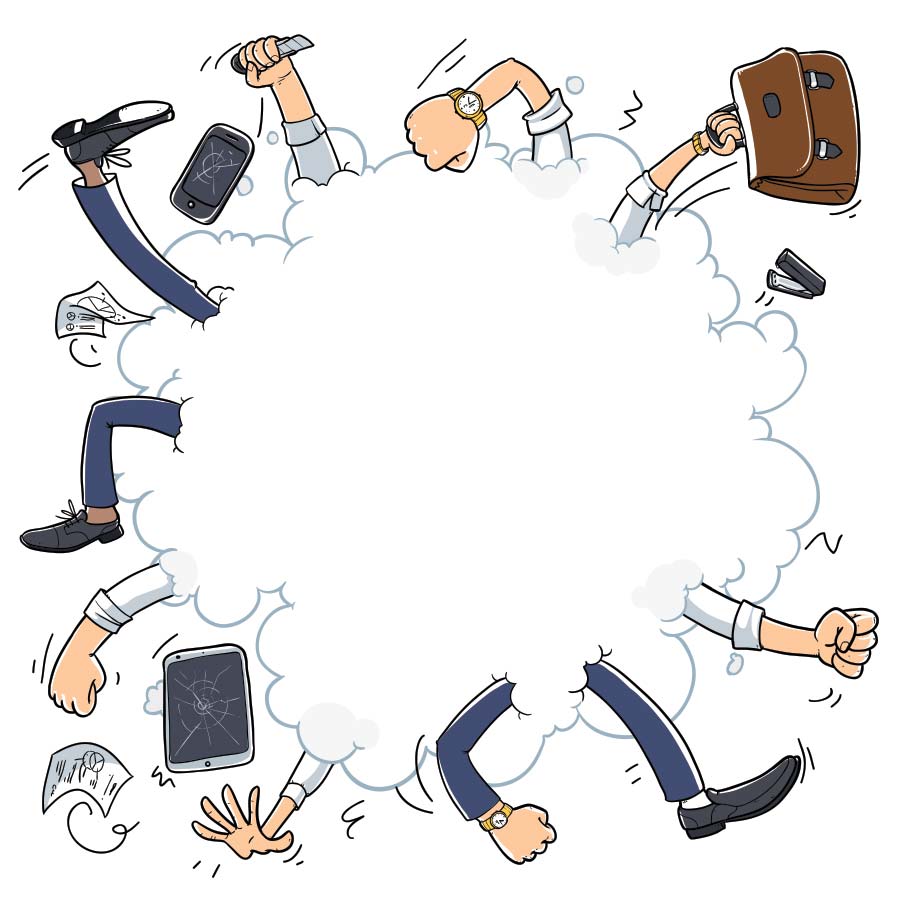 Conflict at work is stressful and sometimes challenging to resolve. Such contentions may or may not include ourselves. Either way, they can present opportunities for us to display the spirit of Christ. And we may have occasion to pass on the good news to coworkers observing or participating in such entanglements. As students of God's Word, we should equip ourselves to address conflict among our coworkers.
In the face of mistreatment, we must demonstrate a Christ-like love and a willingness to forgive – as we hope to be forgiven. Realizing our need for God's grace can help us extend grace to others. Coworkers and supervisors will notice when we do not intensify minor disagreements. Over time, this evidence of a Christ-like character will likely make us more desirable to work with.
Additionally, being an employee who is reliable, useful and hard-working might also have us more in demand as a co-worker, "whatsoever ye do, do it heartily, as to the Lord." (Col 3:23).
Unfortunately, conflict in the workplace can sometimes be prolonged. In these situations, we need to wait on the LORD and be prayerfully patient for circumstances to improve. Admittedly, it is difficult to patiently allow things to work out over time. But it's often necessary.
Realizing our need for God's grace can help us extend grace to others.
Some coworkers may realize it's beneficial for them to change their unhelpful behaviors, but overcoming bad habits is easier said than done. It may be helpful to give our struggling coworkers space, time and occasionally gentle reminders as they (hopefully) seek to improve their conduct.
SOLVING CONFLICT IN THE WORKPLACE
A positive first step would be to meet privately, at a convenient time, with the other primary person involved in the conflict. Meet when and where you will not be interrupted. Focus on behavior and events, not on the personality of the individual. Listen attentively to the other person and avoid interrupting. After the other person finishes speaking, summarize what was said to ensure mutual understanding. Ask questions to further clarify as needed. Identify points of agreement and disagreement. Summarize areas of agreement and disagreement.
Ask the other person if they concur with your assessment. If necessary, modify your assessment until both parties agree. Mutually discuss the more significant areas of conflict in need of resolution. Develop a plan to work on each. Start with the most important area. Multiple meetings may be desired or required. Continue with the discussions until each area of conflict has been examined. Establish a solution-oriented approach. Look for opportunities to note progress. Compliment the other person's insights and achievements. Praise each other when progress is made, even if only a small step. Hopefully, small steps will add up and result in an ongoing friendly interaction.
OUR ROLE AS BELIEVERS IN CHRIST
How do we deal with coworkers who annoy us? Being an example of godly character on the job is easy when people get along and everything is going well. Unfortunately, this is not always the situation. Sometimes, getting along with coworkers can be quite difficult. However, conflicts give us opportunity to faithfully turn to God and His word for help and to be a godly example to others while under duress.
Fervent prayer places responsibility for the situation in God's hands.
Although Scripture does not provide a checklist of self-help steps for dealing with workplace conflicts, there are helpful Biblical principles. Praying is one of those helpful principles. Fervent prayer places responsibility for the situation in God's hands. We should not rely on our own devices to "fix" things, but we can entrust the outcome to God. Praying may help us see things through the other person's eyes.
Sometimes God answers our prayers by changing our perspective to help us see our own error—leading to a shift in our attitude and behavior. Also, prayer can encourage us to forgive the other person. How can we come before God expecting forgiveness if we have an unforgiving attitude toward others? This principle is clearly endorsed in the Lord's Prayer, "forgive us our debts, as we forgive our debtors." (Matt 6:12).
Jesus and Stephen forgave those who put them to death (Luke 23:34; Acts 7:60). Jesus loved his enemies and commanded his followers to do likewise. Through prayer, we must love people who exhibit a difficult attitude in the workplace towards us. We are not to retaliate. Instead, let us demonstrate a Christ-like attitude with a pattern of loving behavior toward our coworkers. While our human inclination might be to push back or lash out, such is not the way of the spirit. Jesus directs us to,
"Love your enemies, bless them that curse you, do good to them that hate you, and pray for them which despitefully use you." (Matt 5:44).
It is not easy to love our enemies. It goes against our fleshly nature.
Addressing conflict with the love of Christ and good conversation presents an ideal opportunity to demonstrate the hope we share. A hope we should be prepared to defend. The Apostle Peter exhorts us,
"Having a good conscience; that, whereas they speak evil of you, as of evil doers, they may be ashamed that falsely accuse your good conversation in Christ." (1 Pet 3:16).
It is not easy to love our enemies. It goes against our fleshly nature. Paul anticipated our struggles calling for us to transform our lives from the natural to the spiritual and to live peaceably with all when possible,
"I beseech you therefore, brethren, by the mercies of God, that ye present your bodies a living sacrifice, holy, acceptable unto God, which is your reasonable service. And be not conformed to this world: but be transformed by the renewing of your mind, that ye may prove what is that good, and acceptable, and perfect, will of God… If it be possible, as much as lieth in you, live peaceably with all men." (Rom 12:1-2,18).
Our goal should be to avoid contributing to discord. This can mean staying clear of situations potentially leading to confrontation. Other times it may entail not responding in kind to nasty comments or deceitful behavior. Turn the other cheek. It always means not holding a grudge for wrongs previously resolved.
Interpersonal conflict, though unpleasant can provide us with opportunities to reveal the gospel message.
Conflict in the workplace can be one of the more challenging circumstances we must deal with. Sometimes, the greatest challenge is getting along with people in normal, daily life. Broken relationships and difficult people are visible evidence of sin in the world. Interpersonal conflict, though unpleasant, sometimes has a silver lining. It can provide us with opportunities to reveal the gospel message. God may use us as tools to overcome the sinful behaviors we encounter.
RESPONDING WHEN CONFLICT IS UNAVOIDABLE
Paul explains how we should respond when conflict is unavoidable,
"Dearly beloved, avenge not yourselves, but rather give place unto wrath: for it is written, Vengeance is mine; I will repay, saith the Lord. Therefore if thine enemy hunger, feed him; if he thirst, give him drink: for in so doing thou shalt heap coals of fire on his head. Be not overcome of evil, but overcome evil with good. (Rom 12:19-21).
Two commands can summarize our response to wrongs done to us:
Do not avenge. The response of the flesh when someone treats us unfairly is to push back in the same manner. If they discredit our work, we try to discredit theirs. However, Jesus told the crowd in the Sermon on the Mount not to resist evil, but to turn the other cheek (Matt 5:38- 42). It is not our place to deal out retribution. It is for God to address such matters in a time, place and way of His choosing. Often waiting on God with patient endurance is the best option.
However, when problems arise in the workplace, it may be necessary to address them through diplomatic confrontation or processes provided through a company's human resources department. Speaking up may help others who are not in a position to advocate for themselves (cf. Prov 31:8–9). We should pursue resolutions helpful and fair to all. As believers, we are not to seek revenge.
2. Repay evil with kindness. Instead of returning evil for evil, we should return good for evil. Instead of exposing a person who is speaking ill of us, we ought to be kind. Sometimes this may take the form of helping someone the next time they ask, even if they never apologize for their previous offense. In some cases, kindness is gently and diplomatically addressing a co-worker's errors through appropriate channels, so they have an opportunity to improve.
Paul observed that the path to overcoming evil is through doing good. Ultimately, only in the Kingdom of God will evil be fully overcome. But this should encourage us to live justly in this life, be gracious with others, and long for the complete restoration soon to come.
THE GLAD TIDINGS AT WORK
Our response to being wronged provides a way to advance the gospel. It helps preserve working relationships with those around us. Not retaliating or seeking retribution for every wrong will help create a better working environment and one more pleasing to our Heavenly Father.
There is no limitation on forgiveness.
The parable of the unforgiving servant (Matt 18:21-35) reminds us how we may need forgiveness for wrongs greater than those done against us.
"Then came Peter to him, and said, Lord, how oft shall my brother sin against me, and I forgive him? till seven times? Jesus saith unto him, I say not unto thee, Until seven times: but, Until seventy times seven." (Matt 18:21-22).
There is no limitation on forgiveness.
Finally, forgiveness provides an opportunity for us to explain the message of Christ's atonement and to share our future hope with co-workers. This hope demonstrates a powerful faith in God's plan and goodness. Such faithfulness may lead to questions and opportunities to give a reason for our hope. As Peter said,
"be ready always to give an answer to every man that asketh you a reason of the hope that is in you with meekness and fear." (1 Pet 3:15).
Joe Badlu,
South Ozone Park, NY