April 25, 2021
God's Witness in the Workplace
All we needed to do was to present our requests to God in prayer, put the right foot forward and let Him do the rest. God desires to work through us. What we must do is ask, and be present and willing.
By CRAIG STICKNEY

Read Time:
5 minutes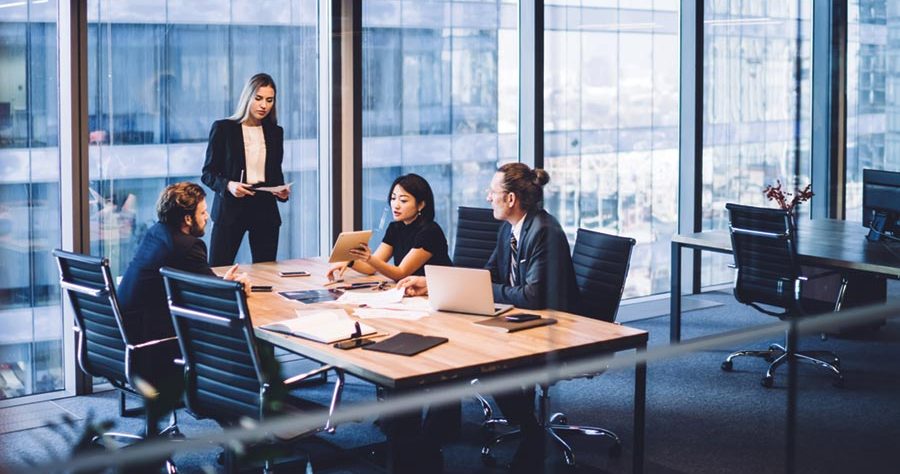 In this article we want to look at a few experiences we have had and methods we have used as God's witnesses in the workplace. We are told in Matthew 5:16 to,
"Let our light so Shine before men so they can see our good works and glorify our father in heaven."
The word "before" is the Greek word emprosyen, meaning "in front of," or "in the sight of." In other words, we need to preach by example, demonstrating our faith by our works. Growing up, my mom and dad used to tell me that "I might be the only Bible some people might ever read." That is especially true in this generation when fewer people read or study their Bibles.
So, it is becoming more and more important to show our faith to those around us by the godly things we do— with honesty and integrity. Honesty and integrity used to be demonstrated by your word and a handshake. Now it seems to take a 50- page legal document and another 50 pages of legalese to ensure a person lives up to their agreement. We need to show in the work environment that we are people who can be trusted, displaying our faith by our works.
Being trustworthy is one of the important ways of sharing God's Word and His way to those we work with. In today's vernacular, "We need to be authentic" and people of our word. Jesus, in Matthew 5:48, says,
"Be ye therefore perfect [or complete], even as your Father which is in heaven is perfect" (Hebrew tummah, "having integrity").
By being honest and acting with integrity, we can gain a person's trust, allowing us to share the keys to eternal life with others in the workplace. Jesus used the example of preaching to a corrupt earth in the days of Noah (Gen 6:11-12; Luke 17:26-27—however, the context can be tricky for new Bible readers to get the point), "All flesh had corrupted God's way on the earth." The "days of Noah" seem to resemble the age in which we live: a world full of corruption, where truth is not always important, and many people follow their own ways. In contrast, Noah was a "just man, perfect in his generations. Noah walked with God." (Gen. 6:9).
Does our honesty and integrity show forth in all we say and do?
Is this us? Do people see us as different than the corrupt world around us? Are we people of integrity, walking with God and guiding those around us in God's way? Does our honesty and integrity show forth in all we say and do? We have no idea who God has called out of this world of darkness to His glorious light, so we need to,
"sanctify the Lord God in our hearts, and always be ready to give a defense to everyone who asks a reason for the hope that is in us, with meekness and fear." (1 Pet 3:15).
THE STORY UNFOLDS
My story starts with my career in the automotive aftermarket in 1988 in Southern California. I had been employed in the retail automotive aftermarket parts business for about 17 years when Carol, the family and I decided to move to Oregon to care for my elderly grandparents and help out the Southern Oregon Ecclesia. We put the question of relocation to God in prayer, and the following week our house in California sold. We were moving to Oregon.
We purchased a house in Southern Oregon, and I landed a job selling tires wholesale in the Northwest United States. The company base was in Tacoma, Washington. I drove from Oregon to Washington every few weeks and also visited my sister Pam in central Oregon. Each time, we had breakfast together and discussed the Truth.
My grandmother prayed every day that my sister would accept the Truth; within three years Pam was baptized. Shortly after that, both my grandparents died, and the automotive aftermarket in Oregon and Washington dramatically declined. So, we decided to move back to California, where I found employment once again in the automotive aftermarket parts business.
After this move, I was employed by a company in Gardena, California, called Pro Comp. As God would have it, I needed to purchase a specific product manufactured by a company named Daystar, owned by a family in Phoenix, Arizona. Shortly afterwards, the owners of Daystar, Dick and Jean, flew to Gardena to visit me at the Pro Comp facility.
I sat down with them in my office, and behind my desk was my grandfather's library of Christadelphian books, containing three copies of Elpis Israel. Dick picked up a copy, began reading it and asked if he could borrow it. I told him he could have it. That paved the road to my next 26 years of employment and a lifelong relationship with Dick and Jean and their journey in the Truth.
God desires to work through us
Shortly after that initial meeting in Gardena, Dick invited me to Phoenix, Arizona to present a proposal to run Daystar. Again, we went to God in prayer and asked Him to "Shew me thy ways, O LORD; teach me thy paths." (Psa 25:4). He most certainly did. So, with God at the lead, Carol and I went to Arizona, and I stood up in front of the five owners of Daystar and wrote on the White Board in huge letters "GOD," then under that "Family," then under that "Ecclesia" and in really small letters the word "Work."
I then said, "before we continue, these are my priorities. Does anyone have any questions?" After a moment of silence, Dick asked if anyone had any questions, and the oldest son said, "Are you serious?" I replied, "as a heart attack." Once again, they were silent. For the first time in my entire life, I had done what I had often said I would do. I had put God number one in my life. The results of that commitment in the workplace have been life-changing for me and all those I have worked with.
Dick opened the door for free and transparent communication about the Bible and prayer. Putting forth the gospel message in the workplace became an everyday event. Dick loved talking about and sharing Bible prophecy, current events and his newfound faith. Within three years both Dick and Jean were baptized, and a few years later, two of their neighbors were as well. Dick began attending our "Learn to Read the Bible" seminars and then started the seminars at lunch for anybody wanting to attend. All of this resulted from putting God number one in life and sharing that priority with all we met,
"He hath shewed thee, O man, what is good; and what doth the LORD require of thee, but to do justly, and to love mercy, and to walk humbly with your God?" (Mic 6:8).
All we needed to do was to present our requests to God in prayer, put the right foot forward and let Him do the rest. God desires to work through us. What we must do is ask, and be present and willing. God, Jesus and the angels can bless us with the rest.
Dick began encouraging me to offer prayers before meals and sales meetings, which opened opportunities for discussion with employees about the Truth and situations in their lives. It led to other opportunities for prayer and bringing God into their lives. I began to realize how many times before that I had said I would keep an employee or family member or client of mine in my prayers, and I didn't do it. From then on, I would be sure and ask the person's first name for whom we were praying. Prayer became much more than mere words but opportunities to engage God into the situation. Not my will but God's be done.
A few years ago, after we moved back to California, my boss, Mark, was in a racecar accident, and I flew out to Phoenix to visit him and his wife during his recovery and engage God in the situation. I prayed with him and his wife Sue at the hospital that God would heal him. Mark was unconscious most of the time, but he was aware of our prayers. After Mark recovered, he began to ask me to offer prayers at meals and before company meetings.
Here again, God opened opportunities to let His light shine before men that they might see His works in us and at the same time build-up our faith. It became evident that simple, yet powerful, things had the greatest impact. So, I began to look for other ways to witness in the workplace, and I started adding relevant, godly phrases at the end of my emails. For instance, with the COVID-19 pandemic I would add, "God be with you and your family" on emails before the weekend. If I knew someone was traveling, I would add "God be with you and give you a safe trip home" or something as simple as "God bless."
These short, meaningful phrases demonstrated to my co-workers and clients that God is in the center of my life, and I am open to sharing my faith with them and encourage them to share theirs. All we have to do is,
"sanctify the Lord God in your hearts: and be ready always to give an answer to every man that asketh you a reason of the hope that is in you with meekness and fear." (1 Pet 3:15).
This is not about promoting a list of things we don't believe in but rather God's message of hope: the things concerning the Kingdom of God and the name of Jesus Christ. Let us carry that same message to all we meet, both in and out of the workplace, that at Christ's coming, they too might inherit a place in God's eternal Kingdom.
Craig Stickney,
Santa Barbara, CA