August 25, 2023
Jesus and His Prayers
Our Lord knows we are trying to serve. Sometimes we don't know how best to do it. The example he gave us is the necessity of repeatedly seeking his Father in prayer.
By SHANE KIRKWOOD

Read Time:
7 minutes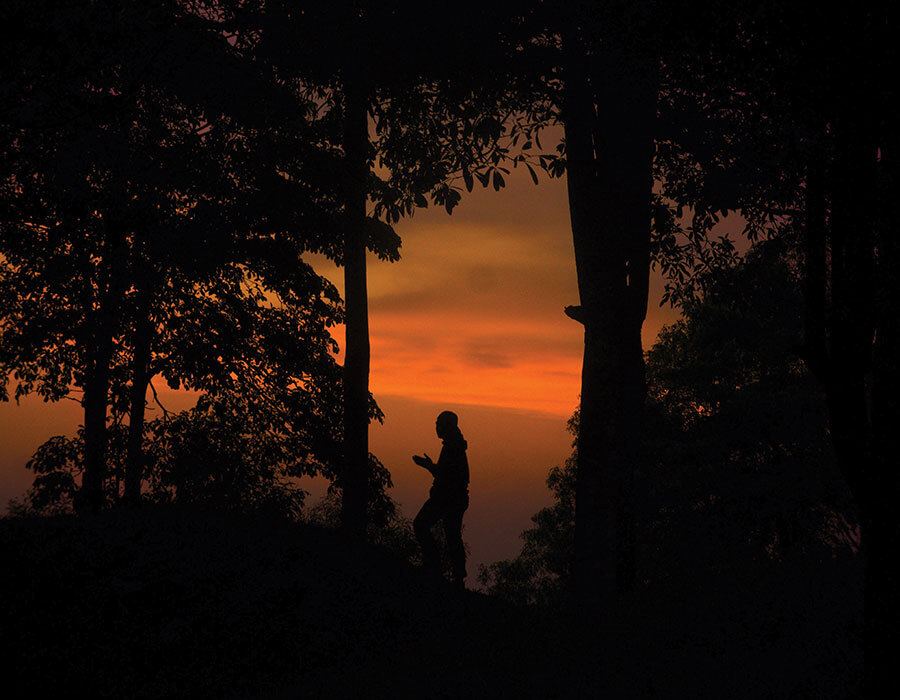 Click to listen to, "Jesus and His Prayers" on Spotify.
---
In Mark 1, we see the eager crowd had waited until sundown at the end of the Sabbath, and now they were at the door of the house, desperately seeking healing for themselves or a loved one. We are told, "and he healed many." (v. 34).1 But what of the others? For there were more; there would always be more! What to do?
Jesus took it to his Father! In Mark 1:35, we read, "It was dark, it was desolate." Just what Jesus needed. The challenges of the previous day had depleted him. For a man with the compassion of our Lord, it was difficult not to heal them all, but there seemed to be competing priorities. Without the gospel message, people would remain lost, so he communed with his Father. The psalmist writes about our Lord,
I rise before dawn and cry for help; I hope in Your words. My eyes are awake before the watches of the night, that I may meditate on Your promise. (Psa 119:147-148).
Jesus resolved this dilemma, as is seen in his response to his disciples in Mark 1:37-38,
And they found him and said to him. "Everyone is looking for you," and he said to them, "Let us go on to the next towns, that I may preach there also, for that is why I came out."
While the events of Mark 1 find no direct parallel in our lives, we often struggle over what to prioritize in our service to God. We can ask challenging questions that are difficult to balance and resolve, such as "How do I help?" and "Who do I help first?" Our Lord knows we are trying to serve. Sometimes we don't know how best to do it. The example he gave us is the necessity of repeatedly seeking his Father in prayer.
We read in Luke 5:16, "He would withdraw to desolate places and pray." In John 6:15, the apostle records that Jesus perceived,
"that they were about to come and take him by force to make him king, Jesus withdrew again to the mountain to be by himself."
On these occasions, our Lord not only spoke with his Father about everything, but he also listened as his Father spoke to him. In John 15:15, we read, "For all that I have heard from my Father I have made known to you."
Such precious time spent alone praying and listening to his Father was at the very core of his life, and he wants our life to be the same. We are further exhorted in Luke 18:1 that disciples should pray and not lose heart.
Jesus never asks of us anything he didn't practice himself. He was constant in his prayers, the depth of which is revealed to us in the stark and confronting words of Hebrews 5:7,
In the days of his flesh, Jesus offered up prayers and supplications, with loud cries and tears, to Him who was able to save him from death, and he was heard because of his reverence.
Here, the prayer life of our savior is laid bare. This aspect is the key to his life! This verse concerns him who healed the sick, stilled storms, and raised the dead! He had the spirit without limit, bringing the intensity of challenge and temptation to a level we may have never faced. Such was the burden he carried. Loud crying and tears were sometimes the only way he could express his feelings.
We are exhorted that disciples should pray and not lose heart.
Perhaps you've also been here? Have you been exhausted, wrung out, and tearful? If so, you have shared in some small way fellowship with his sufferings in heartfelt prayer. You abandoned yourself to the Father who wants us to come to Him.
Humble yourselves, therefore, under the mighty hand of God so that at the proper time He may exalt you, casting all your anxieties on Him, because He cares for you. (1 Pet 5:6-7).
This attitude was our Lord's daily experience.
Many of the Psalms are also a window into the soul of our Savior.
Save me, O God! For the waters have come up to my neck. I sink in deep mire, where there is no foothold; I have come into deep waters, and the flood sweeps over me. I am weary with my crying out; my throat is parched. My eyes grow dim with waiting for my God.
(Psa 69:1-3).
In Psalms 42:5-11, we are further instructed,
Why are you cast down, O my soul, and why are you in turmoil within me?
Hope in God; for I shall again praise Him, my salvation and my God.
My soul is cast down within me; therefore I remember you from the land of Jordan and of Hermon, from Mount Mizar.
Deep calls to deep at the roar of your waterfalls; all your breakers and your waves have gone over me.
By day the Lord commands his steadfast love, and at night His song is with me, a prayer to the God of my life.
I say to God, my rock: "Why have you forgotten me? Why do I go mourning because of the oppression of the enemy?"
As with a deadly wound in my bones, my adversaries taunt me, while they say to me all the day long, "Where is your God?"
Why are you cast down, O my soul, and why are you in turmoil within me?
Hope in God; for I shall again praise him, my salvation and my God.
These are just two Psalms that find a link with this verse in Hebrews 5, as Jesus constantly battled the enemy within and without.
I am saddened that I can spend so little time in prayer and deep contemplation of my Savior, who gave himself in every way for my salvation.
Isaiah tells us our Lord was a man of sorrows and acquainted with grief.
He was despised and rejected by men, a man of sorrows and acquainted with grief; and as one from whom men hide their faces he was despised, and we esteemed him not. (Isa 53:3).
There were, however, times of joy and rejoicing for him. Luke 10:21-22 records his prayer of joy at the return of his disciples and their response to his teachings.
In that same hour he rejoiced in the Holy Spirit and said, "I thank you, Father. Lord of heaven and earth, that You have hidden these things from the wise and understanding and revealed them to the little children; yes, Father, for such was Your gracious will. All things have been handed over to me by my Father and no one knows who the son is except the Father, or who the Father is except the son and anyone to whom the son chooses to reveal Him.
He is thankful, joyful, and exuberant in this spontaneous public prayer.
If we had been there, perhaps we would have considered Jesus' response an overreaction (as some of us in certain cultures are wont to do when we think somebody gets too excited about spiritual things). Maybe the hardness and cynicism of this world have diluted or stolen our joy? If so, let's catch the Lord's spirit here and share his enthusiasm for good news as we see and hear people responding with open hearts to the transformative message of the gospel.
let's catch the Lord's spirit here and share his enthusiasm for good news
Jesus' prayer in John 11 is again a prayer of thanks, much like his prayer in Luke 10. A cave with a stone rolled against the mouth, creating a silent tomb, inside which lay Lazarus. Outside stood the Lord of Life. Surely in this event, Jesus saw his impending death and resurrection when the stone would be rolled away forever, not just for him but for all who would believe (the greatest healing).
Jesus' prayer on this occasion is short, beautiful, and instructive, just as he intended. He first lifted his eyes to heaven. The scene is captivating and redolent with meaning. The direct connection between Father and Son. No temple, no priesthood, no animal sacrifice required. He had already been heard and answered.
His prayer has no hubris—a contrast with the Scribes and Pharisees, who thought their long prayers of pretense demonstrated their righteousness and connection with God.
Jesus' words were instead an expression of his reverence, deep gratitude, and overflowing love for his Father. Incredibly, some of those who saw Lazarus raised and heard Jesus' prayer went straight to the Pharisees (John 11:46), the outcome of which was that the council made plans to put Jesus to death (v. 53).
Amazingly, they thought their power was greater than that of a man who could speak directly to God in praise and raise the dead! We are blessed to have immediate access to God through the same man who cried out, "Lazarus, come forth!"
We need no temple or priesthood. Through Jesus Christ, our mediator, our reverent heartfelt prayers of thanks are always heard.
Hebrews 5:7 is written about our Lord's prayers and experiences in Gethsemane. Having left his disciples with instructions to watch and pray (surely an exhortation to us all!), he goes a stone's throw away. The disciples slept, and so the Lord is again alone in prayer. This time though, he had wanted their companionship, which witnesses to his humanity and need. He was looking for comfort but found none. We are told in Psalm 69:20 that they slept while he battled with his will.
"My Father." This address is intimate and personal but also so intense. Dare we intrude? And yet we must, from a distance, if we are to learn.
Jesus had told parables about counting the cost. Yes, he had counted the cost before he started, and here it was now confronting him. Looming over him was death, even death on a cross.
So, Jesus fell on his face—the natural position of surrender. Yet spiritually, when surrendering to God, it becomes a position of strength. The strength to let go, to submit, to give your life to the will of One greater. "Nevertheless, not as I will but as you will." We can often ask for another way, but can we embrace "nevertheless"? For therein lies the true cost of discipleship.
Would his Father give them both another way? For surely the cost to his Father was enormous. No, there was no other way. God so loved. Let that sit with us.
Jesus did it—went beyond for our sake, as Hebrews 2:15 says, "and deliver all those who through fear of death were subject to life long slavery."
Our prayer is for his return. How long, O Lord?
As we wait in this world of turmoil, trouble, and impatience, may our prayer life reflect his. May we find quiet places to commune with our Father and his Son—thereby learning to be more reverent, thankful, and joyous. For our Father's grand purpose is in His creation and in the lives of people who are being transformed by His Word and the sacrifice of His Son. Our progress may seem slow and our footsteps faltering, but great comfort comes from knowing the King is on our side.
Shane Kirkwood,
Sutherland Ecclesia, NSW
All Scriptural citations are taken from the English Standard Version, unless specifically noted.