May 25, 2023
Six-Month Prayer Challenge
Someone asked me how I would describe my ecclesia. I had to think for a moment before I came up with the right word.
By ROBERT PRINS

Read Time:
8 minutes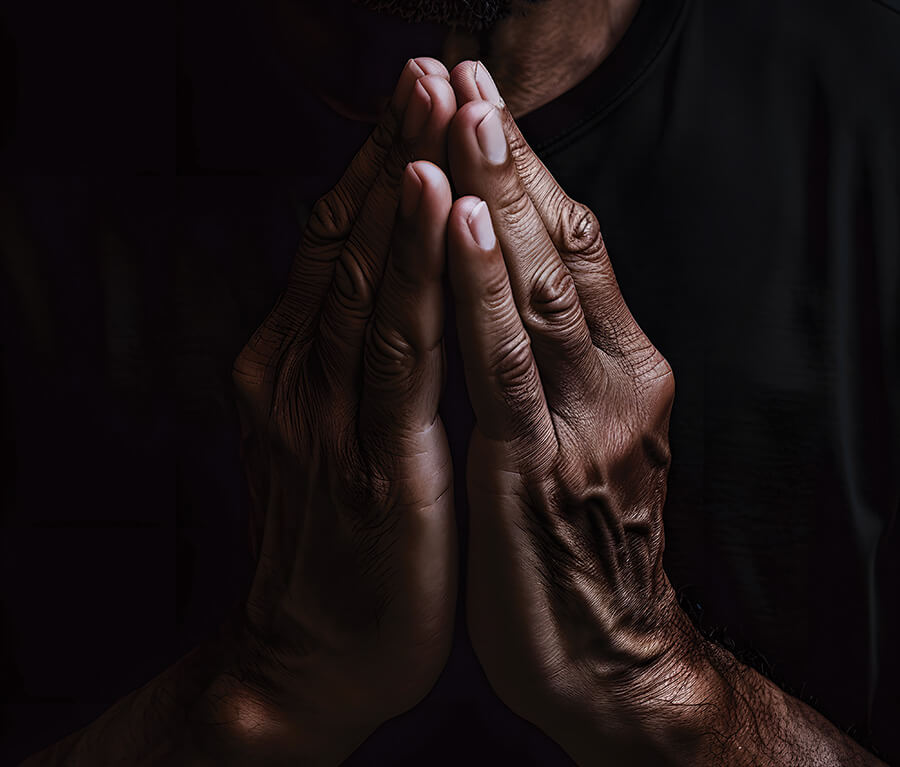 "Invigorating," I said.
---
Listen Now: https://spotifyanchor-web.app.link/e/zrYkkwU9bAb
---
It wasn't always like that. In fact, about nine years ago, our ecclesia was anything but invigorating. Problem after problem tumbled around us. Health, mental health, and relationships were some of the urgent problems we faced. But that left us little time and energy to deal with other important issues like morale, direction, and spiritual growth.
Our ecclesial population was growing older. Our Sunday School and youth group were shrinking. After a normal Sunday morning meeting, the ecclesial hall would clear out relatively quickly. We had been to the meeting. We had done our duty.  Life, enthusiasm, and vibrancy were missing. Praise was mediocre, and love was sluggish.
As an ecclesia, we had tried all sorts of things to improve the situation, but nothing seemed to work. We held special social events, planned potentially exciting Bible classes, and tried to grow through preaching, but nothing seemed to pick up the mood for any sustainable length of time. Most of us had run out of energy.
Furthermore, with five ecclesias in Auckland, if visitors turned up in the city, they would usually choose to visit one of the other ecclesias instead of ours. If people from around the country relocated to Auckland, our ecclesia at Pakuranga was not usually considered an option when deciding where to go. We felt isolated and alone. The only way to enjoy the fellowship of others was to get out and visit them.
My wife, Sis. Sharon and I discussed the state of our ecclesia a lot. What could we do? How do we pick up energy when we are feeling tired out ourselves? Should we jump the sinking ship or stay to the bitter end? 
Then one day, Sharon read a story of someone who had been challenged to pray for a specific country every day for six months to see what God could do with fervent and faithful prayer. The story was amazing. God used the man to become the answer to his own prayers. The country he once knew nothing about was drastically changed for good through his enthusiasm, work, and advice. 
"We should do that for our ecclesia," Sharon said to me. So that was the beginning of our first Six-Month Prayer Challenge.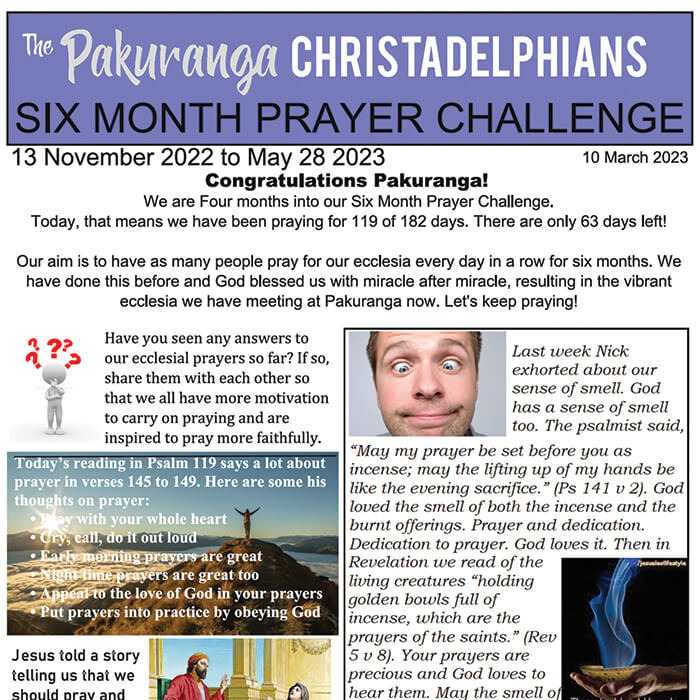 It started out small, as Sharon, I, and our four children began praying. Then we thought we should invite the ecclesia to pray as well—after all, the more prayers, the better. So we set out the Six-Month Prayer Challenge to our ecclesia.
After announcing and explaining what we would do, around twenty of about sixty in our ecclesia said they would commit to praying for our ecclesia every day. Our prayer was for direction, a change in spirit, spiritual growth, and growth in number. These prayers would often be offered at our meetings, Bible classes, and devotional evenings, as well as in our private homes.
There was no bolt of lightning or tongues of fire to answer our prayer. That would have been nice, but we had to be patient. But less than three months after we started praying, I noticed the first answer to our prayers. It was an attitude change. It was only slight, but it was definitely there. People stayed longer after the meeting, and there seemed to be more of a desire to be there and to meet with each other.
We kept praying. That attitude change was the only answer to prayer we saw in the six months we prayed. Admittedly, it seemed a bit disappointing, but we resolved to wait for the LORD to see how He would answer our prayer. Little did we know, but while we were praying, God was at work preparing people to be answers to our prayers.
We prayed every day for six months. Many of us carried on praying after that. Then a year after we had started to pray, the miracles began. We had heard rumors that a family was moving to Auckland, but we knew they wouldn't come to Pakuranga. We could all think of so many better places for them to go. Then they turned up one Sunday morning—a lovely surprise—and announced they had come to stay! We were blown away!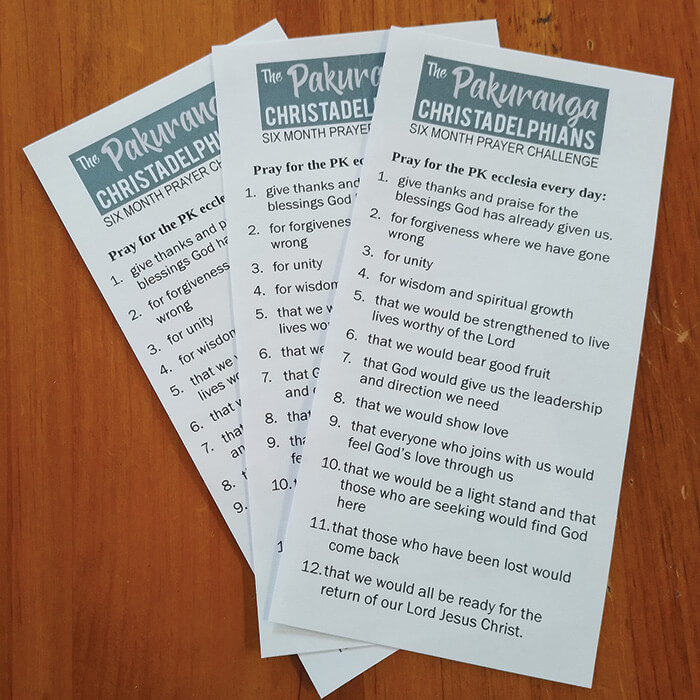 Over the following two or three months, we received an influx of five or more families and a good number of young people whose hearts God had prepared to come and join our ecclesia at Pakuranga. What an incredible boost we all had from them!
New enthusiasm, a hall full of children, a growing youth group. And the people kept coming. During a recent exhortation, I asked for a show of hands from everyone who was not at Pakuranga for our first prayer challenge. Well over half of the ecclesia raised their hands. God is good!
Since that first prayer challenge, the Pakuranga ecclesia has developed in amazing ways with a dynamic mix of people from different backgrounds, yet working together as the various parts of the body of Christ. From vibrant worship to an ecclesially sponsored mission trip for our senior Sunday School class, from spontaneous themed exhortations spanning weeks or months to great fellowship, teaching, music, activities, prayers, and a fantastic online presence, we have been very blessed.
None of this was by our own strength or effort. It was the gift of God to a faithful group of believers who prayed together. All the credit goes to God, who chose to listen to our prayers and answer them in a way that exceeded our wildest dreams.
God did the same thing for Ezra as he and a large group of Jews were about to leave their captivity and travel back to the Promised Land. 
There, by the Ahava Canal, I [Ezra] proclaimed a fast, so that we might humble ourselves before our God and ask him for a safe journey for us and our children, with all our possessions.
I was ashamed to ask the king for soldiers and horsemen to protect us from enemies on the road, because we had told the king, "The gracious hand of our God is on everyone who looks to him, but his great anger is against all who forsake him."
So we fasted and petitioned our God about this, and he answered our prayer.…
On the twelfth day of the first month we set out from the Ahava Canal to go to Jerusalem. The hand of our God was on us, and he protected us from enemies and bandits along the way. (Ezra 8:21–23, 31 NIV).
God answered their prayers. He is a God who doesn't change. He still answers prayer today.
Then COVID-19 came. With COVID came the blessings of meeting together online, a daily readings group that is still going strong after three years, online Bible Schools, an ecclesial Feast of Tabernacles, and new programs that have reached out to thousands of people around the world. But with COVID-19, there was also a loss.
Names without faces online gradually disappeared—and now we miss them at our face-to-face meetings. There has been waning enthusiasm, some Bible classes were canceled for various reasons, and people are generally feeling tired again. 
We still have an awesome ecclesia, but now we need a boost to keep us from falling. What better way to do it than to turn to God in prayer once again? 
And so we have begun our second Six-Month Prayer Challenge. This time we have twelve aspects that we are focusing our prayer on. There are many more potential prayer topics for an ecclesia to pray about, but these are the ones we have chosen. Many of them come from Colossians 1:9-11. We have been praying:
Thanks and praise for the blessings God has already given us.

For forgiveness where we have gone wrong.

For unity.

For wisdom and spiritual growth.

That we would be strengthened to live lives worthy of the LORD.

That we would bear good fruit.

That God would give us the leadership and direction we need.

That we would show love.

That everyone who joins us would

feel God's love through us.

That we would be a light stand and that those who are seeking would find God's love through us.

That those who are lost will come back.

That we would all be ready for the return of our Lord Jesus Christ.
All these points have been made into a bookmark for our ecclesial members to place in their Bibles or on fridges to remind them to pray and what to pray for. We have also had a monthly Prayer Challenge newsletter to keep us encouraged and updated. And each week, posters around the hall continue to motivate us to pray and tell us how far through the prayer challenge we have come.
At the time of writing, we are over four months into another Six-Month Prayer Challenge. And yes, we have already seen the results! Whole families have been joining in our prayer challenge, with children as young as three praying for blessings on their ecclesia and Sunday School.
Small groups within Pakuranga have gathered to pray for people they love who have been gone for some time. Visitors to our meetings have taken this idea back to their own ecclesias throughout New Zealand and around the world. We have had a string of really good exhortations; people we haven't seen in years have been contacted and encouraged and have even come along. And there is a spirit of unity in our prayers that has boosted our enthusiasm and motivation.
God hears the fervent prayers of righteous people
We don't know how God might answer our prayers this time. Maybe He will answer them in some miraculous way like He did last time. Perhaps there will be some pain first in pruning before the new growth springs forth. Maybe He has some plans that we haven't even dreamed about yet. But whatever the answer, we know God hears the fervent prayers of righteous people and that when two or three are gathered together, agreeing about anything they ask for, it will be done for them by our Father in heaven.
We don't have the answers about what is best for our ecclesia. God knows. That's why we ask. That's why we are involved in the Six-Month Prayer Challenge. We are praying and trusting God for the answers. Our aim is to trust Him because He knows best.
How would you describe your ecclesia? Invigorating? Is there room for improvement? Prayer doesn't have to be done alone. Praying together can be so much more effective. Why not join us in a Six-Month Prayer Challenge for your ecclesia? Who knows what might happen?
What if our prayers went viral, and our whole community started praying? What could God do then? Even our imaginations might be too limited to comprehend the power of God responding when his people pray. Pray, brethren, pray!
Robert Prins,
Pakuranga Ecclesia, NZ