July 23, 2022
The Stranger and Foreigner Among You
In the beginning. Three words begin a book that holds so much love, history, and the plan of God embodied in 1 Timothy 2: 4: "Who will have all men to be saved, and to come unto the knowledge of the truth."
By LINDA BECKERSON

Read Time:
6 minutes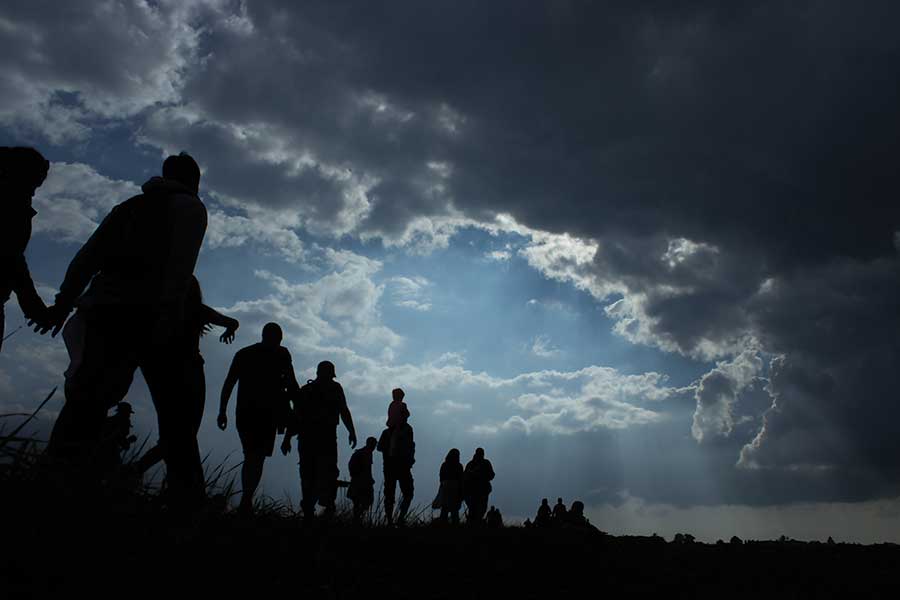 God began with Adam and Eve. In Genesis 1, He instructs them to "Be fruitful, to multiply and replenish the earth and subdue it." Those mighty words are reiterated in Revelation 22:17 when Jesus says, "Come. And let him that heareth say Come. And let him that is athirst come. And whosoever will, let him take of the water of life freely."
In the last year, the world has seen a level of globalization that has enabled us to travel to places we never could have imagined. This new age has also ushered in technology, making our preaching efforts more accessible.
Many countries with ongoing preaching efforts have political unrest and refugee camps that individuals flock to for safety. Many of the refugees have been born and raised in them and have known no other life. When there is an opportunity to leave, the refugees often apply to emigrate to countries like the USA and Canada. Immigration offers the refugees access to a new life, not living in fear of death and starvation by the rebel armies that also populate their home countries. Still, it's a new one with its different uncertainties and new obstacles. These obstacles come in the form of learning a new culture, a new language, and a new way of living. This is also when they are introduced to their new ecclesial families.
A family, consisting of a mother and six children, immigrated into the city where I live. They had been in a camp in Burundi for thirty-six years. She was thirty-six when she immigrated into Canada with her children. and had never lived anywhere but the camps. Their camp home had mud walls, not brick or wood, and a tin roof.  Each day they had to walk two miles to procure water. The schools were not free, and the children needed uniforms to attend. Jobs were scarce. Food was scarce.
This is the story of the family I adopted when they arrived in Canada.
Part of their story is also about a brother who traveled and still does to Burundi to preach in the camp yearly. Over time there have been many baptisms because of his efforts, and several families have emigrated to the US and Canada as well. But what happens when they arrive? They do not all end up together, nor do they all end up in an area with ecclesias that can support them. What is our responsibility to any of these refugees when we find them anywhere near us? God has made the answer very clear in His word. Let's look at some Scriptural examples God has given us of His feelings about the stranger and refugee. God willing, it will inspire all of us to be a welcoming haven for them.
God spoke to Moses about strangers in the land, and His command in Leviticus 19: 33-34 is quite clear.
When a foreigner resides among you in your land, do not mistreat them. The foreigner residing among you must be treated as your native-born. Love them as yourself, for you were foreigners in Egypt. I am the LORD your God.
Also, in Deuteronomy 10:19, "And you are to love those who are foreigners, for you yourselves were foreigners in Egypt." 
Israel had once been refugees taken to Egypt by Jacob many years before. They were called to remember this in their treatment of the foreigners in their lands. Most of us have been born here in North America, but many of us have our roots in countries around the world that our forefathers fled under many circumstances. They left due to war, persecution, and the hope of a better life, just like the immigrants we know of today.
So, what are we to do when we have immigrants arrive on our doorstep? The Bible says that we should reach out, treat them with His love, and help them in any way we can. That help may be material, such as finding a place for them to live (although most communities help with this when they arrive). But more importantly, it may be spiritual support. They will likely need help setting up their homes with the basics: dishes, beds, linens, clothing, etc. They may likely not speak English, so interpreters may need to be found, an opportunity for them to also learn the truth. 
We must find ways to transport them to meeting, Sunday School, and CYC and be very inclusive about their fellowship, including giving them Bibles in their language. None of these are easy tasks, and they require time and effort. We must, however, not sit back and wait for everyone else to pick up the slack.
God wants all men to be saved
Yes, we are busy. Yes, we have jobs within and without the ecclesia. Yes, we have children who need us. But we are all God's children, and He does not ignore us. Nor are we allowed to ignore others who need physical help and, more importantly, a spiritual community to guide them to the Kingdom. Remember, God wants all men to be saved. So, when people in need arrive on our doorstep, we need to understand that God has placed them in our care, just as we have been placed in His care. 
While working with them to provide what they need, we need to understand they are not used to objects we have. My immigrant family had no idea what to do with a microwave I was so proud to have provided for them. It became a storage place. We gave them silverware, and they ate with their fingers. They kept their clothes in suitcases, not in the dressers we gave them. The donated clothes were not what they were used to. Their mode of dress is very different from ours.
What does Jesus say in Matthew 25? The King will reply, 
Truly I tell you, whatever you did for one of the least of these brothers and sisters of mine, you did for me. For I was hungry, and you gave me something to eat, I was thirsty, and you gave me something to drink, I was a stranger and you invited me in, I needed clothes and you clothed me, I was sick, and you looked after me, I was in prison, and you came to visit me". Then the righteous will answer him, "Lord, when did we see you hungry and feed you, or thirsty and give you something to drink? When did we see you a stranger and invite you in, or needing clothes and clothe you? When did we see you sick or in prison and go to visit you?" (Matt 25:35-40).
Is not this the attitude we want to have? When we see someone in need (especially in these very trying circumstances), we just do it. No thought is needed. Our role in life is to love our brothers and sisters, no matter who they are or where they are from, and to help them on their journey to the Kingdom. We have read many stories in the Tidings of new brothers and sisters being baptized once they have arrived in North America. What a blessing for them and us to be part of that.
David speaks of God's plan and purpose for the strangers among us: 
Blessed are those whose help is the God of Jacob whose hope is in the LORD their God. He is the Maker of heaven and earth, the sea, and everything in them–he remains faithful forever. He upholds the cause of the oppressed and gives food to the hungry. The LORD sets prisoners free, the LORD gives sight to the blind, the LORD lifts up those who are bowed down, the LORD loves the righteous. The LORD watches over the foreigner and sustains the fatherless and the widow, but he frustrates the ways of the wicked. The LORD reigns forever, your God, O Zion, for all generations. Praise the LORD. (Psa 146:5-10).
Are we willing to be part of the help of God?
We also need to understand that the worship we partake in on a Sunday morning may be very different than what new immigrants are used to. I know I was surprised a few times when at the end of a prayer, the mom would break out into a song in Swahili, and the children would begin to sing with arms gently waving above their heads.
there is no set way to worship God
Although I enjoyed and admired their tradition, my first reaction was to discourage this behavior; I had to learn there is no set way to worship God. Many ecclesias have a different order to their Sunday morning ritual. These are our traditions. It is the nature of man to create traditions and adhere to them.
The joy of these young ones singing with their mother was nothing I have experienced here in North America. I googled a recorded meeting from Burundi, and sure enough, many were standing, swaying, and singing praises to God.
It reminded me of how David danced, praised, and sang behind the ark, demonstrating his love for music.
I had a sister remark to me that we may be very surprised in the Kingdom to have these people teach us how to worship with our hearts and more actively sing praises to God above. So, we must gently and lovingly bring them to our ecclesias and embrace the things we can learn from each other. Bridging the cultural divide while following God's principles, is the ultimate goal in order to walk together with these families towards God's Kingdom.
In conclusion, let us go back to the opening paragraph and remember that God wants all men to be saved (1 Tim 2:4; 2 Peter 3:9), and it is our task to fill their cups with His water of life, and to provide them with whatever necessities they may have physically—but more importantly—spiritually. We must do this with a willing, loving spirit for Him to fill this earth with His glory.
Linda Beckerson,
(Ann Arbor Ecclesia, MI)