January 25, 2023
A Review of: "In His Footsteps"
One step, two steps, three steps, four steps, we will walk in Jesus' footsteps. The song trails around my home as my four-and-a-half-year-old daughter has it stuck in her head.
By JESSICA GELINEAU

Read Time:
6 minutes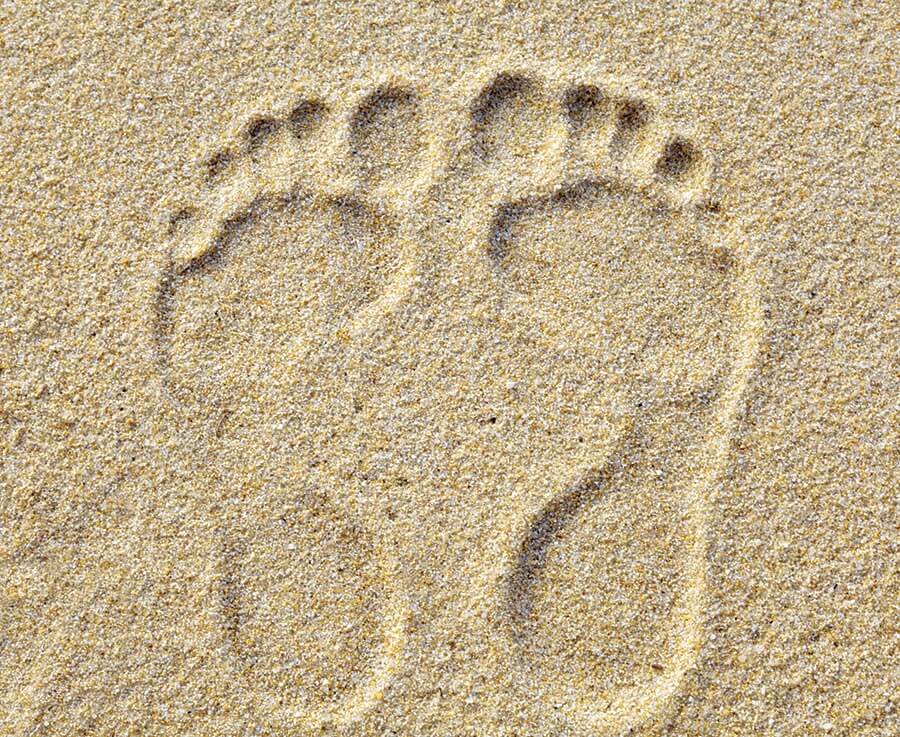 She's a musical girl, and a little game she has devised is one where she hums the opening song from one of her favorite TV shows, and I have to guess which one it is. There are only about five in the rotation, so it is a fairly easy game for me to succeed at! 
I'm sure my contemporary parents of young children will all relate to the "screen time" conversation: how much? At what age? What content? At what expense? This is a vast subject and one I'm not really about to dive into right here and right now.
In His Footsteps has a mission of bringing the Scriptures to life for young children
My husband and I do allow our young daughter to watch some television in our living room, usually at a set time each day, and choose trusted shows that we hope will inspire good things in her life, such as imaginative play, knowledge of nature, positive family relationships and friendships. Some other readers may take a similar approach. But regardless of your ideals or practices, if you have young children in your life—in any capacity—you can easily appreciate the interest and allure of media in their lives!
My daughter has a new favorite TV show in rotation now, and I couldn't be more pleased with the content! In His Footsteps is a production of the Christadelphian Sunday School Association (CSSA), with three seasons currently available to stream and more on the way. With a mission of bringing the Scriptures to life for young children, I would love to see this show become a household name in Christadelphian homes with young children just as much as, say, Bluey or Sesame Street!
Here's the official show description: 
"In His Footsteps is a fun, interactive Bible-based show for children! Each episode features a different Bible story, taking young viewers on a journey starting with the creation story in Genesis right through to stories from the life of Jesus. Through entertaining storytelling, children will learn lessons for everyday living. Each episode includes original songs, craft activities and a special appearance by Albert and his adorable puppet friends, Sam B and Sam G."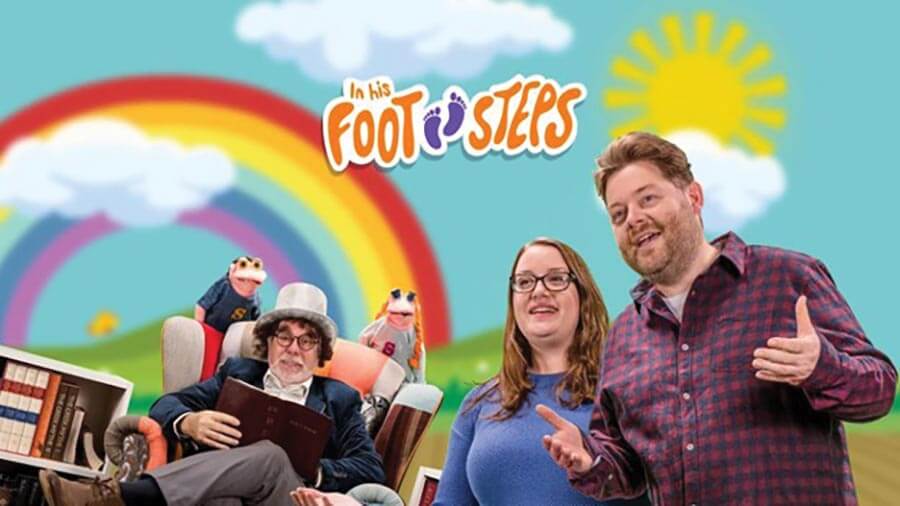 I was able to have a conversation with Sis. Aletheia Burney about some of what goes on behind the scenes of In His Footsteps. Sis. Aletheia, along with Bro. Luke Jurevicius is one of the main presenters for the show. Before our chat, I had already been quite impressed with the production quality and thought, talent, and resources harnessed by this project.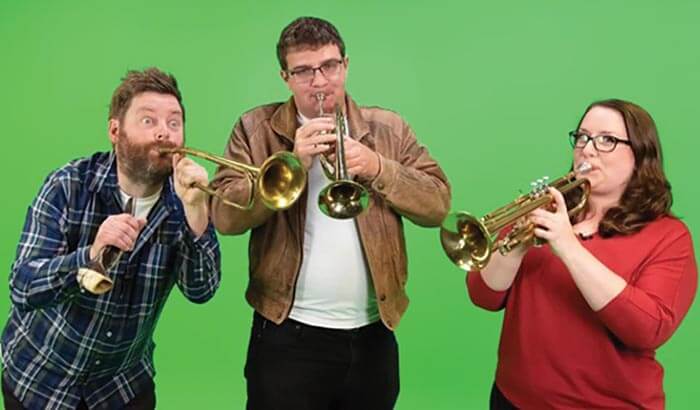 Due to the risk of leaving out important contributors, I will not attempt to credit every single individual involved. However, it is plain to see, even from simply viewing the show credits, that over twenty people dedicated significant time and energy to this project, most of them volunteers.
Regarding the original music in the show alone, a minimum of two new songs appears in each episode (not including the lovely jingle that this article begins with!) As a starting point, Bro. Stuart Gilmore, the show's producer and script editor, sets out some basic lyrics for each song.
After all, the songs must fit in harmoniously with the overall scripts to tell the story at hand and teach a related spiritual lesson. While the first season leaned heavily on the same two songwriters, subsequent seasons have involved many more songwriters of various ages and backgrounds, hailing from several different countries and employing a variety of musical styles.
Sis. Aletheia and Bro. Luke record most of the music, while Bro. Timon Burney is responsible for much of the music production, including instrumentation, mixing, and mastering.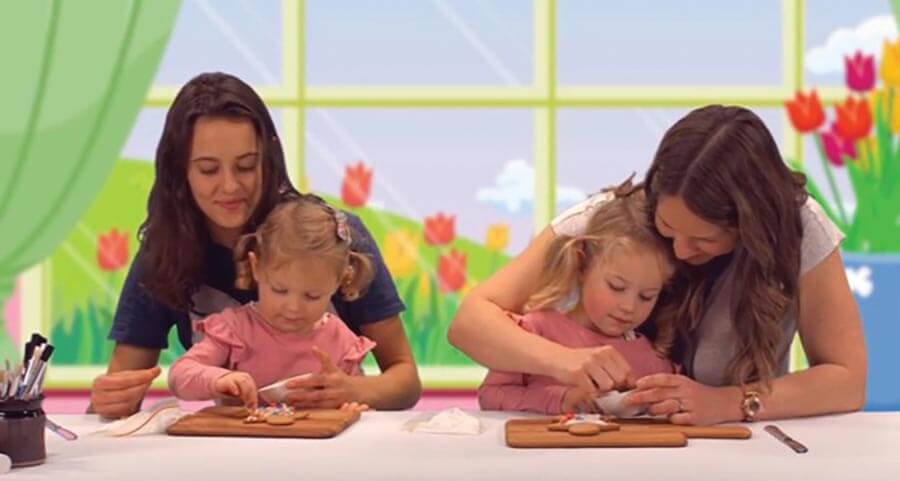 Sis. Aletheia and I discussed with some moms of young children several ways that In His Footsteps is currently being used in Christadelphian circles and beyond. Here are just a few ideas:
Episodes can be watched during Sunday School periods (what a great resource for last-minute Sunday School teacher substitutes, as well! I'm keeping this in my back pocket.)
Crafts can be made during Sunday School or as part of Vacation Bible School programs.
Episodes or parts of episodes can be played at Christadelphian Heritage Schools.
Grandparents or caregivers who watch children regularly while parents are working can play the show during their childcare shifts.
The list could go on. The episodes are clearly titled with the names of familiar Bible stories and are easy to search for resources if you're looking to teach children about a specific story. However, it's just as enjoyable to watch through the episodes from beginning to end as a series. 
Perhaps one of the greatest merits of the show is the capacity to provoke meaningful spiritual connections between parents or caregivers and children. Young children are the target audience, and much thought and care have gone into the lessons.  As one parent shared with Sis. Aletheia, "The more I listened to the music in the car and in the house, I would find myself able to pull out concepts to talk to my kids about."
Because the songs are so accessible and learnable by young children, they help children employ their emotional intelligence in the context of Bible stories. Whereas a four or five-year-old child might not fully grasp the emotional implications of an account being read straight from the Bible, the tone and subtleties within the music help them get there.
Regarding a song about Isaac finding comfort in his marriage with Rebekah following the death of Sarah, my own daughter said to me, "Mommy, you have to watch this song. It's really good—it will make you cry!" 
It seems fitting to finish this article with the passage from Scripture that ends every episode's credit roll. It encapsulates the frame of mind of the sisters and brothers who work so hard on this production to give God the glory.
To the only wise God our Saviour, be glory and majesty, dominion and power, both now and ever. Amen.
(Jude 25).
 Jessica Gelineau,
Simi Hills Ecclesia, CA
---
You can listen to all of the songs from Seasons 1 and 2 of In His Footsteps on all major streaming platforms, including Spotify! This is a great resource for listening at home, in the car, during your Sunday School classes, or really just any time your child begs to hear one specific song that they enjoyed from the show, but you don't have time to fast-forward through episodes to look for it. I speak from experience. https://tinyurl.com/3rjtv97b
Want to try some of the crafts shown in the show? You can find supply lists for every craft here: https://cssa.asn.au/footsteps/craft-activities
 The show episodes directly correspond with the sixty lessons in the Kindergarten Sunday School notes available on the CSSA website. Many ecclesias employ the CSSA curriculum already! Or, find the notes for purchase here: https://cssa.asn.au/product/kindy-notes
---
$5 (USD) a month is the cost of signing up for a CSSA Media Works account, which you will need in order to stream episodes of In His Footsteps.
If you are able, why not gift a subscription to a family in your ecclesia who would welcome the spiritual and fun entertainment:  https://tinyurl.com/ycyzvnz3
Do you have any neighbors or friends outside the ecclesia who have young children or grandchildren who might enjoy the show or the songs from the show? Introduce them to the In His Footsteps media to share the gospel light.
Find them on Facebook @ InHisFootstepsShow or Insta @ in.his.footsteps