October 25, 2022
A Temple Filled With Unsearchable Riches
This grace was given me: to preach to the Gentiles the unsearchable riches of Christ. (Eph 3:8)
By GEORGE BOOKER

Read Time:
8 minutes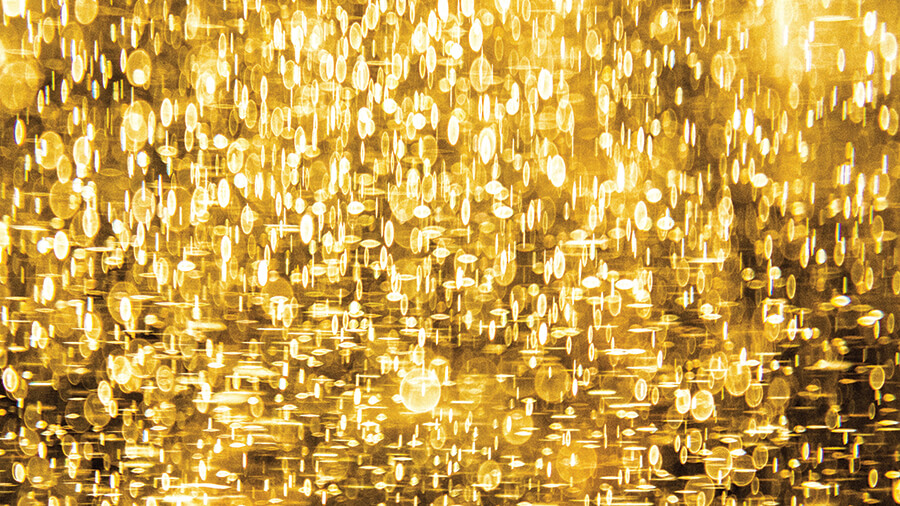 Ephesus was a large, commercial city known for its famous temple of Artemis (the Greek name), also known as Diana (The KJV uses the Latin equivalent). Artemis, or Diana, was considered the goddess of fertility, and her worship in the great temple—considered one of the seven wonders of the ancient world—was characterized where gross immorality was practiced.
Other ancient equivalents of Artemis included the Greek goddess Aphrodite and the Roman goddess Venus. A similar goddess in earlier times was the Babylonian Ishtar, who under other names was also worshiped in Canaan and Egypt. 
The great temple of Diana produced enormous wealth, both for the temple and its attendants and the surrounding community. In and around Ephesus, craftsmen and storekeepers derived much of their income from manufacturing and selling trinkets to celebrate the goddess.
The preaching of Paul and other believers in Ephesus led to a revolution in Ephesian society. Many devotees of Artemis gave up their worship at the temple, and some gave up their livelihood. We read that:
Many of those who believed now came and openly confessed their evil deeds. A number who had practiced sorcery brought their scrolls together and burned them publicly. When they calculated the value of the scrolls, the total came to fifty thousand drachmas. In this way the word of the Lord spread widely and grew in power. (Acts 19:18-20).
The sum of money mentioned would have amounted to hundreds of thousands of dollars in modern American terms. 
This mass conversion of Ephesians to Christ, along with the abandonment of the great Temple in Ephesus, led to some frantic maneuvering by the remaining "priests" and businessmen, who depended on the temple for their livelihood. Meeting together, they decided that something must be done about Paul and his friends (v. 25-27). This led to riots that threatened believers' lives and Paul soon felt it necessary to leave Ephesus, perhaps more to take the pressure off the brothers and sisters there than to protect himself (Acts 20:1).
Paul's Spiritual Temple
The great Temple of Artemis (Diana) dominated the skyline and the culture of Ephesus. When new converts to Christianity chose to leave that temple behind, they would necessarily have felt some vacuum in their lives. And they would miss that focus and center they had before, even if only subconsciously. 
This might explain why Paul stresses the spiritual temple of Christ and the believers when he writes back to the Ephesians. In his mind, Paul had the central vision, no longer of a literal temple of wood, stone and metal, but a spiritual temple built up of living stones—the believers themselves organized around Christ as their chief cornerstone (Eph 2:20; cp. Isa 28:16; 1 Pet 2:5 – 6; Acts 17:24).
And Paul seeks to impart this same glorious vision to those in Ephesus. If there was enormous wealth involved with the worship of "Diana," then there were infinitely greater riches—Paul calls it "unsearchable riches" (Eph 3:8)—to be found in the worship of the Lord Jesus Christ, riches of a very different quality, having eternal value.
Recognizing this allusion helps us to appreciate the references and imagery of Paul's letter to the Ephesians. There he uses the language of the temple to describe Christ and the body of believers:
For [Christ] himself is our peace, who… has destroyed the barrier, the dividing wall of hostility… [to] create one new man out of the two [i.e., Gentile and Jew] and in this one body to reconcile both of them [Gentile and Jew] to God… He came and preached peace to you who were far away [Gentiles] and peace to those who were near [Jews]. For through him we both [Gentiles and Jews] have access to the Father. (Eph 2:14-18).
It's beautiful, isn't it, especially if we aspire to be peacemakers (Matt 5:9; James 3:18)? Several types of reconciliations are taking place all at once:
In Christ, who is our "peace" we sinners can be reconciled to God (Eph 2:14-16). 
And because of that reconciliation, all sorts of sinners—Gentiles and Jews—can themselves be reconciled to one another, no matter what differences they have had in the past (v. 12, 13, 16). No matter their backgrounds, they all believed in Jesus Christ, and they all belonged to one fellowship of need!
But the part I wish to emphasize is in verse 14, where "barriers" and "dividing walls" are broken down and destroyed. 
Much of the Law of Moses was about maintaining barriers and observing restrictions. Principally, the Glory of God was kept far from ordinary men and women. God's Glory was secluded in the Most Holy Place of the tabernacle or temple—where it was approachable only once a year, and only then by the High Priest with the blood of a special sacrifice (Heb 9:7; cp. Exod 30:10; Lev 16:34). 
But, as Paul explains, Jesus Christ has become the chief cornerstone of God's spiritual temple (Eph 2:20). This temple is a special temple made up of all believers (v. 22), for which there are no more barriers. This leads to another special type of reconciliation in Christ:
All believers (Gentile and Jew—not to mention female and male, servant and free person— have equal "access to the Father" (Eph 2:18; cp. Gal 3:26-29).
Paul adds that this "mystery"—especially of Jews and Gentiles becoming one in Christ—is now revealed by the preaching of the gospel, and all who believe can become "members of one body." (Eph 3:2-6).
A Temple Filled with Glory and Grace
Paul's vision of a new spiritual Temple in Christ would have encouraged Gentile believers who had grown up with the grandeur and wealth of Diana's temple. But it would also have encouraged Jewish believers who felt a vacuum in their lives when Herod's great temple at Jerusalem lost most of its importance for them. 
We might remember that the Jews were raised, not only with personal experiences of Herod's temple, but also collective memories of the Law of Moses and a tabernacle and temples of God in the Old Testament—all filled with the Glory of the LORD:
Moses' Tabernacle: Then the cloud covered the Tent of Meeting, and the glory of the LORD filled the tabernacle. Moses could not enter the Tent of Meeting because the cloud had settled upon it, and the glory of the LORD filled the tabernacle. (Exod 40:34, 35; cp. Num 14:10; 16:42; 20:6; 1 Sam 4:21-22;).
Solomon's Temple: The priests then brought the ark of the LORD'S covenant to its place in the inner sanctuary of the temple, the Most Holy Place, and put it beneath the wings of the cherubim. The cherubim spread their wings over the place of the ark and overshadowed the ark and its carrying poles… When the priests withdrew from the Holy Place, the cloud filled the temple of the LORD. And the priests could not perform their service because of the cloud, for the glory of the LORD filled his temple. (1 Kgs 8:6, 7, 10-11; cp. 2 Chron 5:4-10, 13-14; 7:1-3).
So now, when Paul envisions a great spiritual temple, consisting of believers gathered together around Christ, he also thinks of the Glory of God dwelling in the midst of such a temple. In fact, this glory fills his mind even as he begins his letter to the Ephesians (Eph 1:6, 12, 14, 17). 
Notice, however, that—as Paul continues—the "glory of God" gives way, slowly but surely, to the "grace," the "inheritance," and the "riches" of God (Eph 1:6, 18; 2:7-8; 3:2, 7-8, 16, 21; 4:7; 5:5; 6:24). 
We are talking about the same thing in this case, but the terms are subtly changing. God's "glory" is not just bright lights and great power. It is God's glorious Spirit bringing grace and "riches" of spiritual blessings to all His children. This becomes most obvious in Ephesians 3, when Paul writes: 
This grace was given me: to preach to the Gentiles the unsearchable riches of Christ. (v. 8).
so that,
I pray that out of his glorious riches he may strengthen you with power through his Spirit in your inner being, so that Christ may dwell in your hearts through faith. And I pray that you, being rooted and established in love, may have power, together with all the Lord's holy people, to grasp how wide and long and high and deep is the love of Christ, and to know this love that surpasses knowledge—that you may be filled to the measure of all the fullness of God. (Eph 3:16-19).
The extraordinary thing is that, while Paul essentially turns away from Herod's Temple, he continues to use temple language. He writes about:
Grasping "how wide and long and high and deep" (v. 18) Christ's love is; and 
Being "filled [with] all the fullness of God." (v. 19). 
The dimensions of the walls and barriers of Moses' tabernacle and Solomon's temple were strictly defined by God. At each step towards God's presence in the Most Holy Place, there were more restrictions. 
But now, through Christ, all the barriers have been removed. When Christ died, the veil, or curtain, of the Temple was torn from top to bottom (Matt 27:51; Mark 15:38; cp. John 19:23). The writer to the Hebrews tells us:
We have confidence to enter the Most Holy Place by the blood of Jesus, by a new and living way opened for us through the curtain, that is, his body… [therefore] let us draw near to God. (Heb 10:19-22).
Paul describes the same situation when he tells the Ephesians:
The "heavenly places" have been opened to all believers (Eph 1:3, 10, 20; 2:6; 3:10); and
Everyone now has "access to the Father" (2:18) to approach Him with freedom and confidence (3:12).
A Holy Place with no Limits
With the walls and barriers removed, all believers have, through Christ, direct access to the presence of the LORD God. But even more than this: the removal of all restrictions means not only that believers—wherever they are—can go into the Most Holy Place, so to speak, but also that God's Glory, previously confined in the Most Holy Place, may come out to them!
For a very long time, the Glory and Grace of God had been hidden away. But for Paul, the question is no longer: "How shall God's glory and grace be hidden?" But, rather, "How wide and how long and how high and how deep will that glory and grace be, and how shall it be sent forth into the world?" (Eph 3:18). 
And Paul's answer is, essentially, that there are no limits! God's Glory and God's Grace may be carried and sent everywhere! 
As Paul and others preached and baptized new believers among the Gentiles, God's glorious love was set free in the world and went forth everywhere. Wherever believers came to know the love of Christ and began to show that wondrous love to others, there also was God's glory and grace to be seen and experienced. So, we might ask ourselves: What are the dimensions of this uniquely New Testament "temple?" And the answer is, there are no dimensions; this temple is immeasurable!
Again, we might ask, Are there any architect's plans for this New Testament temple? No, no architect's plans whatsoever. It is a divine plan by which God's Spirit will dwell in the minds and hearts of all believers!
Wherever believers are found—in a private room or on a hilltop, in a large public assembly, or gathered together in groups of two or three—there is also found the Temple of God, wherein is stored God's unbounded love for His dear children.
The most precious possessions of this Temple are not silver and gold and precious stones (which characterized tabernacle and temple in the Old Testament), but something of infinitely more value—the true "unsearchable riches of Christ": grace and mercy, leading to eternal life (Eph 3:8).
George Booker
Austin Leander Ecclesia, TX