March 24, 2022
Favorite Spiritual Songs from Sunday School Children
In the eighth Psalm, which David intended to be "accompanied by a stringed instrument," we find the often quoted first two verses.
By JESSICA GELINEAU

Read Time:
6 minutes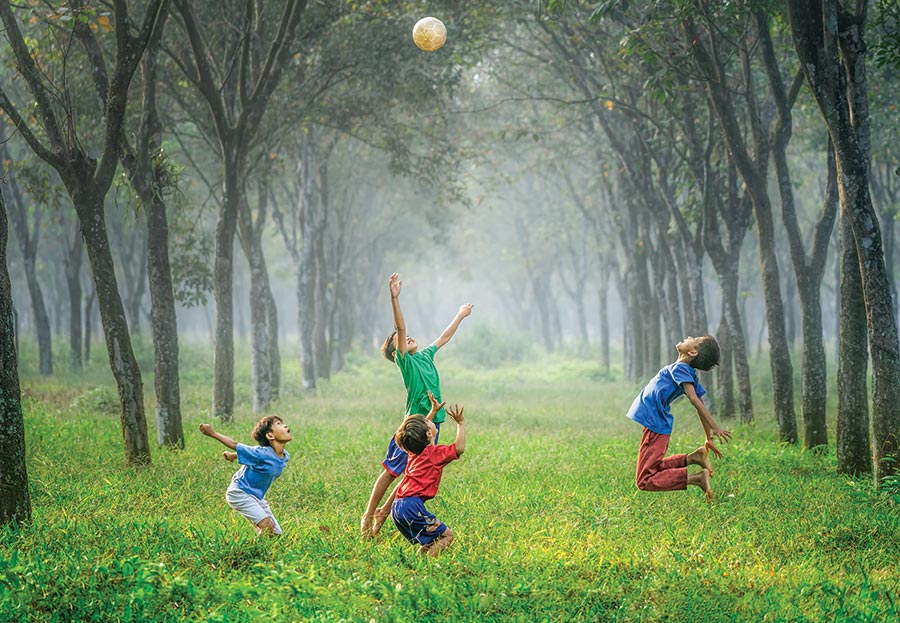 I like how the New Living Translation renders them.
O LORD, our Lord, your majestic name fills the earth! Your glory is higher than the heavens. You have taught children and infants to tell of your strength, silencing your enemies and all who oppose you. (Psa 8:1-2).
In the following pages, you'll find submissions from a group of Sunday School students from the West Coast of North America, sharing their favorite spiritual songs. Many of the children also drew a picture to show how they feel when they hear or sing their favorite praise songs. As you read through these short reflections, let the words of these young ones remind you of God's strength, and silence whatever voices of fear, despair or distraction that may be vying for your attention today. Please share these songs with the children in your life! In doing so, maybe you or they will find a new favorite as well.
Pippa G., Preschool Mom: Pippa, what's your favorite song? Pippa: "Jesus is Alive" (by Orange Kids Music.) It makes me feel sad because Jesus died." Mom: Does it make you feel anything else? Pippa: "Happy because He came alive again!" Mom: Do you think other kids would like this song too? Pippa: "Mmhmm. Can we listen to "Jesus is Alive" right now?"
"I enjoy "Seek Ye First the Kingdom of God" [Green Hymn Book #356] because it's really pretty and it's a great song. When I hear it, it makes me feel peaceful and helps me look forward to The Kingdom. Something that it teaches me is to always put God first."
Brianna M., 6th grade
"Savior, We Meet In Thy Dear Name" [Green Hymn Book #240] just gives me confidence and joy. The tune of the music just melts you to your chair. It reminds me of the day before Jesus died.
Jacob M., 5th grade 
My favorite Bible song is "Psalm 20" [Orange Book #11]. It is on page 33, and authored by Aletheia and Timon Burney. My favorite part is the chorus. I like how it starts off really happy, gets quieter for a bit, then is happy again, then quiet. It makes me really joyful when it says, "Then You will win the victory, and we will shout for joy!" It makes me think about the Kingdom, because God will win the victory, and will set up the Kingdom and Jesus as King.
Bethany H., 4th grade
"Seek Ye First." [Green Hymn Book #365] This song is written by Karen Lafferty. This is my favorite song because I always think "Why does God do this to me!" but then the song says, "Seek and ye shall find." So I pray and I feel better. 
Joseph G., 4th grade 
I think "We've Got Good News of the Kingdom of God" [Orange Worship Book #111] is a great spiritual song for children because it really tells us that we have something to look forward to in the future. It tells us that the new future is going to be peaceful and calm. I feel that this song is very uplifting and exciting! I hope this helped you!
Naomi S., 4th grade
Jessica Gelineau,
Simi Hills Ecclesia, CA
Calling all interested contributors!
Over the past year, the Tidings has featured several articles in the Music and Praise section written by multiple contributors reflecting on a theme. In the November 2021 issue, young people shared their Reflections on Spiritual Music and Mental Health. Back in June 2021, we were encouraged by Reflections on Treasured Hymns written by elders in our ecclesias. In an upcoming 2022 Tidings issue, we will feature reflections on Psalms. We're wanting to hear about the Psalms that have most personally strengthened you or been meaningful in your life, and why. Perhaps a certain Psalm brought you through a time of trial, or maybe there is a Psalm that you routinely pray to praise our Heavenly Father. Tiding's readers of all ages are encouraged to contribute!
Please email your contribution (1-2 paragraphs maximum, please!) to jessica.r.gelineau@gmail.com by May 6th.