September 25, 2022
Robert Roberts in North America (Part 2)
He had given structure and vigor to the Christadelphians, traveling much of the world to spread the message from 1864 on.
By PETER HEMINGRAY

Read Time:
7 minutes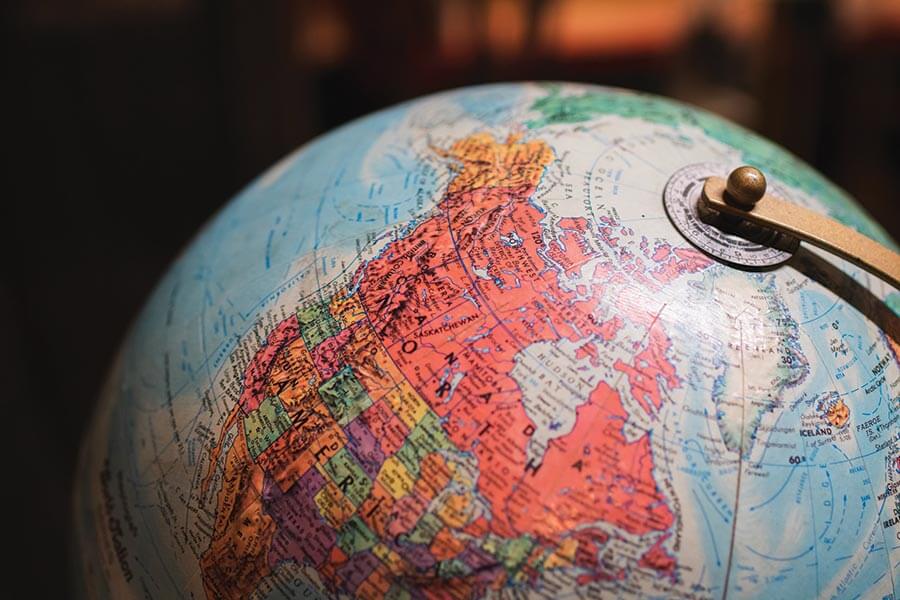 ---
Bro. Peter Hemingray's article continues, picking up in January 1889, with the "Sugar Disaster" unfolding.
---
It is not the place here to describe details of one of the greatest frauds of the 19th century, which unfortunately greatly affected many Christadelphians. It is covered widely on the Internet.1 The disappointing results are described in The Christadelphian:
On the morning of Thursday, January 3rd, 1889, I received a cable-message from brother James U. Robertson, of New York, which for a season hurled me into darkness. It was an intimation that a discovery of a 'terrible' character had just been made in reference to the sugar refining enterprise, which he had been nursing for four years. The message did not say what the discovery was, but added that there was no doubt of its truth.
The message affected me more than any I have received in the course of my life. Every form of prosperity for the work of God upon earth was bound up in the success of that enterprise. The Jewish colonization of the Holy Land was to be helped as no Gentile, and no Jew after the flesh either feels moved to help it.
The truth was to be published, both by lecture and literature, as it has never been in this generation. The poor were to be helped as never in our age has been possible. Every grievous load among the brethren, under which private hearts are bleeding, was to be undone. An institution for the annual recuperation of the ailing by a three weeks' free stay, to which railway fare would be paid to and fro, was to be provided. Other forms of service, not as yet so distinctly defined, were to be entered upon.2
No one thought Robert Roberts was looking for personal gain but only for help for the Jews and the gospel. 
As soon as he got the cable, he and his wife set out for New York, arriving only to confirm the venture's complete collapse. They had departed immediately after receiving the cable and, after several misadventures, caught a steamer from Ireland, arriving in New York on Wednesday, January 16. They departed on Saturday. There were numerous ramifications, but this is not the place to discuss them.
1889 August
This visit was noted almost in passing in The Christadelphian, in the notes for September 1889, where we read, 
THE EDITOR'S VISIT TO THE STATES—From this the Editor safely returned on Sunday, August 25th, his journey to the States has been sufficient of a success to justify the hope (not yet amounting to certainty) that the losses caused to the brethren by the sugar imposture will ultimately be made good.
We know a little more from The Advocate, for at the time, Roberts had good relations with the editor, Thomas Williams, and they were together again at the annual gathering in Wauconda. Much later, it was reported that Williams and Roberts met together in harmony, but this was soon to be disrupted, mainly by J. J. Andrews, but that is another story. 
It was on the beautiful lake that skirted the homestead that Thos. Williams and Robert Roberts, seated in a small boat, Roberts in the stern and Williams rowing over its waters the day after the gathering, for three hours discussed the responsibility question in all its bearings and arrived at a good working basis of cooperation.3
Robert Roberts disputed this co-operation later when he said, "the result of the conversation was… doubtful."4 It was also noted that Roberts was in business with James Robertson, whom he met after the gathering in Chicago, and returned to Wauconda to conduct business there, clearly hoping to recoup from his Sugar Disaster. 
Unfortunately, the Sugar Disaster was only the start of a series of misadventures he embarked upon, all of which were disastrous and affected his health so gravely that he was advised to take a sea voyage. Others encouraged him to remove himself from such further efforts. So, he decided to accept an invitation and go to Australia, leaving in late August 1895.
1896 Back from Australia
Originally scheduled to leave Australia on May 18, he did not leave until June 10, 1896, so his schedule in North America was somewhat pruned. The uncertainty of his actual arrival date caused a rather amusing episode on his arrival in Victoria, B.C. He was summarily deposited on the quay at 4 a.m., eventually arriving at the house of his host, Thomas Edwards, at 7 a.m. He left his considerable luggage on the doorstep and went for a walk, only to be accosted a little later by his host, somewhat timidly. 
This late arrival also caused some modifications to his itinerary, so he only visited the above ecclesias. Of course, it was all just a minor part of his journey back to England, arriving back in England on August 16, having spent two years away from his family. 

Victoria. He spent about 11 days in the city, lecturing many times. The ecclesia at the time numbered about twenty as a result of some turmoil caused by recent dissident arrivals from Scotland. But there was some good news: a year later, a correspondent reported he had been baptized after picking a flyer up from the street and attending the lectures. 
The "comparatively invalid" set out on the recently completed Canadian transcontinental railroad for five days and nights to Ontario. Changing in North Bay, it was a mere nine hours to Toronto, where he had been a few years before. 
Toronto. Roberts only spent two days there, and no public lectures had been planned, so it was mostly a time for friendly visits. Edwin Hill was his host, who later played a prominent part in Conscientious Objection during WW1. The ecclesial situation in Toronto was complex. There were three ecclesias, one "Central" reported by William Smallwood, which Roberts visited, and others of the Fraternal Visitor and Advocate fellowships. Roberts attempted to unite the first two but with no lasting results. On the other hand, he had a much more pleasant visit to Buffalo.
Buffalo. Arriving on Friday, July 24, he stayed until the following Thursday, delivering about six lectures and enjoying his time there. Here he again stayed with Bro Stricker. The news in The Christadelphian later said several were still attending after his lectures, so at least a few responded to his message. He left on Thursday for a lightning visit to Philadelphia, about five hundred miles away, taking 12 hours through pleasant countryside. 
Philadelphia. This ecclesia was where James Robertson had settled, but not without attempting further ill-considered ventures, for he was suffering from "failure of business hopes." He met with the ecclesia (of about 30) on Friday evening and on Saturday morning, left for the 300-mile trip to Boston, passing through New York City without stopping due to his appointment in Boston on Saturday night.
Boston. Last stop on his journey: he delivered several lectures during his stay for the week: once such "Preparing for Armageddon" was the subject of a report in the next morning's paper, and as Roberts said, "The notice was more accurate than usual." To quote:
He (Robert Roberts) is a short, thickset man physically, with a large head and a conspicuous face. He has a habit of turning his eyes upward when he's about making any particularly obscure sentence, and when his statement is likely to be received with doubt he emphatically asserts that there can be no question about it… Mr. Roberts did not make any statement as to the date of Christ's coming, but he was certain that the visible Christ would come soon, for the disturbed state of the world proved it.5
There were about 150 present at the Memorial service on Sunday, including some from the nearby region, so Boston was still probably the largest ecclesia in North America. Roberts also intervened with about fifteen members who were separated over erroneous ideas about the unpardonable sin. It was later reported that his efforts were successful. He also attended a social gathering, but under challenging circumstances—a relatively small apartment on a busy street with closed windows, with six fainting in the heat. But he struggled on. He left for England after a stay of five days. 
He had given structure and vigor to the Christadelphians
Conclusion
Robert Roberts arrived back in England on Saturday, August 16, for a welcome reunion with his wife. He stayed there for almost a year, leaving with his family (less son) for Australia on August 2 next year, planning to remain in Australia but with periodic visits back to England. According to this plan, he left Australia on August 2, 1898, and landed in San Francisco on his way to Victoria on the morning of Sept 21. 
He was only fifty-nine when he died, but he had been unwell for some time, burdened by financial catastrophe, efforts for the Truth when ill, as well as the recent news his only son, Edward Augustus, had left the community. He had given structure and vigor to the Christadelphians, traveling much of the world to spread the message from 1864 on.
The community had grown from about 1,000 at the time he launched The Christadelphian magazine to over 10,000 when he died. The community might have been somewhat divided, but all acknowledged his considerable contributions, and messages of grief poured in from all quarters. 
And we in North America will be eternally grateful for his work on these shores.6
Peter Hemingray,
(Pittsburgh Ecclesia, PA)
1 This episode had many ramifications, including in Milan, MI: a few from that town were sentenced to prison in late 1889. The record of the trial does make for interesting reading. Robertson was exonerated. 
2 The Christadelphian, 1889, p. 138.
3 The Advocate, 1923 p. 95.
4The Christadelphian, 1896, p. 476.
5 The Boston Globe, 3 Aug 1896, p. 10.
6 Engraving from San Francisco Call, Saturday, September 24, 1898.